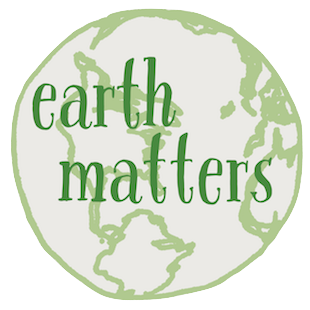 Earth Matters focuses on conservation, sustainability, recycling and healthy living. This weekly series is brought to you by Maria Luisa Boutique and Strawtown Studio and Summer Play Camp at Blue Rock School.
If Earth Matters to you, sign up for our mailing list and get the next installment delivered bright to your inbox.
West Nyack's Blue Rock School is the Rockland County Environmental Management Council's 2019 "Green Champion"
by Susan Hellauer
As they do every year, the Rockland Environmental Management Council (EMC)—volunteer advisors to the County Legislature and County Executive's office, and liaison to the general public—met in May to choose the winner of their "Edward Brophy Green Champion" award, presented "to organizations or individuals who consistently exemplify outstanding environmental stewardship and sustainability initiatives."

Last year's Green Champion award went to the Village of Nyack staff, board, and trustees, for establishing the County's first Sustainability desk, along with initiatives like the Nyack Tree Project, Climate Smart Community designation, among other accomplishments. This year's award fell close to home, too: it's the Blue Rock School, a private K-8  school in West Nyack (and Earth Matters sponsor), long devoted to a sustainable way of teaching, learning, and living.
This year's award was presented by the EMC and County Executive Ed Day on June 3 at a ceremony held at the Rockland County Legislative Chambers.
Earth Day is Every Day at Blue Rock
Sustainability has been baked into Blue Rock's philosophy from its founding in 1982. Green practices are part of everyday school life there, with waste-free lunches, recycling, composting, energy conservation—even using pencils right down to the eraser. And don't look for disposable cutlery, cups, plates, or water bottles at school events: they're 100% waste-free too.
Environmental consciousness and loving respect for nature are part of the curriculum as well. Science courses are paired with gardening, and hands-on study of soil composition, beneficial insects, pollinators, and biodynamic agriculture. Each fall, students take active part in the "Day in the Life of the Hudson River" program in conjunction with the Columbia University Earth Institute's Lamont-Doherty Earth Observatory. They also take field trips to recycling facilities and landfills to study how waste is managed.
And there's plenty of "green homework" at Blue Rock School as well, bringing these principles back to students' families (who, after all, have to prepare all those plastic bag-, wrapper-, utensil-, and bottle-free lunches), and their communities. Blue Rock families also participate in the annual Vine Brigade to help remove invasive species on campus during bi-annual community work days. And each spring, students and their families partner with local environmental group Keep Rockland Beautiful to participate in the Great American Cleanup and remove trash from their communities' streets and waterways.
This award will hopefully open doors for us to expand our community to other schools and organizations in the county. We hope to encourage our political leaders in Rockland to cultivate community in the county by making  environmentally smart policies the rule, not the exception. Supporting renewable energy, local farms, composting programs, continued support of recycling, school garden curriculum, early ecology education, and youth  climate initiatives.
                        Nicole Palitti, science and gardening instructor, Blue Rock School
The Environmental Management Council: the greenest thing you never heard of
There's no question that Green Champion recipient Blue Rock School is deservedly green. But what about the giver? What is the Rockland County Environmental Management Council? Who are its members, and what do they do to create a more sustainable Rockland?
The Rockland County EMC was created by the County Legislature in 1973, to advise the County Executive and Legislature on environmental issues and opportunities. Its thirteen volunteer members represent the county's five towns (two from each town, and three members-at-large). Its monthly meetings are open to the public. (Meeting notices can be found on the EMC's website.)
Besides the annual Green Champion award, the EMC runs the Eleanor Burlingham Earth Day Essay & Poster Contest each spring for fifth graders. Year round, the EMC submits letters of support or opposition to projects that impact Rockland's natural resources. They also create educational programs for students and residents. And they're not just desk jockeys, either. You can find EMC members getting their hands dirty removing invasive plant species throughout Rockland County Parks.
The EMC makes a sustainable difference
Since its founding in 1973, the EMC has ticked off dozens of  accomplishments in environmental stewardship and sustainability like these:
1978 – Sponsored "Sun Day," a regional conference on Solar Energy. Completed "Water Resources Report of Rockland County, New York."

1983 – Initiated Rockland County Household Hazardous Waste program.

1992 – Established Rockland County Stream Team, a water quality program to promote awareness that storm drains empty into water bodies.

 

Appointed to DEC Region III Open Space Committee.

2000 – Won NYS Association of Environmental Management Council's 2nd Place Award for assisting the NYS DEC update of the Rockland County Priority Waterbodies List.

2018 As an ex-officio and recent voting member for the County Planning Board, EMC Chair monitored and reviewed proposed commercial, residential development, and remediation projects.
The EMC also creates informational documents for county officials and residents, like the recent "Examples of Cleaner and More Efficient Energy Infrastructure in Rockland County" and "Examples of Green Infrastructure for Stormwater Management in Rockland County." (Did you know that the Memorial Park basketball court is made of ultra-durable porous pavement that lets stormwater percolate into the ground, instead of contributing to floods and sewage overflows?)
Where you fit in
Right now, the nine members of the EMC are looking for a few good environmental watchdogs to fill out their influential ranks. Curious? Take a look at their web page, and their meeting agendas. Consult the 2019 schedule, and attend their meetings, usually held on the fourth Wednesday of each month, from 5:30-7p in the Rockland County Division of Environmental Resources Conference Room, Building A, 6th Floor, 50 Sanatorium Road, Pomona, NY . (Check the EMC website for vacation, holiday, or other last-minute changes.)
Ready to be a Green Champion yourself? Contact Executive Director Nicole Laible (845-364-2669), who will explain the process of becoming a member of the Environmental Management Council. You'll be part of a group dedicated to defending our environment, and showing the way to a sustainable future for Rockland County. 
Learn more: