by Elizabeth Fischer
New York City and the Lower Hudson are great places to live, but as more people move to the region and traffic increases, residents are seeking car-free options.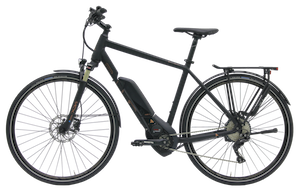 Traditionally that meant bus, train or bicycle, however, e-bikes are becoming a popular transportation alternative, too.  An e-bike is similar to a "traditional" human-powered bicycle, except that it includes a small, silent electric motor that provides pedal assistance and allows the rider to climb hills, accelerate, and overcome wind resistance more easily than a manual bicycle.  Due to the long distances and steep hills in Rockland and Westchester Counties, e-bikes should be part of our sustainable future: they expand the number of people who can go car-free for commuting to mass transit or basic transportation around town.
Although New York State badly needs good e-bike legislation, a new bill, scheduled for a vote on Wed June 19, would actually be a big step backwards for e-bikes in the Lower Hudson Valley, and would actually make them LESS useful than they are today. Given how the bill is currently written, e-bike advocates are urging legislators to vote NO on A7431B/S5294A.  There are two major problems:
The bill would ban all e-bikes on the Hudson River Greenway (HRG) in Manhattan, including the Class 1 (pedal assisted, 20 mph maximum) e-bikes that are currently allowed. The HRG is a critical bicycle path for those of us who commute from Uptown Manhattan, Bronx, Westchester and Rockland counties: the local roads in Manhattan and the Bronx are neither safe nor efficient for bicycles.  In practice, banning Class 1 e-bikes from the HRG would make it impossible for residents of that live north and west of NYC to safely and legally commute to Manhattan by Class 1 e-bike.
This bill would allow local municipalities to ban or otherwise regulate Class 1 e-bikes.  Those of us in the suburbs must pass through multiple municipalities to get most places. For example,  an e-bike route from Valley Cottage to the George Washington Bridge passes through six different New York jurisdictions. If any one of these municipalities decides to ban Class 1 e-bikes, it would be cripple the functionality of this transportation alternative.
Both of these restrictions seem to be designed to get votes while not hurting the the use of e-bikes in New York City's most populous boroughs.  Unfortunately, the two combined would be devastating for those of us in the Lower Hudson Valley.  Unless both restrictions can be dropped, at least for class 1 e-bikes (20mph pedal assist), it is best to vote NO on this bill and wait for better legislation next year. The bill as it stands is not good for suburban e-bike commuters.
If you are concerned about this important sustainability issue, please write your elected representatives in Albany TODAY, before the vote, tomorrow.
Rockland County residents can email NYS Senator David Carlucci,  Assemblywoman Ellen Jaffee and Assemblyman Ken Zebrowski. You can also call Governor Andrew Cuomo's office at 518-474-8390 x2
To find the contact info for other members of the NYS Senate and Assembly, visit:
Senate: https://www.nysenate.gov/find-my-senator
Assembly: http://nyassembly.gov/mem/search/
See also:
Elizabeth Fischer lives in Valley Cottage, NY.