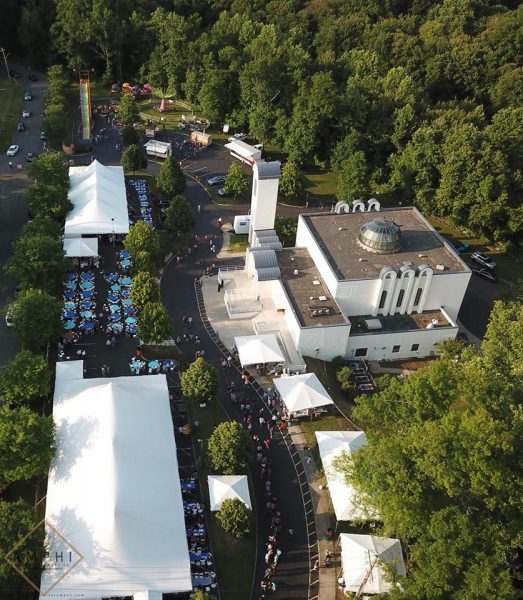 by Kathryn Cambrea
Not too long ago, I visited my aunt and uncle's house, where my aunt presented me with an unexpected task: define what it means to be Greek, on the spot.
It took me some time to formulate an answer. To any Greek, heritage is not a finite, simple one-word response. Rather, being Greek embodies multiple characteristics, and there is one annual event that reminds me of said characteristics: the Greek Festival held at Saints Constantine and Helen in West Nyack, NY.
Of all the Greek festivals I have been to, this is my favorite. For the few hours I am there each year, I feel like I am transported back to the motherland of Greece. Hearing native Greek musicians strum away at the bouzouki (a string instrument) accompanied with vocals emphasizing the simplicity of love and life in the islands makes me proud to say I am Greek. Nothing compares to seeing multiple generations of humans, Greek and non-Greek alike, enwrap themselves in the songs. Every papouli and yiayia (grandfather and grandmother) know the steps of every dance; they learned when they lived in Greece, and it still circulates in their blood. Their children hear the music, and the dances of their parents immediately come to mind. My mother is a first generation Greek-American, yet the dances of our ancestors still are a part of her life. And I am happy to say, that they are a part of mine too.
Food is a huge part of a Greek festival, but also being Greek in general. If you have never eaten Greek cuisine, you are bound to order more food than you anticipated eating. I highly recommend eating chicken souvlaki (chicken shish kebob) with tzatziki (cucumber yogurt), spanakopita (spinach pie) or tiropita (cheese pie), and of course, feta cheese. And that is just dinner. For dessert, I recommend going for kourabiedes (sugar nut cookies), melomakarona (honey nut cookies), or my favorite, loukoumades (fried dough covered in honey). Your appetite will be beyond satisfied!
Of course, family is also an essential part of being Greek. If you walk into any Greek festival, you will see families, and they will all at some point hold hands and dance in a circle to the music. Although my papouli and yiayia are both deceased, I feel their presence through the rhythm. We as Greeks are encouraged to not only love our families, but to see the family element in people we are not biologically related to–and not just people of the Greek backgrounds. As Greeks, our family friends are our family too; we call multiple women thia (aunt) and men thio (uncle) out of respect, emphasizing how although we come from different families, we are all intertwined. People with whom we share DNA are family. Sincere people are family. Everyone is family. At a Greek festival, you are surrounded by love, so you are family. I suppose that is what being Greek means to me.
The annual Greek Festival of West Nyack will be held from Thursday, June 6 through Sunday, June 9 at the Saints Constantine and Helen Greek Orthodox Church located at 1 Marycrest Road. Admission is free. Contact the church by calling (845) 623-4023 for more information.
Kathryn Cambrea is a Nyack News & Views intern. She attends St. Thomas Aquinas College.