This weekend, prepare for all the art and culture you can handle. Attend Penguin Rep Theatre's new play, appropriately titled ART. And don't miss the last few performances of Newsies, the musical playing at Westchester Broadway Theatre. Experience a weekend of collaborative art-making and beer brewing at L.A.B. Fest. Enjoy an afternoon of classical music. Or if you're looking for capital-A Art, there's a new exhibit on view at Lagstein Gallery. On Sunday, take a stroll over to Nyack's Famous Street Fair.
This Fri-Sun list of what to do and where to do it is brought to you by Rockland Center for the Arts. Enjoy an evening with Jonathan Edwards and stop by the Juried Art Exhibit & Sale Opening Reception to benefit the Rockland County Pride Center  on Sunday.
Friday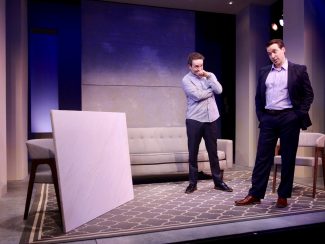 Penguin Rep Theatre presents ART by Yasmina Reza. Beauty is in the eye of the beholder. Watch three long-time friends come to laughs and blows over the value of an expensive modern art painting. Tickets are $48 and available online. Show runs through June 9, Fri 2p and 8p, Sat 4p and 8p, and Sun 2p. On Sun, May 19, the audience is invited to join the cast and crew for cake and coffee after the official opening performance. 7 Crickettown Rd, Stony Point.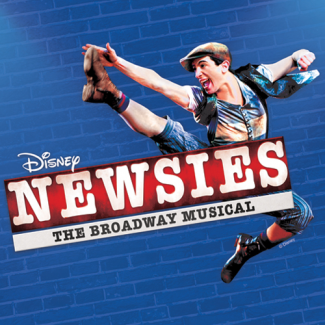 Westchester Broadway Theatre presents Newsies, a defiant tale of feisty kids making a difference. Orphaned and homeless yet determined to succeed, New York's newsboys are dreaming of a better life. In the face of rising prices and poor wages, they pull together, create strength in numbers, and protest! Enjoy this smash-hit musical based on the 1992 Disney film. Show runs through May 26, Fri 11:15a and 6:15p, Sat 6:15p, and Sun 11:45a and 5:15p. 1 Broadway Plaza, Elmsford.
Get ready for folk-rock music with Aztec Two-Step 2.0, featuring Rex Fowler, Muddy Roues, and Dodie Pettit. 8p, The Turning Point, 468 Piermont Ave, Piermont.
Elmwood Playhouse presents Morning's at Seven. Four sisters who live near one another in a small midwestern town in 1938 see their lives upended when one sister's son decides to leave home and get married. His plans stir up old passions and create new anxieties in the lives of everyone around him in this charming comedy. Fri 8p, Sat 8p, and Sun 2p, 10 Park St, Nyack.
Saturday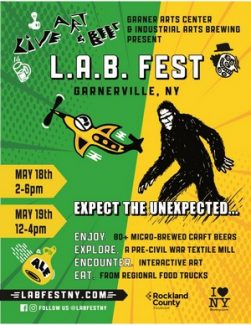 The Garner Arts Center presents L.A.B. Fest. Experience a weekend of collaborative art-making and beer brewing. Over 40 craft breweries from all over the region bring over 80 of the finest craft beers. And while sampling the beer, you can explore the 14 acres of the Garner Historic District with its interactive performers, acrobats, immersive installations, and live music. Choose from different ticket categories: Beer & Art for $45, or Beer & Art Weekend pass for $72. Don't like beer? Get an Art Only pass for $20. Fest hours are Sat 2-6p, Sun 12-4p. Garner Art Center, 55 W Railroad Ave, Garnerville.
There will be something for everyone at the Nursery School of the Nyacks annual Multi-Family Tag Sale. Gently used baby gear, toys, books, clothes, and much more. 9a-1p, Nursery School of the Nyacks, 130 1st Ave, Nyack.
Join the Rockland Bicycling Club for the Tour de Clarkstown, a 30 mile spin along calm tree-lined streets, around Rockland Lake, across the Lake de Forest causeway, and by the peaceful golf course on Zukor Rd. The TdC(larkstown) is the 2nd leg of the RBC's five town tours, which lead up to the Tour de Rockland Century ride in September. Meetup at 9a at David's Bagels in New City.
Come to The Garden Club of Nyack's Annual Plant Sale. A wide variety of perennials, shrubs, and trees from members' gardens, annuals and perennials from Bumps nursery, and bulbs from International Bulb Company will be sold. There will be homemade baked goods as well. Proceeds benefit community projects in Nyack, such as YMCA planters, Butterfly Garden, and more. 10a-2p, The Garden Club of Nyack, 507 N Broadway, Upper Nyack.
Celebrate spirit, life, and the arrival of spring at the Sparkill Holistic Fair. Renew your commitment to health through healing treatments and connect with the circle of spiritual mediums. Expand your awareness of holistic products, services, and businesses, and experience the richness and fullness of life through conversations with other beings on the spiritual path. 11a-4p, Union Arts Center, 2 Union St, Sparkill.
Stop by for the opening reception of Eleanor Grace Miller's Things That Grow: The Art of Mutation, a series of 3D mixed media and paintings. The work in this exhibit is based on the concept that mutation is the natural order of things. 2-5p, Lagstein Gallery, 85 S Broadway, Nyack.
Join Strawtown Studio artists Natalie Russell and Joanna Dickey, and experience drawing as a way to tune in to nature. With Drawing Closer to Nature you can practice drawing skills, appreciate the natural world, and view spring through artistic eyes. 2-4:30p, Marydell Faith & Life Center, 640 N Midland Ave, Nyack.
Music Sessions @ RoCA presents an evening with Jonathan Edwards. Enjoy an intimate setting with songs of passion, insight, and humor that include "Honky Tonk Stardust Cowboy," "Shanty," and more. 7p, Rockland Center for the Arts, 27 S Greenbush Rd, West Nyack.
Sunday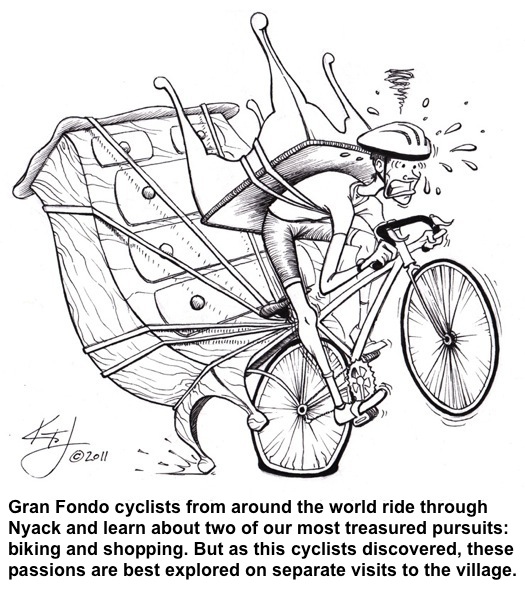 The 2019 Gran Fondo NY rolls through Nyack as thousands of world class cyclists cover 100 miles from the GWB to Bear Mountain and back. Expect to see the fastest bicyclists at the front of the pack passing through Nyack just before 8a with the most persistent and patient riders taking up the rear as late as 9:30a… prior to the Nyack Street Fair opening at 10a.
Nyack's Famous Street Fair is back, sponsored by the Arts, Crafts and Antiques Dealers Association (ACADA). Spend the day shopping for fine crafts, jewelry, and art. Great music will be playing in the gazebo on Main St. Nyack's outdoor cafes will serve delicious foods. And there is a large children's area with lots of games. The fair has something for everyone in the family and is held rain or shine. 10a-5p, N Broadway & Main Street, Nyack.
The Living Christ Church is holding a Youth Yard Sale. Stop by and go treasure hunting or donate pre-loved, gently used, or unwanted items–clothing to books, media, and more. All proceeds from this event will go directly to the Living Christ Church youth group so that they can attend their annual Lake Champion retreat. 10a-5p, 157 Piermont Ave (Olsen Center), Nyack.
Enjoy a nice walk to the plateau at Hook Mountain and join the Grace Episcopal Church Parish Picnic. Burgers, hotdogs, and beverages will be provided. All you need to bring is family and friends, sides, and desserts to share. 10a-3p, Nyack Beach State Park, 698 N Broadway, Nyack.
Support the Rockland County Pride Center and stop by for the opening reception of the 8th annual Juried Art Exhibit & Sale. Exhibit runs through June 16. 1-4p, Rockland Center for the Arts, 27 S Greenbush Rd, West Nyack.
It's the season finale for the Sparkill Concert Series. Don't miss the All Beethoven Program featuring cellist Benn Capps and pianists Oxana Mikhailoff and Vassily Primakov. Enjoy the piano sonatas "Apassionata" and "Les Adieux," and more. 3-5p, Union Arts Center, 2 Union St, Sparkill.
Don't miss the Hudson Valley Chorale's spring concert Love, Destiny and Mirth, featuring the chamber orchestra and soloists. 3p, Dominican Convent Chapel, 175 Route 340, Sparkill.
Grab a chair or blanket and enjoy a Musical Tribute to Peter Seeger. Celebrate the folk hero's 100th birthday and Clearwater's 50th anniversary by honoring his accomplishments, contributions, and commitments in protecting the Hudson River. 6-8p, South Nyack Franklin Street Park, Nyack. In the case of rain, the concert will be held at Marydell Faith and Life Center, 640 N Midland Avenue, Upper Nyack.
Next Week
Monday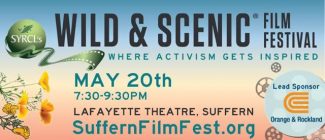 The Wild & Scenic Film Festival features 10 short environmental and adventure films that illustrate the earth's beauty, the challenges facing our planet, and the work communities are doing to protect the environment. Doors open at 6:30p, films start at 7:30p. Lafayette Theater, 97 Lafayette Ave, Suffern.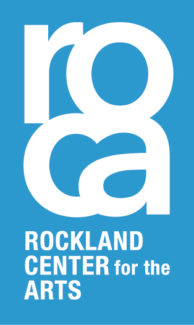 The Nyack Weekender is your Fri-Sun list of what to do and where to do it. This weekly series is brought to you by Rockland Center for the Arts.
To get the Nyack Weekender delivered to your mailbox auto-magically every Friday morning, add your name to our mail list. Visit our
online sign-up sheet
to subscribe.