This weekend, we honor those who lost their lives while serving in the armed forces, and we celebrate the unofficial beginning of summer. Watch the Nyack Memorial Day Parade on Monday, or have a look at the towering bonfire at the end of Piermont Pier on Wednesday. Beat the heat with ART at Penguin Rep Theatre or On Your Feet at Westchester Broadway Theatre. And if you're feeling nostalgic, catch a movie at the Warwick Drive-In Theatre. Looking ahead, mark your calendars for Rolling By The River, a Sun June 2 community cycling event.
This Fri-Sun list of what to do and where to do it is brought to you by Rockland Center for the Arts. Registration for summer Camp RoCA 2019 is now open and the Juried Art Exhibit & Sale to benefit the Rockland County Pride Center continues through June 16.  Take a stroll through the Catherine Konner Sculpture Park to view the Natural Progressions and RoCA Nest 2019 exhibits.
Friday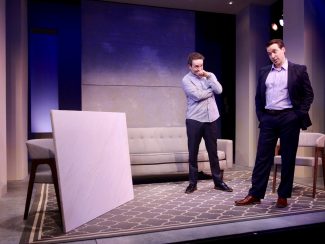 Penguin Rep Theatre presents ART by Yasmina Reza. Beauty is in the eye of the beholder. Watch three long-time friends come to laughs and blows over the value of an expensive modern art painting. Tickets are $48 and available online. Show runs through June 9; Fri 8p, Sat 4p and 8p, Sun 2p, and Thurs 7:30p. On Fri, May 24, the audience is invited to join a discussion with the actors following the show. 7 Crickettown Rd, Stony Point.
The Tania Grubbs Quintet, featuring David Budway, Jeff Grubbs, Ron Affif, and James Johnson III, are recording live at Maureen's Jazz Cellar. 8 and 9:30p, 2 N Broadway, Nyack.
Saturday
The Congers Memorial Day Parade starts at 10:30a and marches from the Congers/Valley Cottage Volunteer Ambulance Corps building on Kings Highway north to the Veterans Memorial Association Building on Lake Road.
Let the vibrational tones of Angel and Solfeggio tuning forks, gong, and singing bowls wash over your entire being during a Sound Bath Meditation with Aromatherapy. Explore essential oils that increase the hypnotic effect and enhance the body energetically, spiritually, and physically. Afterwards, there will be a discussion. Open to all, no meditation experience necessary. 11a-12p, The Open Spirit Nyack, 55 Burd St, Nyack.
Join Strawtown Studio artists Natalie Russell and Joanna Dickey, and experience drawing as a way to tune into nature. With Drawing Closer to Nature, you can practice drawing skills, appreciate the natural world, and view spring through artistic eyes. 2-4:30p, Marydell Faith & Life Center, 640 N Midland Ave, Nyack.
Ghost Head opens the Tallman Beach Concert Series 2019. Stone groove, as the band describes its sound, with flashes of funk and rock. Come dance, drink, dine, as the summer festivities begin. 7-10p, Tallman Beach and Pool Club, 2 Tallman Mountain Rd, Sparkill.
Sunday
The Rockland County Veterans Coordinating Council hosts a Memorial Day Ceremony at the Frederick Loescher Veterans Cemetery. 12p, 220 Brick Church Rd, Spring Valley.
Take a Walking Tour of Edward Hopper's Nyack with the Historical Society of the Nyacks. This tour highlights the influence of light, water, and architecture on the work of the American realist painter and Nyack native. Meet at 2p at the Edward Hopper House, 82 N Broadway, Nyack.
For some old-fashioned fun, take a short road trip to the Warwick Drive-In and enjoy the outdoor movie experience as it once was. There's nothing better than watching movies under the stars. 8:45p, 5 Warwick Turnpike, Warwick.
Next Week
Monday, Memorial Day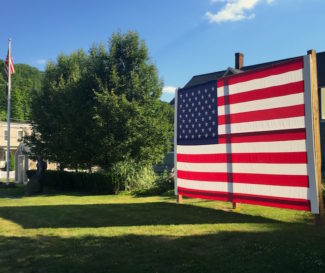 Nyack's Memorial Day Parade will start at 11a, beginning at Artopee Way and ending in Memorial Park. After the parade, there will be a ceremony followed by a celebration, including live music, foods, and drinks. Bring a lawn chair or blanket to enjoy a beautiful day. (If it rains, the event will take place at the Nyack Center,  58 Depew Ave, Nyack.)
Wednesday
Vietnam Veterans of America will light the annual Memorial Day Watch Fires to remember soldiers who are in service abroad and the troops who did not return from war. A tradition with roots going back to the Revolutionary War. Watchfires will be lit around midnight, May 29 and burn for 24 hours at the following locations: Bowline Point Park, Haverstraw; Eugene Levy Memorial Park, Route 45 in Pomona; the top of Clausland Mountain, Orangeburg; East End of Piermont Pier.
Rivertown Film presents Cousin Bobby, a movie about an Episcopalian priest who served in a Harlem church and a family reunion. The documentary comes from the late Jonathan Demme. In profiling Cousin Bobby and his mission to help the poor and dispossessed, the movie provides interesting insights into Demme's family, childhood, and the origins of his social values. 8p, Nyack Center, 58 Depew Ave, Nyack.
Thursday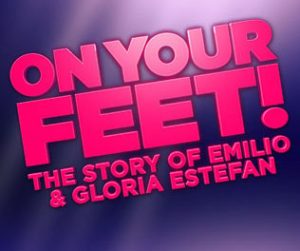 Westchester Broadway Theatre presents ON YOUR FEET, the story of Emilio and Gloria Estefan. Follow the pair's journey from their humble beginnings in Cuba to becoming pop sensations. Just when they thought they had it all, they almost lost everything. Let this show take you behind the music and inside the real story of this record-making and ground-breaking couple who found a way to end up on their feet. Tickets are available online. Show runs through Aug 4, 11:15a and 6:15p, Fri 11:15a and 6:15p, Sat 6:15p, and Sun 11:45a and 5:15p. 1 Broadway Plaza, Elmsford.
Looking Ahead: Sun June 2
Do you have a bicycle in your garage that you rarely ride? Can't find the time? Don't feel comfortable "sharing the road" cycling by yourself? Then mark June 2 at 2p on your calendar for a Sunday afternoon "slow roll" cycling event when you and your family can join your friends, and neighbors near the Nyacks and Piermont for Rolling By The River.

What's a Slow Roll? It's a bicycle ride for everyone. All ages (8 and up) and experience levels are welcome. The slow pace keeps the group safe and gives riders a unique perspective of our villages and their neighborhoods. It's a chance to socialize, meet up and ride safely as a group.
The Rockland Bicycling Club is teaming up the Nyack Rec Dept, Upper Nyack, Piermont, and the Edward Hopper House for "Rolling By The River," the first of what hopefully will be regular "slow roll" community bicycle rides through the Nyack river villages and Piermont. It's a family friendly, group event intended to teach safe cycling practices while encouraging local residents to get some exercise with their friends and neighbors.
Meetup at Upper Nyack Elementary School on June 2 at 2p. HELMETS ARE REQUIRED. Participants must sign an event waiver. Route is flat and about 3 miles round trip to Nyack Beach State Park with an Ice Cream Social meet and greet at the Edward Hopper House after the ride. It's a free event, but registration is required (we need a head count to know how much ice cream to bring!)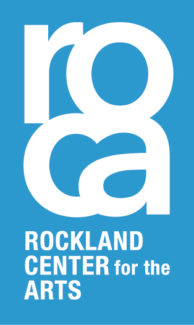 The Nyack Weekender is your Fri-Sun list of what to do and where to do it. This weekly series is brought to you by Rockland Center for the Arts.
To get the Nyack Weekender delivered to your mailbox auto-magically every Friday morning, add your name to our mail list. Visit our
online sign-up sheet
to subscribe.