This week in the villages: Today, Americans give thanks to those who lost their lives serving in the armed forces. The holiday will be commemorated by 12 events countywide. Hudson Link buses will run on a weekend schedule today; government offices, banks, post offices, and public schools will be closed. Mark your calendars for Rolling By The River, a community cycling slow roll on Sun June 2 at 2p.

Here's a list of Memorial Day events across Rockland County:
Nyack – Parade begins at 11a  on Artopee Way, continues east on Main St, south on Broadway, ending at Memorial Park, where a ceremony will be held.
New City – Parade begins at 10a on Collyer Ave, continues south on Main St and ends at the County Court House.
Pearl River – The John H. Secor American Legion Post 329 hosts the annual parade. It starts at 10:15a on North Middletown Rd (across from Retro Fitness) and ends at Braunsdorf Park. The guest speaker will be Pearl River resident, Paul Crowe, a U. S. Army Combat Veteran who served in Vietnam.
Haverstraw – Ceremonies at 9a at Haverstraw Town Hall, One Rosman Rd, Garnerville; 9:30a at Calico Hill Veteran's Memorial at Railroad Ave, Garnerville; 10a at Civil War Monument, Hudson Ave, Haverstraw; 10:30a at World War II Monument, Clove Ave, Haverstraw; 11a at World War I Monument, Mt. Repose Cemetery, Haverstraw.
Stony Point – Service at 8:30a at Mt. Rest Cemetery on West Main St. Parade kicks off at 9:30a on the corner of Jay St and TenEyck St and includes a service at the Spring Memorial. Parade ends on East Main St at Town Hall where a memorial service will be held at at 10:30a.
Stony Point Battlefield – At 2:30p, participate in a Memorial Day commemoration for fallen soldiers from all wars with a presentation of an 18th century military ceremony to honor the dead. Followed immediately by a 3p artillery demonstration. Stony Point Battlefield State Historic Site, 44 Battlefield Road, Stony Point.
Suffern – Parade begins at 11a from Parking Lot A (across from Ole Ole) and proceeds up Lafayette Ave to the Soldiers Monument on Washington Ave, where a ceremony will follow.
Hillburn – Parade begins at 9a at the Suffern Central School District administration building and will proceed to the World War I monument, corner of Lake Ave and 4th St, for the ceremony.
Sloatsburg – Ceremony begins at 10a at the municipal building, 96 Orange Turnpike. A parade will follow at 10:30a, from Route 17, stops at library and concludes at Sloatsburg Cemetery.
Nanuet – Service begins at 11a at the Veterans Monument at the Nanuet Train Station (Prospect Street). Sponsored by American Legion Naurashan Post 794, Jewish War Veterans, and the Nanuet Fire Department.
Spring Valley – American Legion Post 199 will hold a service at 1p at the Spring Valley Memorial Park.
West Nyack – Parade begins at 12p at 107 Strawtown Road, proceeds along Strawtown Road to West Nyack Hamlet Green (on West Nyack Road). Sponsored by Nanuet-West Nyack Rotary.
Rockland County Watchfires – Watchfires for the troops who didn't return from war will be lit at midnight, May 29, and will burn for 24 hours at four locations: Bowline Point Park in Haverstraw, Eugene Levy Memorial Park on Route 45 in Pomona, the top of Clausland Mountain in Orangeburg, and the east end of the Piermont Pier.
Village of Nyack
Memorial Day Observance Closures

In addition to the village hall office, Nyack's Department of Public Works will be closed on Monday. Trash will be picked up on Tuesday May 28.
As for transport options:
Hudson Link
buses will operate on a weekend schedule; Transport of Rockland (TOR) buses 59, 91, 92, 93, 94 and Loop 3 will operate on a Saturday schedule; Loop 1 and Loop 2 will operate on a weekday schedule; there will be no service on TOR 95 and 97; and Metro-North will operate on a Sunday schedule. Some routes will be temporarily detoured due to Memorial Day parades in Nyack, Suffern, Pearl River, and Tarrytown.
Sun June 2: Rolling By the River, a community cycling "slow roll"
Do you have a bicycle in your garage that you rarely ride? Can't find the time? Don't feel comfortable "sharing the road" cycling by yourself? Then mark June 2 at 2p on your calendar for a Sunday afternoon "slow roll" cycling event when you and your family can join your friends, and neighbors near the Nyacks and Piermont for Rolling By The River.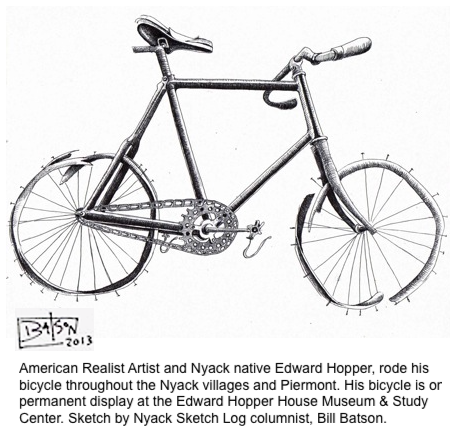 What's a Slow Roll? It's a bicycle ride for everyone. All ages (8 and up) and experience levels are welcome. The slow pace keeps the group safe and gives riders a unique perspective of our villages and their neighborhoods. It's a chance to socialize, meet up and ride safely as a group.
The Rockland Bicycling Club is teaming up the Nyack Rec Dept, Upper Nyack, Piermont, R2M Realty, and the Edward Hopper House for "Rolling By The River," the first of what hopefully will be regular "slow roll" community bicycle rides through the Nyack river villages and Piermont. It's a family friendly, group event intended to teach safe cycling practices while encouraging local residents to get some exercise with their friends and neighbors.
Meetup at Upper Nyack Elementary School on June 2 at 2p. HELMETS ARE REQUIRED. Participants must sign an event waiver. Route is flat and about 3 miles round trip to Nyack Beach State Park with an Ice Cream Social meet and greet at the Edward Hopper House after the ride. It's a free event, but registration is required (event organizers need a head count to know how much ice cream to bring!)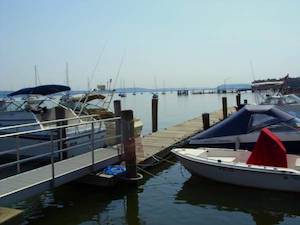 Hudson River Boat Slips Available At Rivercrest
This convenient location just blocks from downtown Nyack at 103 Gedney St features 23 ft slips for $700 a season. Two slips, up to 30 feet, are $1,050 per season. For more information, email or call (914) 420-4554.
Town of Orangetown
Public Information Meeting for West Washington Ave over Pascack Brook Bridge Replacement
There will be a public information meeting on Wednesday, May 29 at 7:30p in the Orangeburg Town Hall, 26 Orangeburg Rd, Orangeburg, to obtain comments on the proposed project from individuals, groups, officials, and local agencies. The county is specifically soliciting comments on the development of alternates for the project and comments on the project's social, economic, and environmental effects. This public informational meeting is part of the continuing efforts by the county, the New York State DOT, and the Federal Highway Administration to encourage public input into the development of transportation projects. Written comments on the project should also be forwarded to the county. More information may be found at www.orangetown.com.
Rockland County
Rockland County Legislature Special Committee on Transit Meeting
The public is invited to a special meeting Wednesday, May 29 at 7p in the Rockland County Legislature Building, 11 New Hempstead Rd, New City on transit topics and issues affecting commuters in Rockland County. Presentations and service updates will be provided by the New York Bridge Authority, Coach USA and Hudson Link, including updates about the Lower Hudson Transit Link (LHTL) project affecting the whole county.
Mario Cuomo Bridge News
Overnight Lane Closures Resume On Tuesday, May 28
In observance of the Memorial Day holiday and in accordance with Governor Andrew M. Cuomo's Drivers First initiative, Tappan Zee Constructors, LLC (TZC) will suspend construction-related lane closures until Tuesday night, May 28. Certain maintenance, safety, and security work will continue during the weekend. Drivers should keep in mind that in some cases road work may continue behind permanent concrete barriers or for emergency repairs.
Following the holiday, TZC is scheduled to continue roadway improvements near the Governor Mario M. Cuomo Bridge. Operations require multiple overnight lane closures on the New York State Thruway (I-87/I-287). At least one lane will remain open at all times. Specific lane closure times are listed in the chart below.
Lane Near the Bridge
DATE:
CLOSURES BEGIN:
CLOSURES END:
LOCATION:
Tues. 5/28
9p – Two left lanes
11p – Three left lanes
6a, Wed. 5/29
Northbound (I-87/I-287)
from exit 9 to the bridge
Wed. 5/29
9p – Two right lanes
11:59p – Three right lanes
6a, Thur. 5/30
Northbound
from exit 9 to the bridge
Thur. 5/30
10p – Two right lanes
11:59p – Three right lanes
6a, Fri. 5/31
Northbound
from exit 9 to the bridge
Fri. 5/31
10p – Two left lanes
11:59p – Three left lanes
6a, Sat. 6/1
Southbound
from exit 11 to the bridge
Bicycle/Pedestrian Path
Construction of the shared bicycle and pedestrian path continues. At the Rockland Landing, milling and paving of Hillside Avenue from the New York State Thruway ramp to near the South Franklin Street Extension in South Nyack is scheduled for next week. The work will take place during the daytime. Milling of the road is expected to occur on Tuesday, May 28, and Wednesday, May 29, followed by a few days of paving, weather permitting. Two-way traffic will be maintained during commuting hours while one-way traffic control measures will be in place during the operation.
---
Here are the municipal events in South Nyack and the Village of Nyack for the week of 5/27. There are no meetings scheduled in Upper Nyack this week. 
Village of Nyack
6:30p: Nyack Housing Authority (Waldron Terrace Apartments)
7p: Parks Commission
Thurs 5/30, 9:30a: Justice Court
Nyack Village Hall is located at 9 N. Broadway.
Village of South Nyack
Tue 5/28
6:30p: Police Board Meeting
7:30p: Board of Trustees Regular Meeting
South Nyack Village Hall is located at 282 S Broadway.