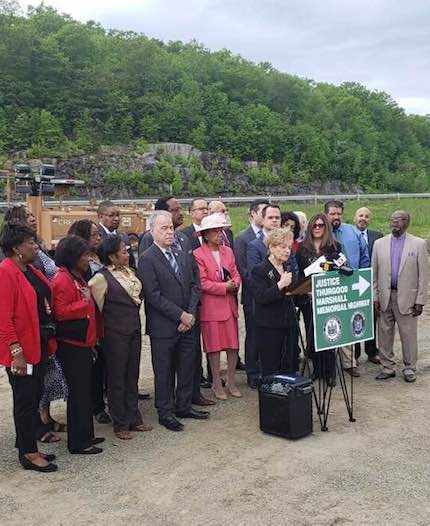 by Bill Batson
On May 17, Assemblymember Ellen Jaffee was joined by Rockland County Executive Ed Day, Senator David Carlucci and Assemblymember Kenneth Zebrowski to announce legislation (A-5939/S-521-A) to name a section of Rte.17 in Hillburn Justice Thurgood Marshall Memorial Highway. If enacted, this distinction, bestowed on the first African American United States Supreme Court Justice, will represent the culmination of an enduring partnership between Jaffee and the Alpha Phi Alpha Fraternity to acknowledge the role that an overlooked case in Hillburn played in the shaping American history.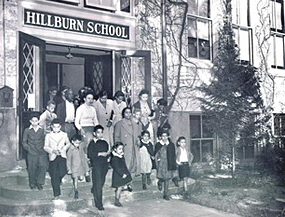 The event coincided with the 65 anniversary of the Brown v. Board of Education decision ending racial discrimination public schools, a case successfully argued by Marshall. "The foundations for the Brown decision are grounded in Marshall's work as an attorney in Hillburn to end a local case of public school racial discrimination; those efforts began 11 years prior to the decision in Brown. Marshall's efforts in Hillburn brought to a close more than a decade of school board intransigence in the assignment of elementary school age children to separate schools based only upon their race," observed James K. Riley,  Adjunct Professor in Public Education Law in the graduate schools of Long Island University and Pace University.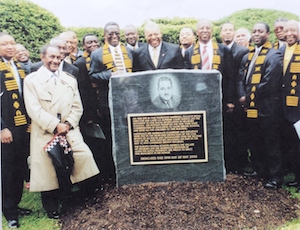 "Two Schools for Hillburn," a documentary by Joe Allen, chronicles how a plea from the father of one of the black students, a local Rockland County Attorney Jacob Wexler, brought a 35 year old NAACP Legal Defense Fund named Thurgood Marshall to Hillburn in 1943.
Along with Nyack Branch NAACP President Frances Pratt and Spring Valley NAACP President Willie Trotman, Dr. Travis Jackson, one of the 49 students who were represented by Marshall was in attendance.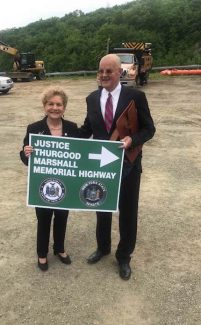 Members of Alpha Phi Alpha, led by the late Dr. Willie Bryant have worked for years with Assemblymember Jaffee to bring attention to the historic significance of the Hillburn Case. Marshall was also a member of the fraternity. As a result of the research they conducted Jaffee was able to pass a resolution making May 17 Thurgood Marshall Day in New York State.  A monument in honor of Marshall, funded by the fraternity, was erected outside the Hillburn School in 2002.
"Thurgood Marshall showed us the way – that leads right down this Thurgood Marshall Memorial Highway and down so many other roads that he travelled which as individuals and a society we must follow, " said Riley.
See also: Nyack Sketch Log: Hillburn Case Precursor to Brown v. Board of Education