by Bill Batson
In the opening address to all staff at the beginning of this school year, Superintendent of Schools, Dr. James Montesano presented this sobering statistic from the U.S. Govt. Accountability Office: 64 years after Supreme Court's decision in Brown vs. BOE, America's schools are more segregated by race and class. Montesano's blunt assessment served to underline the importance of the work of the school district's new racial equity consultant Joyce James.
On Thursday, May 16
th
at 7p, Ms. James will facilitate a guided conversation at the Nyack Center with the theme: "Envisioning Racial Equity." After Dr. Montesano offers an overview of the District's vision and commitment to creating, developing and implementing a District Racial Equity Plan, Ms. James will give an interactive presentation and lead the community forum through a visioning process.
James began her professional career as a Child Protective Services (CPS) caseworker and has established an impressive 34-year history in addressing racial inequities in child and family serving systems. She has a powerful story of her journey from CPS caseworker to Assistant Commissioner of Texas CPS, to leader of the Center for Elimination of Disproportionality and Disparities (the Center) at the Texas Health and Human Services Commission (HHSC).
According to Ms. James, "visioning is the process by which a group, organization or community envisions the future it wants and plans how to achieve it. This requires an evolving planning tool that represents what the future should look like and incorporates sustainability concepts into the process."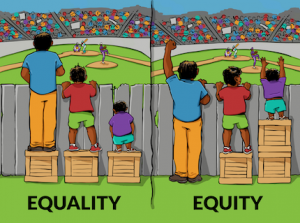 "We have a moral imperative to prepare every child to develop their full potential for living in a rapidly changing global society. If we are to succeed, we must turn the mirror inward, as Joyce James says, and ask ourselves an essential question:  How do we work together to establish a culture that embraces all cultures within our school community and ensures an education that maximizes achievement of all students regardless of race, ethnicity or socio-economic status?" said Dr. Montesano. "As we seek to deepen our understanding of disproportionality, we are examining how institutional racism and biased attitudes can contribute to the maintenance of racial disparities. The real game-changer comes with educational equity," he continued.
The district wide racial equity plan represents an unprecedented commitment by the appointed and elected school leadership to even a playing field that is becoming more and not less skewed in our country. A desired outcome for the community forum is to collaborate with community members who will invest in the future success and sustainability of a Nyack School District Racial Equity Plan.
"Imagine Nyack Public Schools as the best it can be in 2025.. What do you see" will be held the Nyack Center on Thursday, May 16th, 2019, 7:00p, a presentation & facilitated discussion with Dr. Jame J Montesano, Superintendent & Joyce James, LMSW-AP, Equity Consultant.
Doors open at 6:30p. All are welcome!
In the spirit, Nyack Public Schools will be providing a simultaneous interpretation system that provides instant translation into Spanish so that families who speak Spanish can participate in this community event.