<!– BEGIN IFRAME TAG – Street Fair Article Banner Ad
This Sunday, Nyack will hold its second street fair of the year. The weather report calls for sun and highs in the low 70s. Sun or not, there will be live music and 300+ vendors selling fine crafts, jewelry, and art.
The fair takes place from 10a-5p and is presented by sponsored by the Arts, Crafts and Antiques Dealers Association (ACADA).
Nyack's street fairs are known for their combination of merchandise for all tastes and pocketbooks, arts, crafts, food, entertainment, located along Main Street and Broadway in the Village of Nyack, on the west bank of the Hudson River just north of the Mario Cuomo Tappan Zee Bridge.
Parents, there is a large children's area with lots of games.
Been Too Long At The Fair?
Here are a few other things going on this Sunday in Nyack, courtesy of the Nyack Weekender.
Enjoy a nice walk to the plateau at Hook Mountain and join the Parish Picnic. Burgers, hotdogs, and beverages will be provided. All you need to bring is family and friends, sides, and desserts to share. 10a-3p, Nyack Beach State Park, 698 N Broadway, Nyack.
Support the Rockland County Pride Center and stop by for the opening reception of the 8th annual Juried Art Exhibit & Sale. Exhibit runs through June 16. 1-4p, Rockland Center for the Arts, 27 S Greenbush Rd, West Nyack.
It's the season finale for the Sparkill Concert Series. Don't miss the All Beethoven Program featuring cellist Benn Capps and pianists Oxana Mikhailoff and Vassily Primakov. Enjoy the piano sonatas "Apassionata" and "Les Adieux," and more. 3-5p, Union Arts Center, 2 Union St, Sparkill.
Looking Ahead: Do you have a bicycle in your garage that you rarely ride? Can't find the time? Don't feel comfortable "sharing the road" cycling by yourself? Then mark June 2 at 2p on your calendar for a Sunday afternoon "slow roll" cycling event when you and your family can join your friends, and neighbors near the Nyacks and Piermont to get out and Roll Along The River.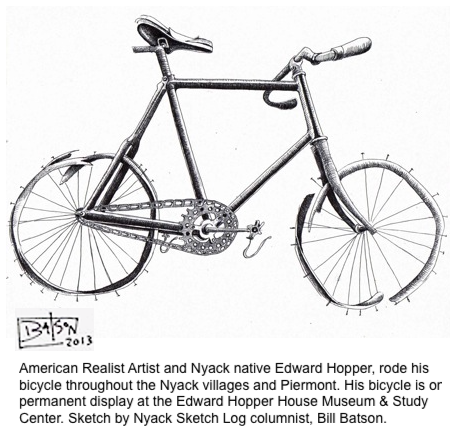 What's a Slow Roll? It's a bicycle ride for everyone. All ages (8 and up) and experience levels are welcome. The slow pace keeps the group safe and gives riders a unique perspective of our villages and their neighborhoods. It's a chance to socialize, meet up and ride safely as a group.
The Rockland Bicycling Club is teaming up the Nyack Rec Dept, the Village of Upper Nyack, other villages, and the Edward Hopper House for "Rolling By The River," the first of what hopefully will be regular "slow roll" community bicycle rides through the Nyack river villages and Piermont. It's a family friendly, group event intended to teach safe cycling practices while encouraging local residents to get some exercise with their friends and neighbors. We'll also share some factoids about local history; relay important community updates about cycling infrastructure; and hear about some ambitious open space plans, too.
Meetup at Upper Nyack Elementary School on June 2 at 2p. HELMETS ARE REQUIRED. Participants must sign an event waiver. Route is flat and about 3 miles round trip to Nyack Beach State Park with a social meet and greet at the Edward Hopper House Museum and Art Center on N Broadway in Nyack after the ride.
If this proves popular future rides will be scheduled in the adjacent river villages on a regular basis.
Want to know what to do and where to do it in and near Nyack? Sign up for the Nyack Weekender mailing list and get some news you can use each Friday morning in your inbox. Follow this link to also get summaries of our weekly deep dive into the big blue marble where we live in Earth Matters.
Downtown Nyack is transformed into a car-free pedestrian mall for up to 25,000 people during street fairs when Main Street and Broadway are closed to traffic. Or take a break from the streets and see the river at nearby Memorial Park, visit Nyack Beach State Park, or hike Hook Mountain.
<!– BEGIN IFRAME TAG – LocalYokel_300x250px