2nd Public Hearing Scheduled for Wed May 22 at 7:30p at Clarkstown Town Hall
by Laurie Seeman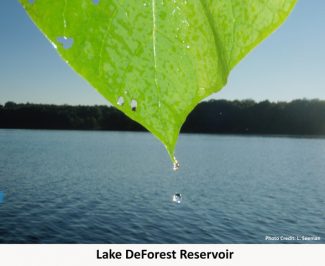 Updated, May 14 — There's a new threat to the public water supply in Rockland County. An ill-conceived plan to locate the headquarters for Suez, the dominant water supplier in the county, on Lake DeForest, would present hazards to the very drinking water that the company is charged with protecting. Please make time to contact public officials and speak out to stop the plan.
Lake DeForest Reservoir is the water jewel where one in three Rockland homes gets their water. Safe-guarding that source is of utmost importance.
The industry standard for all new building is to move away from the water. And with drinking water bodies, increasing vegetated buffer zones is the recommendation, not clear cutting. Given the numerous devastating flooding events in recent years, this should need no further explanation.
The environmental impact concerns include:
Clear cutting and paving over 60,000 sq ft of forest for parking lots and accessory buildings.
Expectation that contaminated stormwater and fuel will enter Lake DeForest Reservoir in catastrophic storms, and also in general rain storms from leaking trucks and vehicles.
Impacting the historic road and community character.
Orangetown and Clarkstown are serviced by Suez. Nyack and South Nyack are serviced by the Nyack Water Department, however, these villages also get their water from Lake DeForest.
You can study the site plan and read the Environmental Assessment Form online.
Clarkstown Public Hearing
A Public Hearing of the Clarkstown Planning Board to review Suez's proposal was held on Wed May 8. This review focused on environmental impacts, and the SEQRA (State Environmental Quality Review Act).
A second Public Hearing is scheduled for Wed May 22 at 7:30p at Clarkstown Town Hall.
If you find it incredulous that the water company is putting our community through the need to rise to the defense of our drinking water again, email Clarkstown officials to express your concerns.
The power of community attendance, wisdom, and collective voice is absolutely a driver for inspiring highest levels of cautionary decision making.
This Just In: After receiving a request from Clarkstown Supervisor George Hoehmann and seeing the large community turnout at the May 8 hearing to protest the water company's original plan to store 10,000 gallons of fuel on the site, Suez has reconsidered and has announced that they are going to remove the fuel tanks from the site plan. The May 13th announcement from Suez is an example of how positive outcomes result when community and government work together.
The public focus for the May 22 hearing will be the number of other building and operations impacts that trigger a Level 1 assessment under the NY State Environmental Quality Review Act.  Impact concerns include:reservoir drinking water, community character, community safety,  habitat protection, historic sites, traffic.
Suez says it would be an inconvenience and an expense to fuel their trucks at another location. However, the company doesn't have to build on this site as there are plenty of industrially appropriate sites across Rockland that are not within feet of our public drinking supply.
Laurie Seeman is Founder/Director of Strawtown Studio, an arts-based, environmental education programming that provides outdoor nature, art and science learning experiences for children and communities. In 2018, she received the Rockland County Executive Environmental Leadership Award. In April, Seeman was one of 10 Rockland County residents who received a New York State Assembly Women of Distinction Award.