by Kris Burns
I have a confession.
When I was brought on as the interim Creative Director by the GARNER Arts Center in November to help organize and implement L.A.B. Fest, I had as many questions as you probably do!
Here a Q & A about this weekend's L.A.B.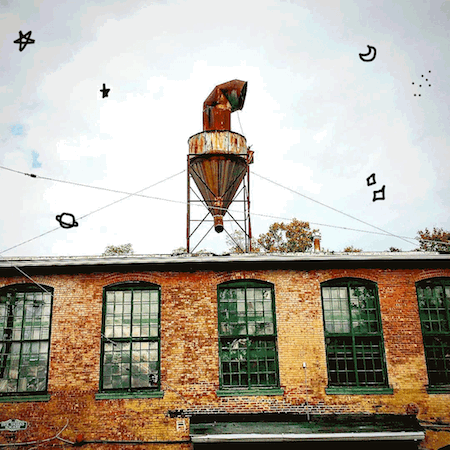 Q: What's a L.A.B.Fest
A: L.A.B. stands for  LIVE…ART…BEER!  Let's start backwards:
Beer.
On Sat-Sun May 18-19, there will be over 40 top notch craft breweries in Garnerville from all over the region bringing over 80 of the finest craft beers to sample.  Many have been micro-brewed collaboratively just for this occasion. Some right on the premises, one will be brewed the day before. Two of the three locations where you can sample these craft brews are cavernous, Pre-Civil War Industrial warehouses with 30 foot high ceilings. They're pretty spectacular.
Q: What does "Live Art" mean?
A: As you wander the 14 acres of the Garner Historic District, you will become a part of  a series of unexpected "art encounters." For example: as you turn a corner to go under an archway,  you might encounter a musician singing, a sculpture dangling, a video playing, a collage wheatpasted. Stroll down a 100+ year old brick alley, you might stumble upon a performance in progress, a sculpture being constructed, or a mural being painted. You will  find yourself included in the performance, as an actor in the installation or as the painter of the mural.
All day long, you will be invited to play.
Q: Why is this called a collaboration of art making and beer brewing?
A: I have another confession.
When Sofia Barbaresco and Hannah Rubinsky of Industrial Arts came up with this tagline for L.A.B. Fest back in February, I liked the way it sounded, but I wasn't quite sure it captured what we were doing.
After drinking a limited edition L.A.B. Fest "Industrial Espionage" from a can covered in drawings by a GARNER Arts Center artist, I changed my mind.  The last few weeks I've watched inspired artists working on inspired installations alongside inspired brewers diligently brewing inspired beer. A collaboration of making Live–Art–Beer is precisely what this is all about. The creation of this festival has forged  a community of makers to create something entirely new.You could say it took a LAB to make L.A.B. Fest. Sorry, I just couldn't resist and I couldn't be more proud to be a part of this.
Q: When and where does this happen? How do I get there?
A: The Garner Arts Center is located at 55 West Railroad Avenue in Garnerville, NY. Sat May 18 hours are 2-6p. Sun May 19 hours are 12-4p. **Save money –buy your tickets in advance or buy a weekend pass!
This is a pedestrian friendly event, so there will be no parking on site but there will be plenty of FREE off-site parking just 1/2 mile away at the Helen Hayes Hospital & the North Rockland Central School District Administration Building. Shuttle services (wheelchair/walker accessible) will be running between off-site parking & L.A.B. Fest all day.  There will be also be disabled parking spaces available on-site
No car? No problem! There will be free shuttle service to the Suffern NJ Transit Train station and a limited number of free seats on the ferry from Haverstraw. Check out the HOW DO I GET THERE? page at LABFestNY.com for details.
Don't like beer?  Buy an ART ONLY pass…did I mention there were food trucks, craft beer brittle and a roaring creek too?
L.A.B. Fest is a partnership with the Industrial Arts Brewing Company and the Garner Historic District. Support is provided by Market NY through I LOVE NY New York State's Division of Tourism as part of the Regional Economic Council awards.
Kris Burns is the Creative Director at the Garner Arts Center.