by Susan Hellauer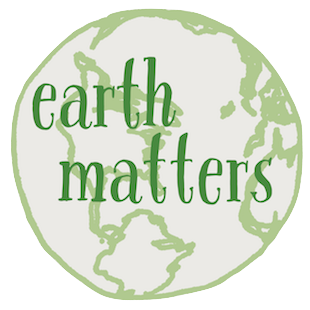 Earth Matters focuses on conservation, sustainability, recycling and healthy living. This weekly series is brought to you by Maria Luisa Boutique and Strawtown Studio and Summer Play Camp at Blue Rock School and Dying To Bloom, a natural burial boutique for humans and pets. 
If Earth Matters to you, sign up for our mailing list and get the next installment delivered right to your inbox.
Earth Day Week 2019 in Nyack had it all: awards, celebrations, tree-plantings, and some tender loving cleanup care too.
Celebration of the first Earth Day, on April 22, 1970, was inspired by the massive, disastrous Santa Barbara oil spill in 1969. The nascent environmental movement had been slowly gaining strength during the 1960s with the publication of of Rachel Carson's Silent Spring in 1962, along with campaigns to clean up the ravaged Hudson River and other polluted sites, all boosted by the '60s counterculture and "back to the earth" movements.
Millions of Americans took to the streets on that first Earth Day, marching and demonstrating for clean air and water. Their concerns were taken up by Congress in a rare moment of bipartisan agreement. The Environmental Protection Agency was established in 1970. Then, in quick succession, Congress passed and Republican President Richard Nixon signed the Clean Air Act (1970), the Clean Water Act (1972), and the Endangered Species Act (1973).
Threats to these landmark environmental laws under the Trump Administration have driven Americans of all ages back to the streets hoping to protect these laws, for people's health, and our planet's health. Earth Day has once again become a celebration with an urgent purpose.
Here are some of the sights and stories of Nyack's own week-long Earth Day party.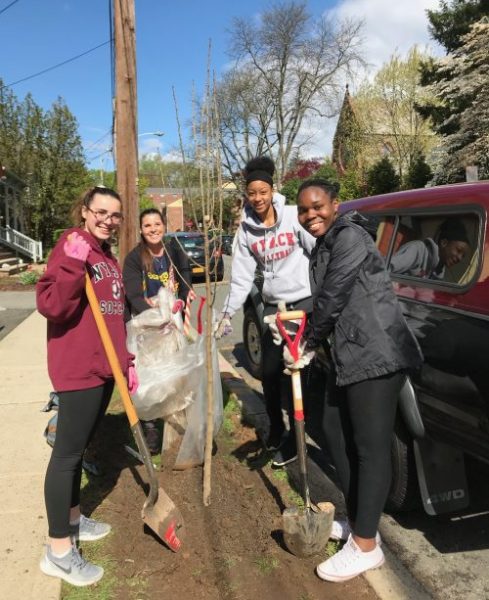 From left to right, Jenni Haera, Heather Heara, Miah Barrow, and Chikasi Eze plant saplings on First Avenue on Saturday, April 27. Heather Heara (the adult) leads the Nyack High School Interact Club, a junior Rotary Club that brings together young people to develop leadership skills while discovering the power of "Service Above Self," Rotary's motto. This spring, the Nyack Tree Project planted 18 trees (mostly on First Avenue) and had 19 volunteers from the members of the Nyack Tree Committee, Nyack High School, Nyack Rotary, and other individuals. (Photo: Marcy Denker)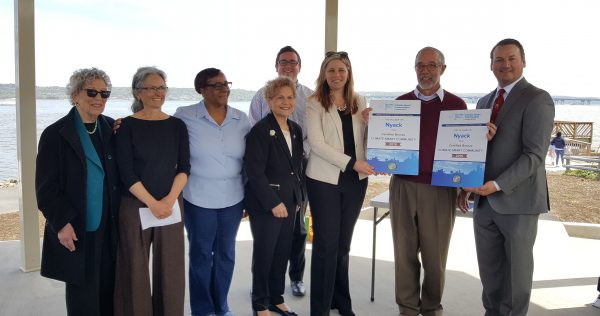 On Thursday, April 25, the New York State Department of Environmental Conservation (DEC) came to Nyack's Memorial Park Gazebo to congratulate the village on achieving Certified Bronze status in its Climate Smart Community initiative. The Village of Nyack is the first municipality in Rockland County to achieve this level in the DEC's program. Read more about it in Mayor Don Hammond's op-ed. From left to right: Rockland County Legislator Harriet Cornell, Nyack Sustainability Coordinator Marcy Denker, Nyack Trustee Louise Parker, Brendan Cahill (representing Senator David Carlucci), Assemblywoman Ellen Jaffee, Kelly Turturro (DEC), Nyack Mayor Don Hammond, Brad Tito (NYSERDA). (Photo: Susan Hellauer)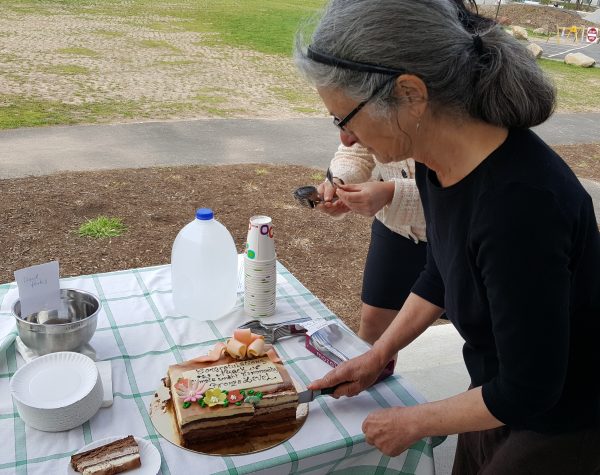 Village of Nyack Sustainability Coordinator Marcy Denker cuts a well-earned slice from a congratulatory "Bronze" cake donated by Didier & Dumas bakery on Main Street for the DEC celebration in Memorial Park. Denker has been leading Nyack's charge to Climate Smart Community status. Keep up with her projects on the village's Sustainability page, and please lend a hand if you can. (Photo: Susan Hellauer)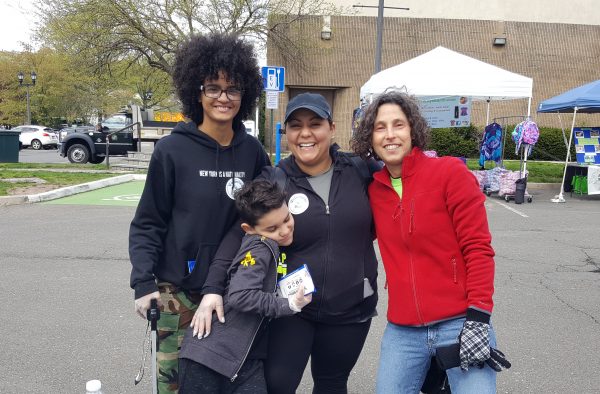 No Earth Day festivities would be complete without a Great American Cleanup sponsored by Keep Rockland Beautiful. This family—Brianni, Radhycel, and young Gabriel—came all the way from Garnerville on Saturday, April 27, to wield grabbers and spiff up Hudson Street. They pose pre-cleanup with KRB Executive Director Sonia Cairo (right). Why come all the way from Garnerville to clean up Nyack? "Because whenever I come to Nyack, my heart is happy," said Radhycel.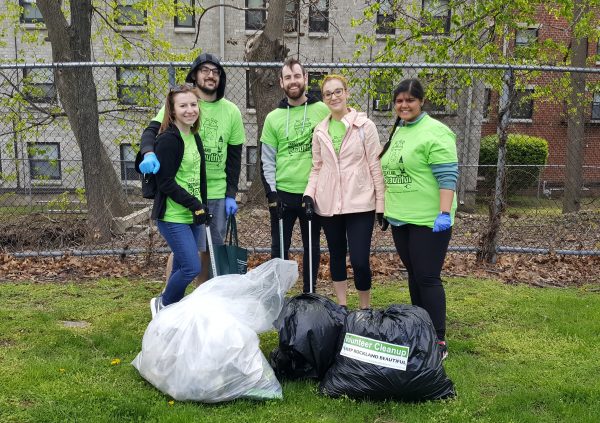 A group of friends from around Rockland County and Orange County converged in Nyack for the Earth Day Festival on April 27 and pitched right in with KRB's cleanup, working behind the Community Garden. What are they picking up? "Lots of plastic straws, glass bottles, cigarette butts, and construction debris from [the Pavion site]," they said. And where was all that litter headed? Straight into Nyack Brook behind them, into the Hudson, and out to the ocean. From left to right: Vinny Boucher, Liz Gesullo, Nick Duke, Nancy Coleman, and Richa Vasudeva. (Photo: Susan Hellauer)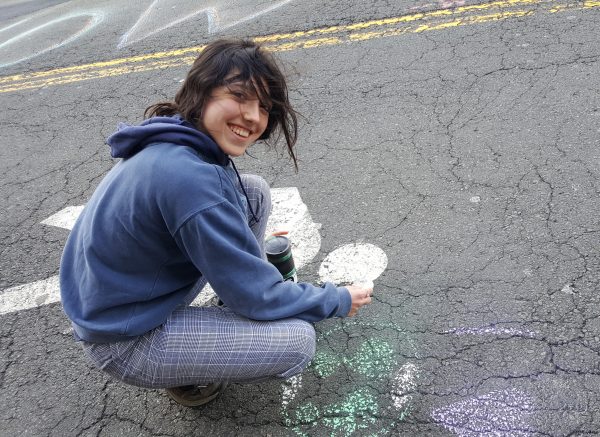 Getting ready for Nyack's April 27 Earth Day Music Fest at the Veterans Memorial Park at Cedar and Main Streets, Christine Berlingeri chalks the street with environmental messages on behalf of the Rockland Climate Alliance, a group of "mainly youth, and also adults, working together to make climate action visible in Rockland County," Berlingeri said. The 18-year-old is studying environmental engineering at Rockland Community College. (Photo: Susan Hellauer)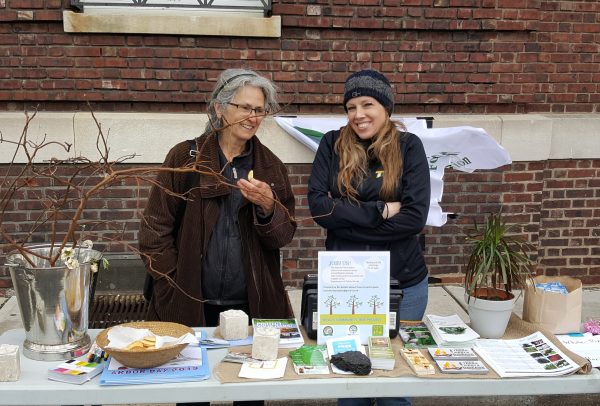 Nyack Sustainability Coordinator Marcy Denker (left) at the Nyack Tree Project Earth Fest table with Melissa Brey, who has been volunteering with the group for two years. "We just keep trying to beautify Nyack with our trees," she said. Denker outlined the aim of the committee: "The NYACK TREE PROJECT is a community forestry initiative authorized and supported by the Village of Nyack. Funding is provided by the Village of Nyack and other sources, including private donations. It is organized by the Nyack Tree Committee. We plant trees along sidewalks in the public right of way. We also plant trees on private property near the sidewalk in our Free Front Yard Tree Program." (Photo: Susan Hellauer)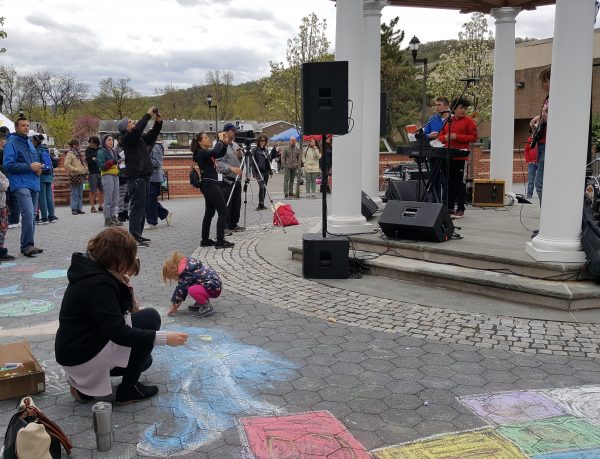 Artists, musicians, food vendors and non-profits celebrated Earth Day Saturday, April 27, at the Main Street gazebo in Nyack from 12n to 4p. Sponsored by Casa del Sol, Blue Rock School's Summer Play Camp, Green Mountain Energy, and Clearway Energy, the festivities were hosted by the Nyack Chamber of Commerce and the Village of Nyack. Youngsters wield sidewalk chalk while the teen phenoms of Sons of Science set up a funk-rock vibe. (Photo: Susan Hellauer)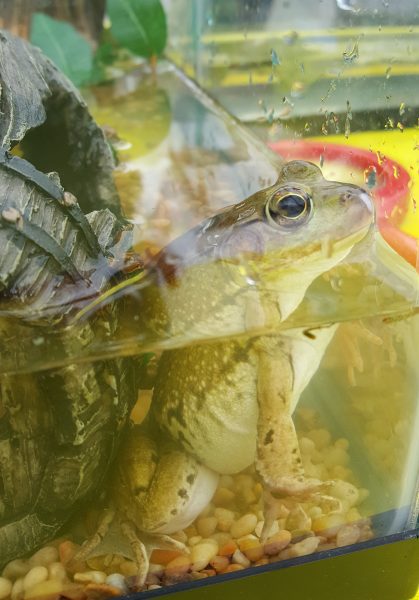 Earth Fest sponsor Blue Rock School Summer Play Camp set up a mini-play-camp as part of the day's fun, with face painting, hula hoops, and local wildlife, including this little green frog, unperturbed by they day's grey skies and gusty winds. (Photo: Susan Hellauer)
Email Earth Matters
Read Earth Matters every Wednesday on Nyack News And Views, or sign up for the Earth Matters mailing list.
Earth Matters, a weekly feature that focuses on conservation, sustainability, recycling and healthy living, is sponsored by Maria Luisa Boutique, Dying to Bloom, Strawtown Studio, and Summer Play Camp at Blue Rock School.