by Susan Hellauer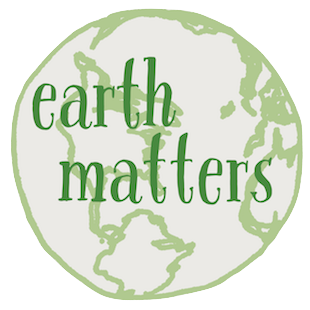 Earth Matters focuses on conservation, sustainability, recycling and healthy living. This weekly series is brought to you by Maria Luisa Boutique and Strawtown Studio and Summer Play Camp at Blue Rock School and Dying To Bloom, a natural burial boutique for humans and pets. 
If Earth Matters to you, sign up for our mailing list and get the next installment delivered right to your inbox.
Happy International Compost Awareness Week, people! This year, there's something to sweeten that that backyard bin of rotting food scraps. A plastic bag ban and congestion pricing got all the attention in Albany this spring, but the just-enacted 2020 New York State budget bill also includes the landmark Food Donation and Food Scrap Recycling Act, which requires businesses to donate unused edible food to hungry New Yorkers, or send food scraps for composting to recycling facilities.
The regulatory minutiae are yet to be penciled in, but the intent of the mandate is pretty clear: most large-scale food-handling businesses—like grocery stores, hotels, restaurants, sports stadiums, and college cafeterias—that generate more than two tons of food waste per week will have to find ways to divert unused food from landfills, cutting methane emissions and greenhouse gases.
Food-waste reduction legislation has been bouncing around Albany for years, just waiting for this moment. Still, the long runway to this law's takeoff date of January, 2022 reflects the reality that large-scale composting facilities are not thick on the ground yet. "There's limited capacity now in New York State, and it will take time for communities to develop it," said Rockland County Solid Waste Management Authority (RCSWMA) Solid Waste Educator Kerri Scales. "And the generators need time to think about it, too. But it's a great start."
The act also enshrines the U.S. Environmental Protection Agency's Food Recovery Hierarchy into state law, a move that has elicited fist pumps from environmental advocates, like the National Resources Defense Council (NRDC), which pointed out that "[f]or the first time, this sets up a framework to address this pressing issue across the state."
Backyard composting: Take the plunge today
Maybe you don't produce an average of two tons of vegetative food scraps in your kitchen every week, but all those peels, skins, and whatnot really do add up. The United Nations Food and Agriculture Organization estimates that wasted food contributes about 8% of all man-made greehouse gas emissions. You can fight climate change by composting food scraps at home.
If you're worried about the hassle of composting ("My backyard is too small"; "It smells"; "I don't want to attract animals"; etc.), you're really overthinking this. There are just a few simple rules, and anyone can do it. After a few months, and a lighter garbage can at curbside, you'll never again want to load your trash with food scraps for a 300-mile ride in a diesel-belching 18 wheeler to an upstate landfill.
And if you think that the garbage disposal in your sink is as good as composting, think again. Whatever goes down the drain, in whatever form, has to be dealt with at the water treatment plant, and the screened-out solids have to be trucked away to a landfill or co-composting facility. And guess who pays for that?
As a member of the Assembly Environmental Conservation Committee and former Chair of the Assembly Task Force on Food, Farm and Nutrition Policy, I am thrilled that this legislation I co-sponsored was included in the Budget.  Food waste is an economic and environmental issue. Protecting our environment and fighting climate change, while increasing surplus food donation and distribution to those in need, is a win for everyone.    — Assemblymember Ellen Jaffe (D-97)
A little help from your composting friends
You can find out all about backyard composting from the Rockland Cornell Cooperative Extension, whereyou can buy a big, sturdy compost bin at cost, thanks to the folks at the Rockland County Solid Waste Management Authority.
Rake up those leftover autumn leaves, or round up some paper from your shredder as "browns" to get the food scraps cooking. You can even start a compost pile without a bin, right in the ground. Your backyard bugs and worms will invite themselves to the party, and those old sweet potato peels will eventually be making your garden bloom.
Plus, there's another benefit to composting food scraps: It will get you focused on the food waste all around us, and ways to stop waste before it starts. From farm to fridge, Americans waste about 40% of our food. RCWSMA's Kerri Scales loves composting, but she loves reducing waste even more. "It's time to start raising our awareness, and to think about reducing food waste right at the food store," she said. "Shop smart, and then set up a compost pile in your backyard. It's easy. Just start."
Learn more:
Email Earth Matters
Read Earth Matters every Wednesday on Nyack News And Views, or sign up for the Earth Matters mailing list.
Earth Matters, a weekly feature that focuses on conservation, sustainability, recycling and healthy living, is sponsored by Maria Luisa Boutique, Dying to Bloom, Strawtown Studio, and Summer Play Camp at Blue Rock School.