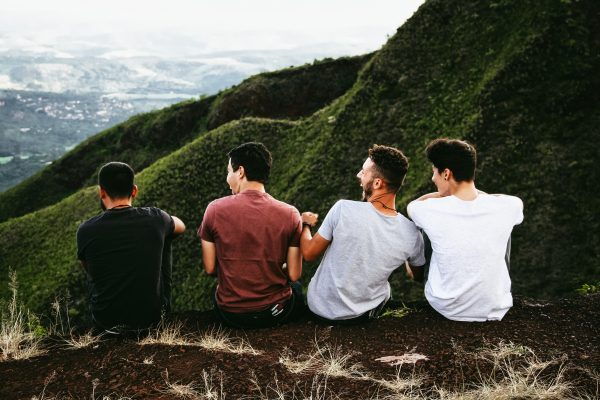 by Mikki Baloy
"I don't want to be part of the problem; I want to be part of the solution."
Upper Nyack resident Tom Kelley puts this intention to work as a coach, guide, and compassionate mentor for men and boys. The Marine Lieutenant led a successful career in media sales before transforming his own life, and now runs a four-month men's program called Open Deep and True to foster vulnerability and heart-centered leadership.
"From a young age, boys are taught that the term 'Be a man' means to always have your guard up, don't show any emotions except anger, and never appear vulnerable," Kelley says. "To me, the goal of Men's Work–capital M, capital W–is to peel back the layers of protective shell until the real self is revealed… to ask 'What do I want? Do my needs matter? What is my purpose?' One way for men to reconnect with themselves is to form a regular meeting circles with other men."
The #metoo movement has highlighted the ways in which women feel unsafe or are sexually harassed or assaulted on a shockingly regular basis. On a typical day, there are more than 20,000 phone calls placed to domestic violence hotlines nationwide, while intimate partner violence accounts for 15% of all violent crime. Clearly, the United States has long been facing an epidemic of gender-related violence. But this violence is not only perpetrated against women and trans people. In 2017, men died by suicide 350% more often than women, and the rate of suicide is highest in middle-age white men in particular. What is happening within the psyches of modern men, and how can it be shifted towards joy, well-being, and kindness?
Kelley is optimistic that change is possible. "Vulnerability is the pathway to the type of freedom that many men are looking for–the freedom that they don't have in dead marriages and boring, meaningless jobs. Many middle-aged men wake up one day in their thirties or forties and realize they have no close friends, no one to tell their inner thoughts to, and no joy in life. I believe that Men's Work is powerful enough to transform society and the world. The first step in this is for men to be willing to do the inner work to improve themselves, to become better men so we can help other men become better men. I know that it happens at the point of connection. Men have to show up, they have to get past the brief discomfort that comes with trying something new. Men's Work offers avenues for them to connect, deepen, and flourish–exponentially. One of the other big benefits is that it trains men to be mentors. I believe that society would be completely transformed if every man over thirty years old were to mentor another man."
Austin Vryhof, a coach and healer and volunteer with ManKind Project, agrees. The White Plains resident has been part of the Mankind Project for several years and has both witnessed and experienced for himself the transformation that is possible in men's groups.
"Men get the opportunity to check in with themselves deeply, share what's coming up in life, connect with fellow men in a safe space," Vyrhot says. "In addition, we get to tap into our mission and purpose in life, and find ways to work through the blocks, obstacles, and challenges in life that may keep us from achieving that vision."
The purpose of ManKind Project, according to its website, is to create a safer world by growing "better" men. Men of all backgrounds, orientations, ages, faiths, and abilities are welcome. The ManKind Project supports a global network of over 1,000 peer-facilitated men's groups serving close to 10,000 men each week. Local MKP circles meet in Demarest, Hartsdale, and Chestnut Ridge.
Every man who joins MKP will have participated in the New Warrior Training Adventure, which provides a framework for the ongoing community of brotherhood. The New Warrior Training Adventure is a modern male initiation and self-examination. To date, over 65,000 men around the world have attended this intense 48 hour experience. An Adventure is planned in Cold Spring the weekend of May 17-19, and another is scheduled for the fall.
"Each MKP men's group is independently formed, organized, and run, with circles forming throughout the world," says Kelley. "A men's group meeting is divided into several rounds with a variety of activities that allow men to tap into every aspect of their lives.  Each weekly group rotates facilitators, giving each man the opportunity to step into his leadership as an equal among the brothers."
Both Vryhof and Kelley have experienced life-changing and soul-deepening Men's Work first-hand. "I was able to recognize, bless, and release the sadness and guilt I had been carrying hidden from myself for so many years," says Vyrhof. "I developed leadership and teamwork experience. I reclaimed higher levels of my voice and power. And I was able to connect with myself and the earth around me spiritually in an even deeper way.  The emotional intelligence, healthy communication, and facilitation skills I've learned via the weekend and by continuing to sit in circles with fellow men in MKP since then have enriched my relationships with male and female friends, family, work colleagues, and my partner."
Kelley echoes these sentiments. "I love what has happened in my life because of Men's Work. I have a fantastic wife, a great love life, a precious daughter, and many interesting friends. My life is filled with wonder. I want that for other men."
For more information about Open Deep and True, contact Tom: tom@opendeepandtrue.com. For more on the local activities of the Mankind Project (in Demarest, Hartsdale, and Chestnut Ridge, as well as the New Warrior Training Adventure in Cold Spring), contact Austin: advryhof@gmail.com.