The weekend kicks off with First Friday arts and music on Main Street and Broadway. Then, on Sunday it's the first Nyack Street Fair of 2019. Don't miss Songs of Protest 3 or your last chance to catch Rumors at the Elmwood Playhouse. The Jewish Film Festival continues with two new screenings. If you want to save the planet, there will be a discussion on climate change solutions. Also, volunteer to help save the turtles of  Western Highway.
This Fri-Sun list of what to do and where to do it is brought to you by Rockland Center for the Arts. Enjoy a free art workshop for the entire family, tour the studio art facility and the camp grounds at the RoCA Summer Camp Open House on Sunday.
Friday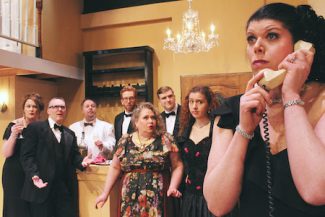 Elmwood Playhouse presents Rumors. The party's about to begin but Charley, the Deputy Mayor of New York, has accidentally shot himself and his wife is missing. Their friends must prevent a scandal. But how to keep things quiet before the guests arrive? Confusion mounts as the evening slides into a world of farcical hilarity. Tickets are available online. Fri 8p, Sat 2p and 8p , 10 Park St, Nyack.
On the First Friday of each month, local businesses host art and music events.

The Nyack Art Collective has another great evening planned for you. Artists will talk about their subject matter, materials, challenges, and frustrations with their work. 8-10p, Casa del Sol, 104 Main St, Nyack.

A reception for Peter Cheney, the First Friday Artist of the Month, will be held from 6-7p. As we celebrate poetry month, there will be a special reading by Tony Howarth from 7-8p. Edward Hopper House Museum & Study Center, 82 N Broadway, Nyack.

Save the Turtles of Western Highway. During springtime, adult female turtles are leaving the safety of the reservoir and crossing Western Highway to lay their eggs. Join the The Hudson Valley Humane Society at their kick-off meeting, learn how you can help play a proactive role in saving the turtles. It's World Turtle Day, and live turtles will be special guests at the event. 7p, Congers Lake Memorial Park, 6 Gilchrest Rd, Congers.
Check out the new Flashback Fridays Concert Series. The first concert, Forever Ray, features a 10-piece band, fronted by Shulton Whitley and led by musical director and drummer Bobby Deitch. The band performs the exciting and uplifting music of Ray Charles, which includes a blend of musical styles that range from jazz and blues to country and R&B. 7-8p, Piermont Library, 25 Flywheel Park West, Piermont.
The Rockland ReelAbilities Film Festival presents Nathan's Kingdom, a drama/fantasy about Nathan, a 25-year-old autistic man who depends upon Laura, his younger, opiate-addicted sister, for help navigating the challenges of life. 8p, Nyack Center, 58 Depew Ave, Nyack.
Saturday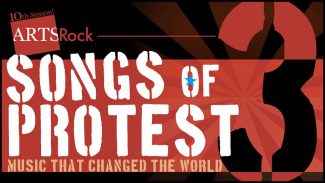 ArtsRock presents Songs of Protest 3 – Music That Changed the World. This can't-miss event brings together a group of musicians to celebrate the power of music to effect change. Listen to powerful anthems addressing American history. Tickets are $28 (or $48 for premium seating) and are available online. 7:30p, Rittershausen Theater, 131 N Midland Ave, Nyack.
Learn about Using Herbs to Manage Stress and Anxiety. Discover simple ways to feel calm and resilient in stressful times. Create your own herbal tea to take home. 2-3:30p, Nyack Library, 59 S Broadway, Nyack,
A fun-filled night is waiting for you at Handbag Bingo. Help raise money for the Rockland Youth Dance Ensemble. This is a BYOB and snacks event. 6:30-9:30p, Nyack Center, 58 Depew Ave, Nyack.
How about some jazz-funk-rock fusion with SkyDaddy? The performances blend genres and styles, ranging from catchy jazz/pop tunes to EWI-driven space funk jams and mashups. 9:45p, Casa del Sol, 104 Main St, Nyack.
Sunday
You know that winter hibernation is officially over when Nyack Street Fair season begins. There's something for everyone at the SpringFest street fair. Kids will enjoy rides and adults will love shopping over 300 vendors and listening to great live music. 10a-5p, Downtown Nyack, Main St. & Broadway.
Come to the RoCA Summer Camp Open House. Enjoy a free art workshop for the entire family. Tour the studio art facility and the camp grounds. 1-4p, Rockland Center for the Arts, 27 S Greenbush Rd, West Nyack.
Tea and Treats and Death and Dying: Dying To Bloom, a natural burial boutique for humans and pets, hosts a safe, respectful space to share beliefs, curiosity, fear, and stories about mortality. Includes refreshments. 2p, 48 Burd St, Suite 101, Nyack.
Rockland Center for the Arts celebrates the vision of creativity with The Students Show. The students of RoCA, young and old, show that creativity is alive and well, keeping them youthful, happy, and healthy. Artwork will include pottery, glass beads, drawing, painting, and sculpture. Opening Reception 2-5p, 27 S Greenbush Rd, West Nyack. The exhibit runs through April 28.
GraceMusic presents Gabriel Fauré's Requiem. Written between 1887 and 1890, this requiem is one of the most beloved choral works of all time. The Grace Church Choir, under the direction of Brandon Beachamp, performs this masterpiece along with other music for Lent and Holy Week. 4p, Grace Episcopal Church, 130 First Ave, Nyack.
Celebrate spring with Chopin at the Rockland Symphony Orchestra Spring Concert under the baton of guest conductor Brent Chancellor. Piano soloist, Eric Clark, will perform Chopin's Piano Concerto No. 2. Also on the program are Mascagni's Intermezzo  from Cavalleria Rusticana and Beethoven's Symphony No. 7. 4p, Green Meadow Waldorf School, 307 Hungry Hollow Rd, Chestnut Ridge.
Next Week
At the Jewish Film Festival:
Tuesday – Budapest Noir is a political thriller about a hard-boiled reporter who investigates the murder of a prostitute, leading him into the dark shadowy underworld of 1930s pre-Nazi Hungary. 7:30p, Regal Cinemas, Nanuet.
Wednesday – Shoelaces, a gently comical story of the heartfelt relationship between an aging father and his exuberant adult son who is autistic, and whom he abandoned while he was still a young boy. 7:30p, Regal Cinemas, Nanuet.
Monday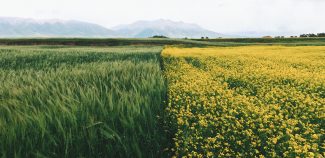 Real Climate Solutions – As we confront the urgency of climate change, we are also seeing groundbreaking new solutions ranging from new forms of renewable energy to new ways of understanding our relationship with the earth. Join Manna Jo Greene while she discusses a variety of climate solutions, such as the Natural Step principles and some of the solutions outlined in Paul Hawken's book, Drawdown. 7p, Valley Cottage Library, 110 Route 303, Valley Cottage.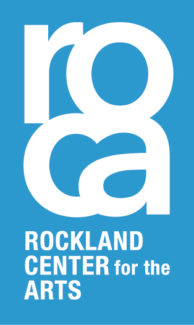 The Nyack Weekender is your Fri-Sun list of what to do and where to do it. This weekly series is brought to you by Rockland Center for the Arts.
To get the Nyack Weekender delivered to your mailbox auto-magically every Friday morning, add your name to our mail list. Visit our
online sign-up sheet
to subscribe.