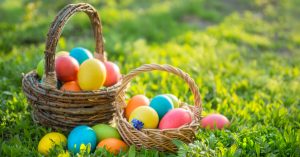 Happy Easter! Follow the bunny at one of Rockland's Easter Egg Hunts and find hidden candy. Or, see sword swallowers and fire eaters at the fair. Art lovers shouldn't miss the newest exhibits at Union Arts Center and Edward Hopper House. And if you need to unwind, join a yoga class at Nyack Yoga.
This Fri-Sun list of what to do and where to do it is brought to you by Rockland Center for the Arts. Stop by and see The Students Exhibition. The students, young and old, show that creativity is alive and well, keeping them happy, healthy, and youthful.
Friday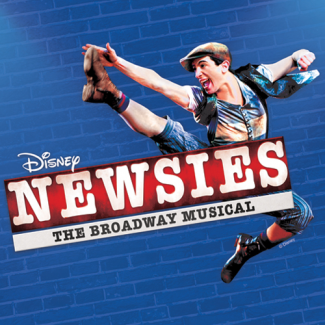 Westchester Broadway Theatre presents Newsies, a defiant tale of feisty kids making a difference. Orphaned and homeless yet determined to succeed, New York's newsboys are dreaming of a better life. In the face of rising prices and poor wages, they pull together, create strength in numbers, and protest. Enjoy this smash-hit musical based on the 1992 Disney film. Show runs through May 26, Fri 6:15p, Sat 6:15p, and Sun 11:45a. 1 Broadway Plaza, Elmsford.
Unleashed by Lynn Stein and Serious Play by Michael Iskowitz are the two newest art exhibits at Union Arts Center. Enjoy colorful, playful paintings, and a visual journey of feelings. 4-7p, Union Arts Center, 2 Union St, Sparkill.
Maureen's Jazz Cellar presents Dave Berkman NYSQ featuring Tim Armacost, Ugonna Okegwo, and Gene Jackson. 8 and 9:30p, 2 N Broadway, Nyack.
Saturday
POSTPONED TO TUE 5/21 AT 6p. Attend the annual Easter Egg Hunt of the Rockland Boulders Baseball Team and meet BoulderBird, the mascot. 9:30-10:30a, Palisades Credit Union Park, Pomona.
POSTPONED TO SAT 4/27 DUE TO EXPECTED INCLEMENT WEATHER. Strawtown Studio presents its new community workshop series The Four Elements. This Saturday, explore the many different forms of earth: clay, soil, stone, sand, and more.  Work with hands-on art exercises and microscopes and create a work of art to take home. All ages are welcome. 10:30a-12:30p, Marydell Faith & Life Center, 640 N Midland Ave, Nyack.
Kids can meet the Easter bunny and its team for photos in the West Court of the Palisades Center. 11a, 1000 Palisades Center Dr, West Nyack.
Liberty Street School is the new exhibit at The Historical Society of the Nyacks. Get glimpses of the students and teachers from the 19th century who attended school on the corner of Liberty Street and Depew Ave. See photographs, mementos, and stories contributed by alumni. 1-4p, 50 Piermont Ave, Nyack.
The Chirp Music Series presents Joe Planck. Enjoy an evening of American folk music at Art Cafe Nyack, 8:30p, 65 S Broadway, Nyack.
Sunday
Don't miss the annual Rockland Free Fair. This family-friendly event features the Records and Burpee children's petting zoo, rides, and games for all ages. Also, The Greatest Showman-style sideshow acts. See sword swallowers, fire eaters, knife throwers, escape artists, and other exciting acts. The Free Fair is open daily through April 30.Palisades Center, Commuter Lot J, 1000 Palisades Center Dr, West Nyack.
Dreams to Reality is the current Hopper House exhibit by Mott Hupfel. Inspired by Hopper's works, Hupfel's photographs are infused with a sense of isolation and melancholy. Hupfel uses light, or the lack thereof, to transform the familiar into something mysterious and strange. 12-5p, Edward Hopper House, 82 N Broadway, Nyack.
Use Yin Yoga to help balance out your yang (vinyasa) practice and find a deeper sense of harmony, physically and mentally. 4:15-5:30p, Nyack Yoga, 42 Main St, Ste 101, Nyack.
Next Week
At the Jewish Film Festival:
Tuesday – Leona is an intimate, insightful, and moving film which tells the story of a young Jewish woman from Mexico City who finds herself torn between her family and her forbidden love. 7:30p, Regal Cinemas, Nanuet.
Tuesday – Mamboniks a documentary about the 1950s mambo craze and how a group of free-spirited, mostly Jewish dancers from New York City fell in love with the sultry dance from Cuba. 7:30p, Regal Cinemas, Nanuet.
Wednesday – Samuel Project portrays Samuel, a grandfather who reconnects with his grandson when he becomes the subject of a high school project. 1:30p, Regal Cinemas, Nanuet.
Wednesday – Accountant of Auschwitz, a documentary which sheds new light on Oskar Gröning, one of the last surviving members of the Nazi SS to be implicated in Germany's crimes against humanity, and constructs a stark reminder that those who forget history are doomed to repeat it. 7:30p, Regal Cinemas, Nanuet.
Monday and Wednesday
Elmwood Playhouse will be holding auditions for its upcoming production of The Little Foxes written by Lillian Hellman and directed by Alan Demovsky. The Little Foxes is the classic cynical play of family greed and revenge. The play takes place in the deep south (Alabama) therefore a southern dialect will be required but do not concentrate on the dialect for auditions. Interpretation is key and the dialect will come after several weeks in rehearsal. Sides from the script will be made available at the audition. There are roles for four females and six males. Casting is open to all. Ethnicities, races, and newcomers are especially welcomed. Crew and other volunteers are also needed. For more information call 845-353-1313 or visit www.elmwoodplayhouse.com/auditions. 7p, 10 Park St, Nyack.
Wednesday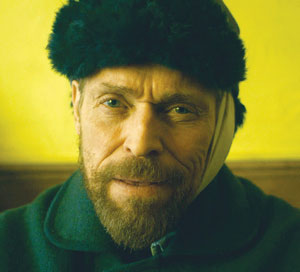 Rivertown Film presents At Eternity's Gate, a journey inside the world and mind of Vincent van Gogh who, despite skepticism, ridicule, and illness, created some of the world's most beloved and stunning works of art. Watch scenes based on van Gogh's letters, hearsay, and moments that are just plain invented. 8p, Nyack Center, 58 Depew Ave, Nyack.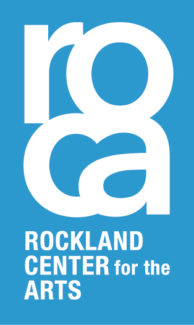 The Nyack Weekender is your Fri-Sun list of what to do and where to do it. This weekly series is brought to you by Rockland Center for the Arts.
To get the Nyack Weekender delivered to your mailbox auto-magically every Friday morning, add your name to our mail list. Visit our
online sign-up sheet
to subscribe.