It's Earth Day, and the weekend is filled with many fun activities for the whole family. Prepare snacks for the black bears, create your own walking stick, or help clean up the community. You are also invited to the Artist Reception and Awards Ceremony at Ringwood Manor State Park. And if it's tunes you're after, this weekend has it all–rock, pop, and classic.
This Fri-Sun list of what to do and where to do it is brought to you by Rockland Center for the Arts. This weekend, join the FREE workshops and decorate your own Hudson Valley walking stick or learn how to create eye-catching posters, view two new exhibits in the Catherine Konner Sculpture Park, and catch the pop-rock sounds of Deni Bonet.
Friday
The Ringwood Manor Association of the Arts is hosting an Art Exhibition at the Carriage Barn Gallery. View works from new artists and college students exhibiting their creativity alongside established artists from local organizations like The Tuesday Painters and Community Arts Association (www.caafinearts.org). You are also invited to the Artist Reception and Awards Ceremony on Sunday from 1:30-3:30p. The exhibit runs through April 28. 1-4p, Ringwood Manor State Park, 1304 Sloatsburgh Rd, Ringwood, NJ.
Don't miss the annual Rockland Free Fair. This family-friendly event features the Records and Burpee children's petting zoo, rides, and games for all ages. Also, The Greatest Showman-style sideshow acts. See sword swallowers, fire eaters, knife throwers, escape artists, and other exciting acts. The Free Fair is open daily through April 30. Palisades Center, Commuter Lot J, 1000 Palisades Center Dr, West Nyack.
Meet Ian Healy for an Artist Demonstration & Talk. He will discuss his technique and talk about his solo exhibit SILENCED. 7-9p, Bell-ans V°LITION gallery, 103 S Greenbush Rd, Orangeburg.
Saturday
Participate in the Great American Cleanup and help clean up your community. Head out on your own or get together with friends. Join thousands of Rockland County residents and remove tons of litter from streets, parks, and waterways. Cleanup starts at 9a. Meet at the lot adjacent to Veteran's Park (Main St & Cedar St), Nyack.
Reduce, reuse, recycle at an Earth Day Tag Sale. Got stuff that you don't need anymore? Come sell it and make some moola. 9a-3p, Sat and Sun, Palisades Community Center, 675 Oak Tree Rd, Palisades.
After the cleanup, honor Mother Earth and celebrate Earth Day. Enjoy a day of earth-friendly activities, delicious foods, music, and games for the whole family. Kids' activities include arts and crafts, as well as a fun, interactive summer play camp. 12-4p in the heart of the village at the Main St Gazebo, Cedar Street, and surrounding parking area, Nyack.
Celebrate Earth Day at the Zoo at Bear Mountain State Park. Come to the Bear Den at 10:30a to make snacks for the black bears. At 11a, watch the zookeepers let the bears explore and enjoy tasty treats. Family-friendly fun with an earth-friendly focus. Trailside Museums and Zoo at Bear Mountain State Park, Service Rd, Bear Mountain
Strawtown Studio presents its new community workshop series The Four Elements. This Saturday, explore the many different forms of earth: clay, soil, stone, and sand. Work with hands-on art exercises and microscopes and create a work of art to take home. All ages are welcome. 10:30a-12:30p, Marydell Faith & Life Center, 640 N Midland Ave, Nyack.
Learn how to create eye-catching posters about issues you believe in. At the FREE "Do One Thing" Poster Workshop you can create a poster design that explores the idea of doing one thing to make the world a better place. 12-2p, RoCA, 27 S Greenbush Rd, West Nyack.
The Nyack Chamber of Commerce is hosting a Spring Sidewalk Sale. Great deals will be available from your favorite stores and restaurants. 12-7p, village-wide, rain or shine.
At the FREE Sculptural Walking Sticks Workshop you can decorate a walking stick from the Hudson Valley. Have fun at this outdoor event, all ages are welcome. 2:30-4:30p, RoCA, 27 S Greenbush Rd, West Nyack.
The Rockland Center for the Arts presents Deni Bonet. Enjoy an evening with pop/rock music performed by a classically trained violinist. 7p, 27 S Greenbush Rd, West Nyack.
Sunday
Celebrate Autism Awareness Month and enjoy great classic rock music by the Rock 'n' Rollers. 12-1p, Palisades Mall, East Court, level 1 near H&M, 1000 Palisades Center Dr, West Nyack.

At the Summer Play Camp Info Session, meet the camp director, take a tour of the four-acre wooded property, and learn more about this joyful and imaginative summer experience for kids aged 3-11. 1-3p, Blue Rock School, 110 Demarest Mill Rd, West Nyack.
Celebrate the lives of "Nyack's permanent residents" like Edward Hopper, Helen Hayes, Charles MacArthur, and Carson McCullers. The Historical Society of the Nyacks' Oak Hill Cemetery Walking Tour starts at 2p at the cemetery entrance gate, Route 9W, between Sickles and 5th Ave, Nyack.
The Sparkill Concert Series presents Schumann – The Complicated Genius. Enjoy an afternoon with pianists Oxana Mikhailoff and Vassily Primakov at the Union Arts Center. 3-5p, 2 Union St, Sparkill.
Next Week
At the Jewish Film Festival:
Monday – City of Joel is a film about the city of Monroe, a microcosm for a hyper-partisan and divided nation as a land dispute between an ultra-orthodox Hassidic sect and their secular neighbors erupts into a turf war. 7:30p, Regal Cinemas, Nanuet.
Tuesday – Promise at Dawn recounts the story of the great Jewish novelist Romain Gary from his impoverished childhood in Poland to his time as a fighter pilot in WWII. 7:30p, Regal Cinemas, Nanuet.
Looking Ahead …
Friday, May 3
Rivertown Film asks: What inspires creative people? On May 3, 16 local artists in all disciplines will share their sources of their inspiration, using only 10 slides and 20 seconds per slide. It's a fascinating, fast-paced window into the creative mind. Participants include musicians, artists, filmmakers, actors ande activists. For more info, visit RivertownFilm.org
Friday, May 10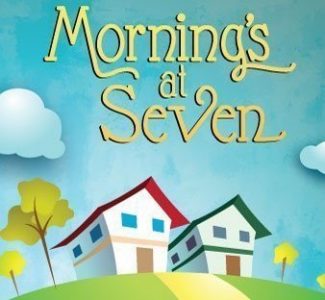 Elmwood Playhouse presents Morning's at Seven. Four sisters who live near one another in a small midwestern town in 1938 see their lives upended when one sister's son decides to leave home and get married. His plans stir up old passions and create new anxieties in the lives of everyone around him in this charming comedy. Tickets are available online. Fri 8p, Sat 8p, and Sun 2p , 10 Park St, Nyack. Show runs through June 1.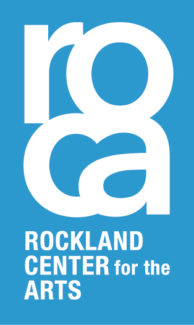 The Nyack Weekender is your Fri-Sun list of what to do and where to do it. This weekly series is brought to you by Rockland Center for the Arts.
To get the Nyack Weekender delivered to your mailbox auto-magically every Friday morning, add your name to our mail list. Visit our
online sign-up sheet
to subscribe.