This week in the villages: There will be a new traffic pattern starting Wednesday for motorists exiting the New York State Thruway at Exit 10 to allow for the construction of a new intersection at Hillside Avenue and Route 9W. There's still time to sign up for the Village of Nyack Spring Recreation programs, which include a new skateboarding class. The Town of Orangetown would like your help funding a new dog park; all you need to do (for now) is sign an online petition.
Village of Nyack
New Skateboarding Class – Grades K-8
A new Skateboarding class will run every Tuesday afternoon from April 30 to June 4. The beginner class (open to grades K-5) is offered from 4-5p and the intermediate class (open to grades 3-8) is offered from 5-6p. It is $120 for Village of Nyack residents and $144 for non-residents. Sign up now at nyack-ny.gov. For additional information or questions, please contact Melody Partrick at recreation@nyack-ny.gov or Leanne Reiss at recreationasst@nyack-ny.gov.
Registration for all other Spring 2019 Recreation Programs, including Field Games with Max, Spring Conditioning with Nyack Kids Wrestling Club, Nyack "Little Ninjas," Kung Fu, Beginning Piano with Rivertown Music, and Beginning Tennis is still open. For registration forms, please visit nyack-ny.gov/recreation or email recreationasst@nyack-ny.gov.
Village of South Nyack
Save the Date – Board of Trustees Community Meeting
Please join the Village Board on Thursday, April 11 at 7p at Orangetown Fire Co. No. 1, 90 Depot Place. This will be an informative meeting to bring you up to date on village business and projects including the Shared Use Path, Grants, Nyack College, Village Parking, Tree Committee, Village Code, and more.
Town of Orangetown
Sign a Petition for Funding a Dog Park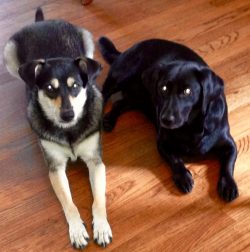 A few months ago, many residents responded to an online survey asking whether or not they would like to see the Town of Orangetown implement an enclosed, off-leash dog park. The majority of those that answered the question responded in favor of building a new dog friendly play area right here in town.
Based upon the amount of positive responses, Orangetown is currently looking into several grant opportunities for funding the dog park. Help the town's chances of obtaining funding by taking a minute to sign this online petition. Don't hesitate to also share this petition with your neighbors and friends.
Request for Proposals for the Proposed Town Hall Expansion
The Town of Orangetown is seeking proposals from qualified architectural firms for comprehensive architectural and engineering services, including: structural, mechanical, plumbing, electrical, civil engineering, and other specialty services, such as IT and AV consulting. Interested firms are invited to view and respond to the Request for Proposal by the deadline of May 1, 2019 at 10:30a.
Rockland County
Last week, Rockland County Executive Ed Day declared a countywide State of Emergency relating to the ongoing measles outbreak. Effective at the stroke of midnight, Wednesday, March 27, anyone who is under 18 years of age and unvaccinated against the measles was barred from public place–effective until this declaration expires in 30 days or until they receive the MMR vaccination.
Mario Cuomo Bridge News
New Traffic Pattern at Thruway Exit 10 in South Nyack 
Construction of the shared bicycle and pedestrian path is moving into its next stage at the Rockland Landing. A new temporary traffic pattern will allow for the construction of a new intersection at Hillside Avenue and Route 9W.
Beginning as early as Wednesday, April 3, all motorists exiting the New York State Thruway (I-87/I-287) at exit 10 (South Nyack) will now use the ramp that recently went into service. Those headed toward Piermont and New Jersey will turn left onto Hillside Avenue/Route 9W southbound at the end of the ramp (see graphic below). Motorists turning left must first come to a full stop. Local traffic to the Nyacks will continue to bear right connecting them to Hillside Avenue to Route 9W northbound.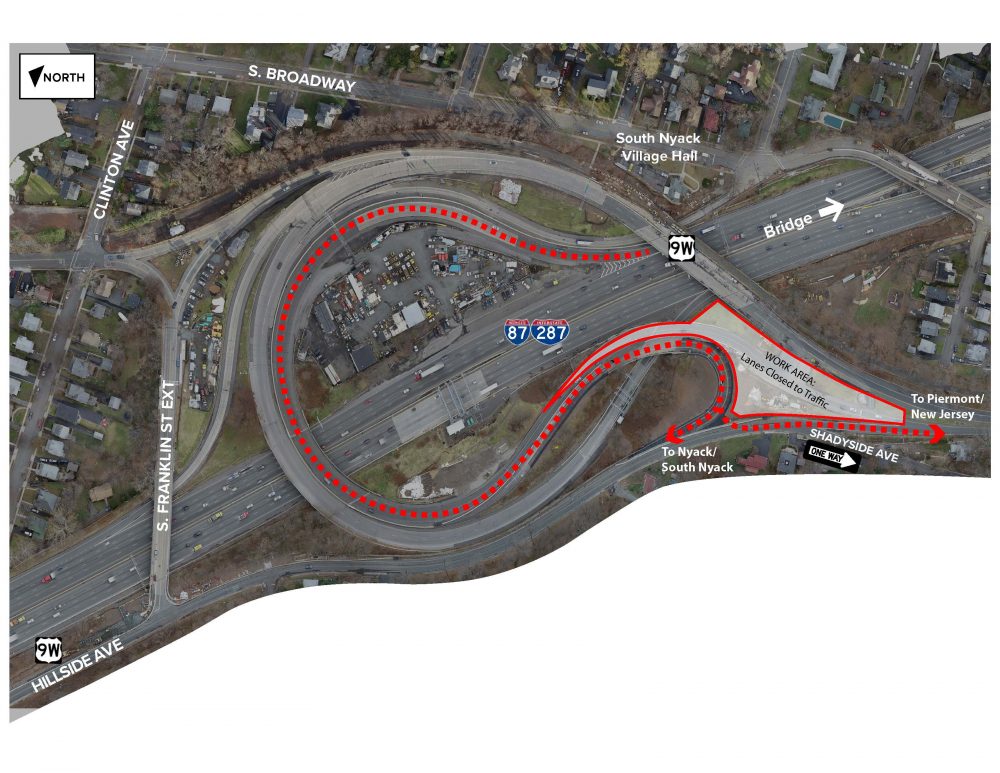 Additionally, motorists will temporarily be unable to access Hillside Avenue from Shadyside Avenue. Those looking to head north on Hillside Avenue to 9W northbound will be detoured to South Boulevard and South Highland Avenue. Detour signs will be in place. Motorists will still be able to access Shadyside Avenue from Hillside Avenue (southbound, up the hill). The temporary traffic pattern will remain in effect for several months.
Lane Closures Scheduled
TZC is also scheduled to continue roadway improvements near the Governor Mario M. Cuomo Bridge this week. The work requires single-lane closures on the southbound New York State Thruway. Specific lane closure times are listed in the chart below.
Lane Closures Near the Bridge
DATE:
CLOSURES BEGIN:
CLOSURES END:
LOCATION:
Mon. 4/1
10 a – One left lane
4 p
Southbound (I-87/I-287)
from exit 11 to the bridge
Tue. 4/2
10 a – One left lane
4 p
Southbound
from exit 11 to the bridge
Wed. 4/3
10 a – One left lane
4 p
Southbound
from exit 11 to the bridge
Thur. 4/4
10 a – One left lane
4 p
Southbound
from exit 11 to the bridge
Fri. 4/5
10 a – One left lane
4 p
Southbound
from exit 11 to the bridge
---
Here are the municipal events in the Village of Nyack and the Nyack Public Schools meetings for the week of 4/1. There are no meetings scheduled in South or Upper Nyack this week.
Village of Nyack
Mon 4/1, 7p: Planning Board Meeting
9a: Mayor Hammond's Monthly Meeting
5p: Justice Court
Thurs 4/4, 9:30a: Justice Court
Nyack Village Hall is located at 9 N. Broadway.
Nyack Public Schools
Tue 4/2, 7:30p: Board of Education Meeting
The Board of Education Meeting will be held at the Central Administration Building, 13A Dickinson Ave, Nyack.
---
Message from Nyack Mayor Don Hammond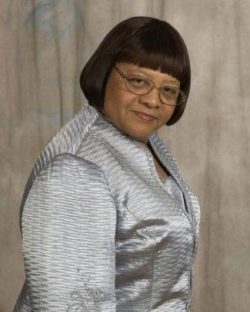 Apostle Alston is a woman full of wisdom, faith, and power. Her biography references scripture (Proverbs 31:26)–"She openeth her mouth with wisdom; and in her tongue is the law of kindness"–and the passage can describe her, too.
She has resided in Rockland County since the late 1950s. She is a graduate of the Manhattan Bible Institute, attended Rockland Community College for Business and Religious Studies, and St. Thomas Aquinas College for Psychology
Ever since Apostle Elizabeth Alston moved to this county, she has been a strong leader within her community. In 1965, she was officially ordained Pastor of Evangel Revivaltime Center #4 in Nyack, New York, which today is St. John Deliverance Tabernacle, Inc., located at 35 Piermont Avenue, Nyack, NY. She has grown this congregation and St. John Deliverance Tabernacle into the beautiful edifice that overlooks the Hudson River.
For five years, Apostle Alston was a faithful Pastor and member of Pilgrim Assemblies where she served diligently under the leadership of the late Archbishop Roy E. Brown, the Presiding Prelate of Pilgrim Assemblies, and the late Bishop Charles Reed, who was the Jurisdictional Bishop.
In January of 1998, because of her calling and ability to teach and lead others, Apostle Alston was Ordained into the office of Overseer. She had demonstrated that she was totally dedicated, consecrated, and qualified to do the work of a clergy woman. After years of leading and mentoring other pastors and clergy leaders, she became and was affirmed an Apostle in The Lord's Church April 22, 2005.
Apostle Alston has traveled extensively throughout the United States and overseas, preaching the Gospel of Jesus Christ. She maintains a weekly Television Ministry The Glorious Gospel of Jesus Christ. Apostle Alston is the first black female Pastor in Rockland County and a lifetime member of the NAACP. She was given a Lifetime Achievement Award by the NAACP for her continued work with youth. She has received countless awards, including a Certificate of Appreciation for participation in Operation Iraqi Freedom from the 402nd Civil Affairs BN, Bravo Company, Diyala Province, Iraq.
In 2006, the Mayor of the Village of Nyack declares the 3rd Sunday in October as an Official Day of Recognition as well as naming the street after her (Apostle Alston Way), Citations from the New York State Assembly Representing Rockland County & The Council of The City of New York in Recognition of her extraordinary Dedication & Service as Pastor, an Award of Excellence from the County Executive for her continuous work in the community at large, and especially with the youth; notably, an award from former United States President Bill Clinton in 2000 for her dedicated service in religious leadership and in 2011 placed in the archives of the Congressional Record from the Honorable Elliot L. Engel of New York of The House of Representatives, declaring the 3rd Sunday and accomplishments of Apostle Alston as permanent record in the House of Representatives. Apostle Alston is also recognized in the Strathmore's Who's Who, The Global Directory of Who's Who and America's Registry of Outstanding Professionals as a lifetime. — Nyack Mayor Don Hammond