This week in the villages: Beginning this week, those looking for affordable housing in Nyack can apply for one of the designated units in the new Pavion Apartments complex. The T.E.E.N Works Program is also accepting applications for its training/summer jobs program. Upper Nyack is hoping to become a greener community with an informational session on Community Choice Aggregation.
Village of Nyack
Message from Nyack Mayor Don Hammond
The Village of Nyack is happy to announce the opening of affordable housing at the Pavion Apartments located on Cedar Hill Avenue. These 13 spacious one and two bedroom apartments each have a modern kitchen, featuring energy star appliances including a frost free refrigerator, range, dishwasher, an attractive full bathroom, numerous closets, washer/dryer, and wall to wall carpeting. One onsite parking space will be included in the monthly rent for each apartment. Additional parking will be available for a monthly fee. Other amenities include an outdoor swimming pool, a clubhouse with lounge, package room, dog wash station, bicycle storage, gym, roof terrace and gardens, and outdoor pool and deck. Although pets are allowed, there will be weight and breed restrictions.
Because the 13 apartments are part of the Village of Nyack's affordable housing program, the basic monthly rent for a one bedroom apartment, consisting of approximately 778 square feet, will be $1,190. The basic monthly rent for a two bedroom apartment, consisting of approximately 1,000 square feet, will be $1,431. Tenants will be responsible for paying all utilities, including water. Those interested in applying to rent can contact Jason Jennings at (845) 708-5799 x 203. Applications will be available at Village Hall beginning April 8, 2019. You can also visit nyack-ny.gov.
The units at Pavion will be great for individuals seeking below market rentals. Whether you are first starting out or just want to downsize you will have an opportunity to become a member of the vibrant Nyack community. These affordable apartments will help Nyack residents who are seeking an economical solution to living within Nyack. Pavion Apartments are close to the center of town so residents can walk to local business, restaurants, and the cultural centers in the heart of the village. An informational meeting will be held on April 18 at 7p at the Nyack Village Hall on 9 Broadway. — Nyack Mayor Don Hammond
Spring 2019 Recreation Programs
Registration is still open for the Spring 2019 Recreation Programs, including Field Games with Max, Spring Conditioning with Nyack Kids Wrestling Club, Nyack "Little Ninjas" Kung Fu, Beginning Piano with Rivertown Music, Skateboarding, and Beginning Tennis. For registration forms, please visit nyack-ny.gov/recreation or email recreationasst@nyack-ny.gov.
Village of South Nyack
Board of Trustees Community Meeting
Please join the Village Board on Thursday, April 11 at 7p at Orangetown Fire Co. No. 1, 90 Depot Place. This will be an informative meeting to bring you up to date on village business and projects including the Shared Use Path, grants, Nyack College, village parking, Tree Committee, Village Code, and more.  A copy of the agenda may be found at southnyack.ny.gov.
Curbside Leaf Pickup
From now through April 12, loose leaves may be placed in the gutter in a wind-row for pick up by the DPW vacuum. They must be free of sticks, rocks, and trash. Leaves, grass clippings, and other yard debris should be put in bio-degradable bags and placed on the grass between the sidewalk and the curb. Bags must be free of sticks, rocks, and garbage. Bio-Bags are available at Village Hall.
Village of Upper Nyack
Clean Energy Info Session
Learn about Community Choice Aggregation, a bold renewable energy plan, at an informational session on Thursday, April 11 at 7p. It will be hosted by the Upper Nyack Green Committee and held at Upper Nyack Elementary School. The Village of Upper Nyack is considering participating in this New York State program which can offer residents lower energy rates and clean energy.
Participation in CCA would provide:
Cost savings for electricity
100% renewable energy
Consumer protection through stable rates
Local choice of our energy supplier
The Upper Nyack Green Committee believes that this NYS program offers an exciting opportunity to do something big, even as a small village; to move to clean, renewable energy, while still lowering our costs. In Westchester, 54% of communities are currently cutting costs and purchasing clean energy through this program. Several other Rockland communities are looking into it, too. There will be representatives from other towns who are doing this as well as administrators who can explain how the program works and next steps.
Town of Orangetown
Paper Shredding and Non-perishable Food Collection Event
On Saturday, April 13 from 8a to 12p, there will be drive-thru free secure paper shredding (drive up to the shredding trucks and someone will unload your documents). Paper clips and staples are acceptable, but no plastic bags, binders, or large binder clips. Please bring non-perishable food items for donation to the People to People food pantry. A board member from People to People will match $1 for every food item collected.
Request for Proposals for the Proposed Town Hall Expansion
The Town of Orangetown is seeking proposals from qualified architectural firms for comprehensive architectural and engineering services, including structural, mechanical, plumbing, electrical, civil engineering, and other specialty services, such as IT and AV consulting. Interested firms are invited to view and respond to the Request for Proposal by the deadline of May 1, 2019 at 10:30a.
Rockland County
T.E.E.N. Works Program Now Accepting Applications for 2019 Summer Session
The Rockland County Youth Bureau is now accepting applications for the 2019 Summer session of the T.E.E.N. Works (Teen Employment Education Network) program. T.E.E.N. Works is a workforce preparation and placement program that combines a summer work experience with career and life skills training. Designed for youth between the ages of 15 and 20, the four-week program offers pre-employment training and a possible job placement upon successful completion. The mission of T.E.E.N. Works is to assist our teens and young adults in growing into successful, contributing members of our local workforce with strong goals for their future.
Applications for T.E.E.N. Works are currently available at rocklandgov.com, at the offices of the Rockland County Youth Bureau in Pomona, or can be requested by emailing RCYB@co.rockland.ny.us. The deadline for submitting an application is June 10, 2019. For more information about T.E.E.N. Works, visit rocklandgov.com or contact the Rockland County Youth Bureau at (845) 364-2929.
Mario Cuomo Bridge News
Lane Closures Scheduled
Tappan Zee Constructors (TZC) is scheduled to continue roadway improvements near the Governor Mario M. Cuomo Bridge next week. The work requires single-lane closures on the New York State Thruway (I-87/I-287).
Specific lane closure times are listed in the chart below.
Lane Closures Near the Bridge
DATE:
CLOSURES BEGIN:
CLOSURES END:
LOCATION:
Mon. 4/8
10a  – One left lane
4p
Southbound
from exit 11 to the bridge
Tue. 4/9
10a – One left lane
4p
Southbound
from exit 11 to the bridge
Wed. 4/10
10a – One right lane
4p
Southbound
from exit 11 to the bridge
Thur. 4/11
10a – One right lane
4p
Southbound
from exit 11 to the bridge
Fri. 4/12
10a – One right lane
4p
Southbound
from exit 11 to the bridge
Bicycle/Pedestrian Path
Construction of the shared bicycle and pedestrian path continues at the Rockland Landing. Construction of a new intersection at Hillside Avenue and Route 9W is being facilitated with a temporary traffic pattern. All motorists exiting the Thruway at exit 10 (South Nyack) are being directed use the ramp that recently went into service. Those headed toward Piermont and New Jersey must turn left onto Hillside Avenue/Route 9W southbound at the end of the ramp (see graphic below). Motorists turning left must first come to a full stop. Local traffic to the Nyacks continue to bear right, connecting them to Hillside Avenue to Route 9W northbound.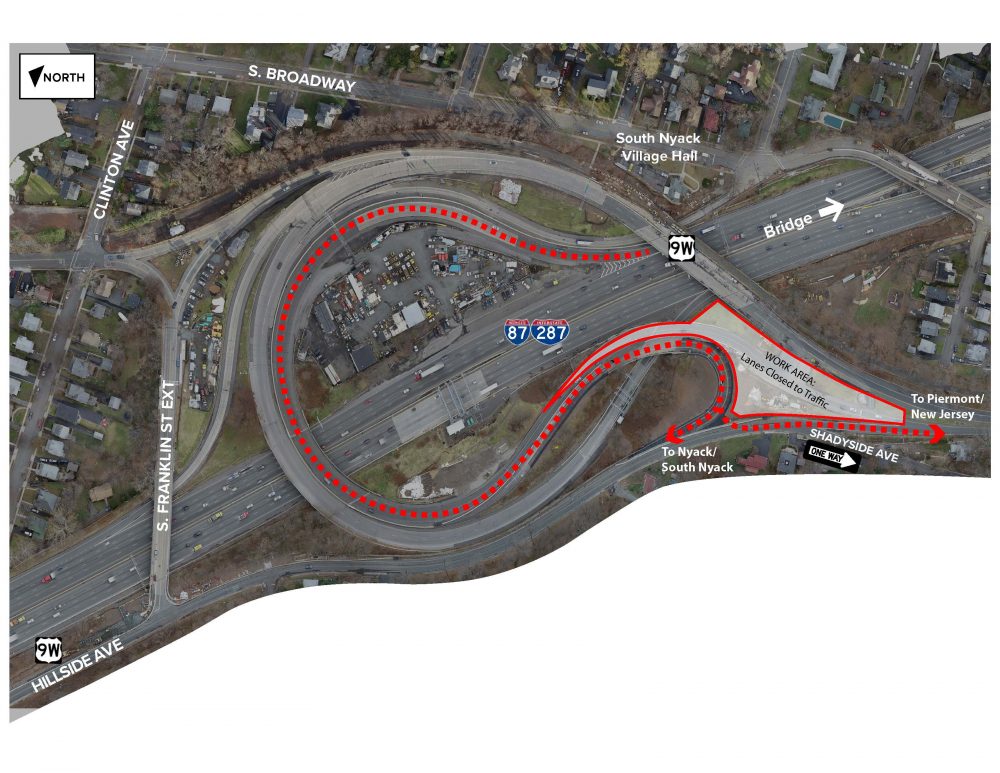 Additionally, motorists are temporarily unable to access Hillside Avenue from Shadyside Avenue. Those looking to head north on Hillside Avenue to 9W northbound are being detoured to South Boulevard and South Highland Avenue. Detour signs are currently in place. Motorists are still able to access Shadyside Avenue from Hillside Avenue (southbound, up the hill). The temporary traffic pattern will remain in effect for several months.
---
Here are the municipal events in Upper, South, and the Village of Nyack for the week of 4/8.
Village of Nyack
Tue 4/9, 5p: Justice Court
9:30a: Justice Court
4:30p: Board of Water Commissioners
6:30p: Village Board Pre-meeting Workshop
7:30p: Village Board Meeting
Nyack Village Hall is located at 9 N. Broadway.
Village of South Nyack
Mon 4/8, 5p: Justice Court
7:30p: Public Hearing – 2019-20 Tentative Budget
7:45p: Board of Trustees Regular Meeting
Wed 4/10, 7:30p: Planning Board Meeting
Thurs 4/11, 7p: Board of Trustees Community Update Meeting
South Nyack Village Hall is located at 282 S Broadway.
Village of Upper Nyack
Mon 4/8, 6p: Architectural Review Board
Thurs 4/11, 7p: Clean Energy Info Session (Upper Nyack Elementary School)
Upper Nyack Village Hall is located at 328 N Broadway.