<!– BEGIN IFRAME TAG – Street Fair Article Banner Ad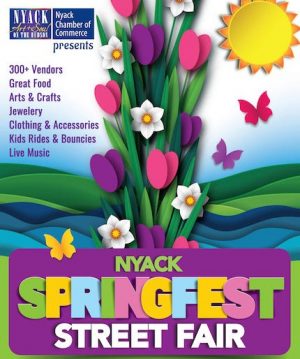 Sunday brings the first street fair of the year. It's the SpringFest editon, with spring weather (65 degree temps) to boot. There will be live music and 300+ vendors.
The fair takes place from 10a-5p and is presented by the Nyack Chamber of Commerce. Dogs, however, are not allowed at Nyack Street Fairs.




(adsbygoogle = window.adsbygoogle || []).push({});
Nyack's street fairs are known for their combination of merchandise for all tastes and pocketbooks, arts, crafts, food, entertainment, located along Main Street and Broadway in the Village of Nyack, on the west bank of the Hudson River just north of the Mario Cuomo Tappan Zee Bridge.
Been Too Long At The Fair?
Here are a few other things going on this Sunday in Nyack, courtesy of the Nyack Weekender.
Come to the RoCA Summer Camp Open House. Enjoy a free art workshop for the entire family. Tour the studio art facility and the camp grounds. 1-4p, Rockland Center for the Arts, 27 S Greenbush Rd, West Nyack.
Tea and Treats and Death and Dying: Dying To Bloom, a natural burial boutique for humans and pets, hosts a safe, respectful space to share beliefs, curiosity, fear, and stories about mortality. Includes refreshments. 2p, 48 Burd St, Suite 101, Nyack.
GraceMusic presents Gabriel Fauré Requiem. Written between 1887 and 1890, this requiem is one of the most beloved choral works of all time. The Grace Church Choir, under the direction of Brandon Beachamp, performs this masterpiece along with other music for Lent and Holy Week. 4p, Grace Episcopal Church, 130 First Ave, Nyack.
Want to know what to do and where to do it in and near Nyack? Sign up for the Nyack Weekender mailing list and get some news you can use each Friday morning in your inbox. Follow this link to also get summaries of our weekly deep dive into the big blue marble where we live in Earth Matters.
Downtown Nyack is transformed into a car-free pedestrian mall for up to 25,000 people during street fairs when Main Street and Broadway are closed to traffic. Or take a break from the streets and see the river at nearby Memorial Park, visit Nyack Beach State Park, or hike Hook Mountain.
<!– BEGIN IFRAME TAG – LocalYokel_300x250px