Celebrate International Sculpture Day on Saturday, April 27
th
 at Rockland Center for the Arts (RoCA). Enjoy the great outdoors in the Catherine Konner Sculpture Park with an
Opening Reception
from 2-5p for its two new exhibits.
For
Natural Progressions,
members of the Sculpture Guild of NY are creating site specific installations addressing environmental themes with interactive works, integrating sensory elements. These eight amazing artists  are all known for their public art works and installations on environmental themes.  Artists include: Mark Attebery, Caroline Bergonzi, Alberto Bursztyn, Sarah Haviland, Elizabeth McCue, Thea Lanzisero, Eric David Laxman, and Janet Rutkowski.
RoCA Nest 2019
is a site-specific installation by Cristina Biaggi featuring a series of what she calls "human nests." With these nests, inspired by avian architecture, Biaggi presents concepts of interconnection and similarity between the architectural feats of birds and that of some types of human housing found in tropical rain forests. Both these exhibits will be on view through April 30, 2020 and are part of the yearlong exhibition series on
Art and Healing
.
The public is also invited to participate in creating
sculptural walking sticks
from 2:30-4:30p, as part of the International Sculpture Day festival.  The workshop is a free event to get the public involved in the creation and appreciation of sculpture.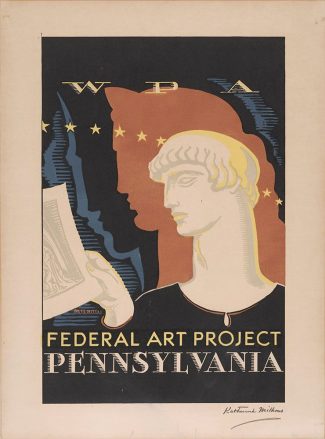 Or you can learn to create eye-catching posters about issues you believe in at the free
Do One Thing Poster Workshop
from 12-2p. Create a work that explores the idea of doing one thing to make the world a better place. Working in the style of the WPA (Works Progress Administration, which created posters to publicize free resources, national parks, arts and culture, as well as health and educational programs), participants will create an original poster design advocating a singular positive change. All materials are included but participants are encouraged to bring images to support their ideas. Those participants who are interested are invited to display their original posters in Gallery Two at RoCA May 4-7, 2019.
And after the sun goes down, stay for pop/rock singer/songwriter and classically trained violinist,
Deni Bonet
. The show begins at 7p and tickets are $15 in advance or $20 at the door.
On Wednesday, May 1 at 6:30p at the Nyack Seaport, Daly Flanagan, Executive Director of RoCA will be honored by the Arts Council of Rockland at its Annual Arts Awards. Daly Flanagan is a tireless supporter of the arts and arts education in Rockland County. She has been developing and providing innovative art programming for Rockland County's diverse community for over 18 years, often in partnership with other community organizations and local schools.
Then on Saturday, May 4, do one thing to make the world a better place and attend the
Do One Thing Art Exhibition and Sale
, hosted by the Blue Rock School and RoCA. There will be a VIP reception and live auction starting at 7p and general admission from 8-10p.
For more information about any of these events, call 845-358-0877, email
info@rocklandartcenter.org
, or visit
www.rocklandartcenter.org
. RoCA is located at 27 South Greenbush Rd., West Nyack, NY 10994.  The Catherine Konner Sculpture Park is open dawn to dusk seven days a week. During July and August, the sculpture park is only open after 6p and from dawn to dusk on the weekends.