by Mia Leo for GraceMusic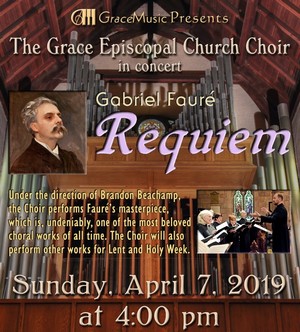 Today, Sunday, April 7 at 4p, the Grace Episcopal Church Choir, under the direction of  Brandon Beachamp, will perform Faure's Requiem and works by Casals, Stanford, Palestrina and others pertinent to the Lenten season and Holy Week.
Requiem, written between 1887 and 1890, is undeniably one of the most well beloved choral works of all time. Its focus is on eternal rest and consolation.
Tickets: $20; Seniors $15; Students $5: Children under 12 are free (and most welcome!)
Grace Episcopal Church is located at 130 First Ave, Nyack–handicap-accessible via First Avenue entrance.