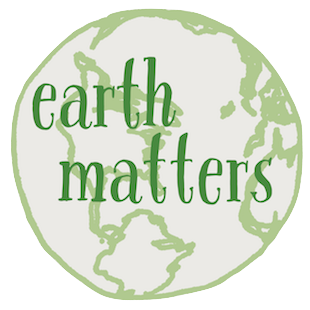 Earth Matters focuses on conservation, sustainability, recycling and healthy living. This weekly series is brought to you by Maria Luisa Boutique and Strawtown Studio and Summer Play Camp at Blue Rock School and Dying To Bloom, a natural burial boutique for humans and pets. 
If Earth Matters to you, sign up for our mailing list and get the next installment delivered right to your inbox.
by Susan Hellauer
If you're serious—or seriously bummed—about climate change, then you've read or are fixing to read environmental journalist Paul Hawken's best-selling book Drawdown: The Most Comprehensive Plan Ever Proposed to Reverse Global Warming (Penguin Books, 2018). It's a compendium of solutions—some familiar, others novel—which, if deployed collectively on a global scale over the next thirty years, could (the author claims) "not just slow the earth's warming, but reach drawdown: the point when greenhouse gases in the atmosphere peak and begin to decline."
Hawken's suggested solutions cover a broad range of human activities. Some of them, like educating girls in third-world countries, are surprising. Others, like changing the way we grow, distribute and consume food, require enthusiastic global cooperation—a commodity in alarmingly short supply right now. And after 2018 set a record for global carbon emissions, drawdown seems to be quickly receding from our grasp.
So, what can just plain folks like us do to get these global and local solutions started? For help picking through the Drawdown menu, Earth Matters called on Manna Jo Greene, Environmental Director of the Hudson River Sloop Clearwater and Chair of the Ulster County Climate Smart Committee. Greene will be speaking on Monday, April 8, at 7p at the Valley Cottage Library on "Real Climate Solutions: Drawdown, Natural Step, & Resilience." Here's a preview of her practical approach.
Drawdown presents dozens of climate-saving solutions, old and new. How are so many different tactics organized?
What Paul Hawken and his team of drawdown scientists have done is to look at the potential solutions to the global climate crises and ranked each according to its cost, what it would save in dollars, and how much it would reduce the global greenhouse gas burden measured in carbon dioxide (CO2) equivalents. They are then divided into groups, like electricity and energy, transportation, food and land use, educating and empowering girls and women, materials management, and so forth.
Did that ranking and grouping of climate solutions hold any surprises for you?
Yes! Within those Drawdown rankings, the somewhat surprising number-one climate problem/solution is refrigerant management. When we phased out ozone-depleting refrigerants, called CFCs or by the trade name Freon, they were replaced in refrigerators, freezers, home and car air conditioners with other refrigerants called HFCs. In some cases, these HFCs are extremely potent greenhouse gases. If released into the air, rather than being mechanically removed and detoxified or recycled and reused, they can be 1000-2000 times more potent in global-warming potential than carbon dioxide.
What was the single most important thing you learned from Drawdown?
The most important thing I've learned recently was not directly from Drawdown, but from Dr. Michael Mann, a speaker who advises Al Gore's "Climate Reality Project." Dr. Mann, who spoke this past weekend at a NY State Climate Reality retreat at the Ashokan Center, is one of the scientists who developed the most recent Intergovernmental Panel on Climate Change (IPCC) report. In his view, we have only 11 years, until 2030, to get this all right. He believes that reducing our consumption of fossil fuel is far and away the most important action we can take. That means doing everything we can as individuals, and in our communities, schools, businesses, houses of worship, and government buildings to transition to a renewable energy economy with storage and efficiency
Before I heard Dr. Mann this weekend, I felt that a lot of the many solutions recommended in Drawdown were valuable, and that it is important to prevent greenhouse gas emissions so that they don't build up in the atmosphere and increase the problem of global warming, as well as the many other solutions that Drawdown recommends. Unfortunately, climate change is occurring at far more rapid rates than predicted, as we're seeing manifested on a daily basis now. But Dr. Mann is the scientist who did foundational research on this issue and, in his view, all of these other actions are just not enough to mitigate a worsening of the climate crisis beyond the tipping point of no return. Stopping our consumption of fossil fuel is absolutely the most important action. Only then can the other solutions be effective in helping to restore the earth back into balance.
Should we be looking at other ways to get the cycle of warming reversed?
There is a second half to the carbon cycle, beyond preventing emissions, and that is protecting and enhancing natural ecosystems—forests, wetlands, marshes, oceans—and implementing regenerative agriculture, like "carbon farming," to draw down greenhouse gases and sequester them in the soil. Trees and forests do that very well. If we are going to subsidize anything it should be these "ecosystem services" that help draw down and sequester carbon and greenhouse gases.  But even those services will be exhausted unless we can drastically cut back the emissions that we are sending in to the atmosphere.
Many communities in the Hudson Valley are exploring a move to economical green energy through the Community Choice Aggregation program. But how do we get a "big-picture" plan for a renewable energy future?
The average person may not know how to do local and regional energy planning, but there are knowledgeable people in the community who can develop that detailed roadmap to a renewable energy economy. It may take 10 or 15 years, but without that roadmap, our chances of accomplishing that goal are slim, and that's a serious problem. In New York State, we don't have a statewide roadmap, but I hope that counties or utility areas will gather together and create an "on the ground" roadmap.
What carbon-reducing personal goals we should be looking at?
For people who can't make the excellent investment of a solar energy system on their home, there are an ever-growing number of community solar projects to subscribe to and save money. If you are already generating or using clean renewable energy, you can switch to an electric vehicle, use public transportation or car pool, and be conscious in all carbon-generating actions. Moving toward a plant-based diet is high on the list of personal carbon-reducing actions, and I'm on my way there. I re-use plastic and cloth bags until they are worn out, and even bring takeout containers to a restaurant for leftovers. I just try to think of every single way. And if everyone does that, it will add up.
And, not least of all, we must vote people into office who recognize that we are in a climate crisis. As 16-year-old climate activist Greta Thunberg says, "The house is on fire." We have to take emergency action.
I don't think it's too late, but it's close to too late.
Join Manna Jo Greene at the Valley Cottage Library on Monday, April 8, at 7p.
She will discuss a variety of climate solutions, such as the Natural Step principles – and some of the solutions outlined in Paul Hawken's book, Drawdown, including regenerative agriculture. She will also discuss some of the principles that can be used to distinguish greenwashing from genuinely effective technologies and methods. Greene will also explore how we can create more resilient local communities.
This event is sponsored by the Rockland Sierra Club, NJ-Rockland 350.org, Rockland Goes Green, and the Cornell Cooperative Extension-Rockland County
Learn more:
Email Earth Matters
Read Earth Matters every Wednesday on Nyack News And Views, or sign up for the Earth Matters mailing list.
Earth Matters, a weekly feature that focuses on conservation, sustainability, recycling and healthy living, is sponsored by Maria Luisa Boutique, Dying to Bloom, Strawtown Studio, and Summer Play Camp at Blue Rock School.