This weekend, join the Penguin Plunge for a jump in the icy Hudson to benefit two local kids. Support your local firefighters at a St. Patrick's Day Kickoff Party. It's also First Friday, which means exhibits and music from the Nyack Art Collective and a new Artist of the Month at the Hopper House. If you have a sweet tooth, don't miss Maple Sugar Day at Marydell.
This Fri-Sun list of what to do and where to do it is brought to you by Rockland Center for the Arts. Registration for summer Camp RoCA 2019 is open now. Come to an Open House on Sunday, March 3 from 1-4p and tour the studio art facility and expansive grounds. Save 5% off camp tuition on March 3.  Online: use code "openhouse."
Friday
On the First Friday of each month, local businesses host art and music events.

Check out "Conversations" with the Nyack Art Collective. Listen to the artists speak about their work, techniques, and inspiration, and listen to live music. 8-10p, 104 Main St, Nyack.

From 6-7p there will be a reception for 2005 and 2010 Rockland Literary and Visual Artist of the year honoree Arthur H. Gunther III, the First Friday Artist of the Month. After that, he will talk about the influences of Hopper and his home within his works. Gallery, 7-8p at Edward Hopper House, 82 N Broadway, Nyack.
The Westchester Broadway Theatre presents Menopause – The Musical. This hilarious musical parody set to classic tunes from the '60s, '70s, and '80s will have you cheering and dancing in the aisles! Four women with seemingly nothing in common but a black lace bra meet by chance at a lingerie sale. Join the all-female cast while they make fun of woeful hot flashes, forgetfulness, night sweats, not enough sex, too much sex, chocolate binges, and more. Show runs through March 24. 6:15p, The Westchester Broadway Theatre, 1 Broadway Plaza, Elmsford.
Join Fereshta Ramsey and Angela Rivera for two more evenings (Feb 22 and March 1) in Discover Your Power: A Shadow Workshop. Learn about the shadow of change and desire. Learn more about the shadow and the way you feel about yourself in the privacy of your own words. 7-9p, Union Arts Center, 2 Union St, Sparkill.
Maureen's Jazz Cellar presents the Aimee Allen Quartet featuring Toro Dodo, Dean Johnson, and David Meade. 8p, 2 N Broadway, Nyack.
Saturday
Liberty Street School is the new exhibit at The Historical Society of the Nyacks. Get glimpses of the students and teachers from the 19th century who attended school on the corner of Liberty Street and Depew Ave. See photographs, mementos, and stories contributed by alumni. 1-4p, 50 Piermont Ave, Nyack.
Learn to nourish your physical, intellectual, and spiritual self through Buti Yoga. The Radiant Warrior is an exploration into identifying your individual beauty and claiming your power. 3-5p, Nyack Yoga, 42 Main St, Ste 101, Nyack.
The Living Christ Church is setting up a coffee house for their Youth Cafe Fundraiser. Enjoy live music, entertainment, sweet treats, good company, and coffee. All proceeds from this event will go directly to the Living Christ Church youth group so that they can attend their annual Lake Champion retreat this April. 6-9p, 151 S Broadway, Nyack.
Support your local firefighters at the Rockland County Firefighters Emerald Society's second annual St Patrick's Day Kick-Off Party. The Rockland County Firefighters Pipes and Drums will perform and prizes will be available. 7-11p, Hillcrest FD 6 101, 16 Thiells Mt Ivy Rd, Ponoma.
Get out of the chill of winter and celebrate Mardi Gras with Nyack's own super trumpeter Steven Bernstein. Enjoy the warmth of a New Orleans-style music, food, drink & dance party at the Nyack Center. 8p, 58 Depew Ave, Nyack.
Disco Ball Extravaganza – An evening with classic disco music and and a special performance of Barry White songs by Big Daddy Boo Bear and vocalist Charli LaToven. 8p-1a, The Time Hotel, 400 High Ave, Nyack.
Sunday
Always wondered how maple sap is harvested from maple trees at the end of each winter? Attend Marydell´s Maple Sugar Day. You can sample the sap as it's tapped from trees and observe how maple syrup is produced by boiling maple over an open fire. 12-2p, Marydell Faith & Life Center, 640 N Midland Ave, Nyack.
Don't miss Unsettled Matter, a multimedia installation. The film Unsettled Matter will be screened and you can see stills from the film printed on aluminium. Enjoy the portrait of a different New York City without cars or people. The exhibit will be on view through June 2nd. 12p, Edward Hopper House, 82 N Broadway, Nyack.
Take a frosty dip into the Hudson River at the 12th annual Penguin Plunge for a good community cause. Even if you don't want to personally plunge, come to support the littlest heroes and the penguins, while helping Riley Reynolds of West Nyack and Kieran O'Neill of Pearl River, two local kids with serious illnesses. 12-2p, Memorial Park, Depew & Piermont Ave, Nyack.
Enjoy a free art workshop for the whole family and explore the grounds at the Summer Day Camp Open House. 1-4p, Rockland Center for the Arts, 27 S Greenbush Rd, West Nyack.
Tea and Treats and Death and Dying: Dying To Bloom, a natural burial boutique for humans and pets, hosts a safe, respectful space to share beliefs, curiosity, fear, and stories about mortality. Includes refreshments. 2p, 48 Burd St, Suite 101, Nyack.
Tuesday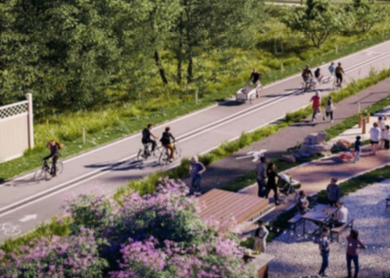 Hikers, bikers, runners and rail trail fans rejoice — New Jersey is planning to convert eight miles of  unused CSX rail lines into the Northern Valley Greenway, which when completed, will connect to Orangetown's JB Clarke Rail Trail.
Want to know more? Read more about the project (Northern Valley Greenway, NJ Extension To Clarke Rail Trail) or come to the NJ Dept of Transportation Open House on Mar 5 at Northern Valley Regional High School. 5-8p ,
150 Knickerbocker Rd, Demarest, NJ
The Nyack Weekender is your Fri-Sun list of what to do and where to do it. This weekly series is brought to you by Rockland Center for the Arts.
To get the Nyack Weekender delivered to your mailbox auto-magically every Friday morning, add your name to our mail list. Visit our
online sign-up sheet
to subscribe.