This week in the villages: Mayor Don Hammond invites everyone to share their perspective on what it means to be an American and contribute to the greater good by getting involved with the American Creed program. Join Mayor Hammond for a conversation at the Nyack Library this Wednesday, March 27 at 7p.  And attention parents: It's time to sign your kids up for Village of Nyack Spring Recreation Programs.
Village of Nyack
Message from Nyack Mayor Don Hammond
Civics is not just for high schoolers. Civic involvement is for everyone. Lawyers, doctors, and other professionals take continuing education classes. We as citizens need to hone in on our skills to support our community. It is part of what it means to be American to contribute to a greater good, building a sense of unity in the neighborhood in which we live. This is what the American Creed series represents–it defines what it means to be American through the eyes of its citizens.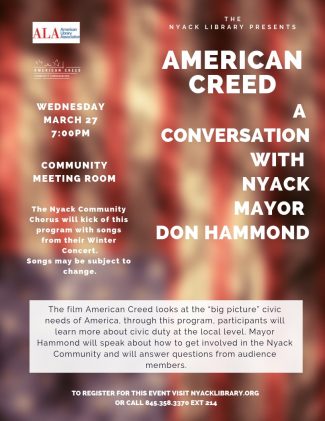 As Nyackers, we are fortunate to be one of 50 communities to have the American Creed program at our public library. This program is an invitation to get involved. As a member of the Nyack community, I have worked with many of you on the board of the YMCA and at Meals on Wheels. Both programs demonstrate what we are able to do together to support all the members of our community.
Add your unique perspective. Over the next several months there will be opportunities through the American Creed program to describe what it means to be American either through written prose, filmmaking, or art.
Please join me for a conversation in the Community Meeting Room of the Nyack Library on Wednesday, March 27th at 7p. — Nyack Mayor Don Hammond
Spring 2019 Recreation Programs

Registration is now open for the Spring 2019 Recreation Programs, including Field Games with Max, Spring Conditioning with Nyack Kids Wrestling Club, Nyack "Little Ninjas," Kung Fu, Beginning Piano with Rivertown Music, and Beginning Tennis. For registration forms, please visit nyack-ny.gov/recreation or email recreationasst@nyack-ny.gov.
Town of Orangetown
Request for Proposals for the Proposed Town Hall Expansion
The Town of Orangetown is seeking proposals from qualified architectural firms for comprehensive architectural and engineering services, including: structural, mechanical, plumbing, electrical, civil engineering, and other specialty services such as IT and AV consulting. Interested firms are invited to view and respond to the Request for Proposal by the deadline of May 1, 2019 at 10:30a.
Town of Clarkstown
Memorial Day Essay Contest and Scholarship
One $2,500 scholarship will be awarded to a high school senior who wins the essay contest with the topic: What does Memorial Day mean to you? (1000 words or less). The application deadline is March 29, 2019.
Rockland County
Legislature Adopts Plastic Bag Ban
Rockland County legislators recently adopted a new law that bans most single-use plastic bags at retail outlets, restaurants, and grocery stores. County Executive Ed Day has 21 days to approve it, veto it or take no action.
If the law is passed:
Businesses would be banned from providing any single-use plastic carryout bags. This applies to department stores, home center and hardware stores, drug stores, supermarkets, liquor stores, gas station stores, restaurants, farmers' markets, and others.
Businesses would only be allowed to provide paper bags made of recycled materials that can themselves be recycled, or reusable plastic bags that have handles and are machine washable or are easily cleaned and disinfected. Businesses cannot charge a fee for the recycled paper bags.
The law does not ban plastic bags used for loose bulk items such as fruit, vegetables, buts, grains, candy, cookies, small hardware items or to wrap meats, fish, deli and frozen foods.
The law does not ban bags used by pharmacies to contain prescription drugs, newspaper bags, door-hanger bags, and laundry-dry cleaning bags.
The law would be enforced by the county Office of Consumer Protection.
Fines would range from up to $250 for a first-time offense; up to $500 for a second offense within a 12-month period; and up to $1,000 for a third and each subsequent offense within a 12-month period.
The Consumer Protection Office would also have the authority to confiscate any single-use plastic carryout bags from businesses found to be in violation.
Rockland is the latest of several New York state municipalities to adopt a law governing plastic bags, including Hastings-on-Hudson, Larchmont, New Paltz, Rye, and earlier this year, in Piermont village.
SUEZ Scholarship
SUEZ and the National Association of Water Companies will award five $3,000 scholarships to Rockland and Westchester students who are pursuing careers in science, engineering, or anything related to the environment. The winners will be recognized at a dinner at West Point. Completed applications must be submitted by March 31, 2019.
Mario Cuomo Bridge News
Lane Closures Scheduled
Tappan Zee Constructors (TZC) is scheduled to continue roadway improvements near the Governor Mario M. Cuomo Bridge next week. The work requires single-lane closures on the New York State Thruway (I-87/I-287). Specific lane closure times are listed in the chart below.
Lane Closures Near the Bridge
DATE:
CLOSURES BEGIN:
CLOSURES END:
LOCATION:
Mon. 3/25
6 a – One right lane
3 p
Northbound
from exit 8 to exit 10
Tue. 3/26
6 a – One right lane
3 p
Northbound
from exit 8 to exit 10
Wed. 3/27
6 a – One right lane
3 p
Northbound
from exit 8 to exit 10
Thur. 3/28
10 a – One left lane
4 p
Southbound
from exit 10 to exit 8A
Fri. 3/29
10 a – One left lane
4 p
Southbound
from exit 10 to exit 8A
Bicycle/Pedestrian Path
At the Rockland Landing, a section of the Esposito Trail from Clinton Avenue and South Franklin Street to South Nyack Village Hall remains closed for the construction of the side path. Pedestrians and cyclists are being detoured to South Broadway and through Elizabeth Place Park. Crews will continue construction of a retaining wall along Hillside Avenue, necessitating temporary lane closures. Flag persons will keep traffic moving by alternating the directional flow between east and west. Crews also are constructing a highway noise barrier at Elizabeth Place Park.
---
Here are the municipal events in Upper, South, and the Village of Nyack for the week of 3/25.
5p: Justice Court
6:30p: Nyack Housing Authority (Waldron Terrace Apartments)
7p: Nyack NAACP Meeting (Nyack Center)
7p: Parks Commission Meeting
9:30a: Justice Court
6:30p: Village Board Pre-meeting Workshop
7:30p: Village Board Meeting
Nyack Village Hall is located at 9 N. Broadway.
Village of South Nyack
Tue 3/26
6:30p: Police Board Meeting
7:30p: Board of Trustees Regular Meeting
South Nyack Village Hall is located at 282 S Broadway.
Village of Upper Nyack
Tue 3/26, 8p: Zoning Board of Appeals
Wed 3/28, 7:30p: Planning Board Meeting
Upper Nyack Village Hall is located at 328 N Broadway.