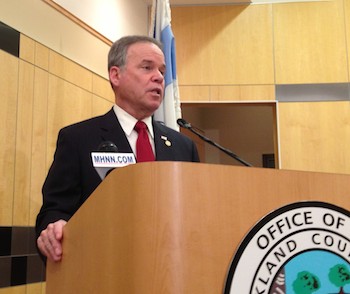 New City, March 26 — Anyone under 18 years of age who has not received the measles vaccine will be barred from public places in Rockland County beginning on Wednesday, March 27 for the next 30 days or until they receive the MMR vaccination. Rockland County Executive Ed Day has declared a state of emergency in the county for the measles outbreak under New York State Executive Law § 24.
"Every action we have taken since the beginning of this outbreak has been designed to maximize vaccinations and minimize exposures," said Day. "We must do everything in our power to end this outbreak and protect the health of those who cannot be vaccinated for medical reasons and that of children too young to be vaccinated."
As of March 26, 2019, there are 153 confirmed reported cases of
measles in Rockland County.
The Rockland County Department of Health will host a free MMR vaccination clinic from 1-3 pm, Wednesday, March 27 on the 2nd floor of Building A, Robert L. Yeager Health Complex, 50 Sanatorium Road, Pomona, NY.
Vaccination rates for confirmed measles cases in Rockland County:
82.1% have had 0 MMRs
4.0% have had 1 MMR
4.0% have had 2 MMRs
9.9% unknown status
Age groups for the confirmed measles cases in Rockland County
Less than 1 year old: 15.0%
1-3 years: 23.8%
4-18 years: 45.7%
19+ years: 15.2%
Source:
Rockland County Halth Department
Public places include any place where more than 10 persons are intended to congregate for purposes such as civic, governmental, social, or religious functions, or for recreation or shopping, or for food or drink consumption, or awaiting transportation, or for daycare or educational purposes, or for medical treatment. A place of public assembly shall also include public transportation vehicles, including but not limited to, publicly or privately owned buses or trains, but does not include taxi or livery vehicles.
Day said efforts by county health officials have not been supported by residents. "Our inspectors have begun to meet resistance from those they are trying to protect. They have been hung up on or told not to call again. They've been told 'we're not discussing this, do not come back,' when visiting the homes of infected individuals as part of their investigations." Day said that behavior was unacceptable because it endangered the health and well-being of other community members.
Law enforcement will not be patrolling or asking for vaccination records but those found to be in violation will be referred to the Rockland County District Attorney's Office.
See also: Rockland Measles Report and Recommendations,  3/26/2019