by Ben McCarthy
I think of cooking and baking as two separate entities. Cooking is expressive and improvisational. Liberties can be taken, recipes can be abandoned, precise measurements thrown out the window. Baking, on the other hand, is like chemistry. It requires exact measurements and recipes, the oven must be at the perfect temperature, the ingredients in perfect proportion. In other words, baking–especially bread baking–can be incredibly easy to screw up. This recipe (courtesy of my chef girlfriend) is for a simple but delicious focaccia that requires very little baking experience and is a great way to try your hand at bread baking. It requires no special kitchen equipment or difficult techniques. For those who are unfamiliar with focaccia, it is essentially an Italian pizza-like bread that is often topped with various ingredients, such as vegetables, meat, herbs, and cheese. Focaccia is great for a simple meal and also works well as a homemade bread for sandwiches.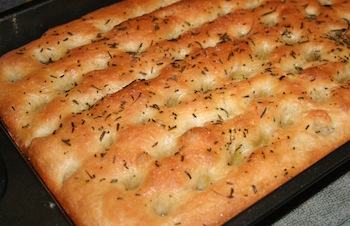 What you need:
7 ½ cups all purpose flour
7 gram packet of dry active yeast
3 ½ cups luke warm tap water
1 tablespoon honey
¾ cup olive oil
2 tablespoons sea salt flakes (like maldon or grey salt)
Half a dozen sprigs of rosemary
Add yeast and honey to luke warm water and let sit in a bowl for about five minutes until the mixture becomes foamy on top (think silky cappuccino).
In a very large bowl (the dough will rise quite a lot) combine flour, half of the salt, and half of the olive oil. Stir in the foamy yeast mix with a big spoon until the dough starts to come together.
Pour the dough onto a lightly floured bench or table and get your hands in there and knead the dough until it is fairly smooth. It should take more than five but less than ten minutes of aggressive kneading to get to this stage. The dough will be very sticky but this is not something to worry about, the moistness of the dough makes for a very tender focaccia. Once smooth put the dough ball back into the large bowl and cover with a damp towel.
Leave the dough in a warm place (next to the oven is generally good) and let prove for about four hours or until the dough has doubled in size.
Rub about a tablespoon of your olive oil onto a baking sheet roughly 18" x 13" and place your dough on top. Push the dough to the edges using the palm of your hand until the dough is evenly dispersed throughout the entire baking sheet (think square pizza). Poke holes into the dough and sprinkle the remainder of the olive oil and rosemary sprigs on top.
Preheat oven to 450 degrees fahrenheit and let the dough prove once more while the oven heats. Sprinkle the dough with the rest of the sea salt and bake for 30 – 40 minutes until golden brown. Slice and serve!
Note: The toppings can be easily altered to whatever you desire, thyme, garlic, paprika, parmesan cheese, sliced thin potatoes, daubs of chorizo, fennel seed – options are endless.
Ben McCarthy is a graduate of Hunter College. He is also the lead guitarist in the alternative rock band Regret the Hour. He loves to cook and try new food and grew up cooking with his mother. This piece was originally published in 2015.