This weekend enjoy a Sensory-Friendly Family Show with Dan Zanes and Claudia Eliaza or stop by RoCA for the opening of the Art and Healing 2019 Exhibition Season. You can also get outside and go for a snowshoe hike or stay in and celebrate General Washington's birthday.
This Fri-Sun list of what to do and where to do it is brought to you by Rockland Center for the Arts.  Registration for summer Camp RoCA 2019 is open now. Come to an Open House on Sunday, March 3 from 1-4p and tour the studio art facility and expansive grounds.
Friday
Join Fereshta Ramsey and Angela Rivera for three evenings (Feb 15, 22 and March 1) in Discover Your Power: A Shadow Workshop. Learn about the shadow of relationships and expectations. Get to know more about the shadow and the power it can have over our daily behavior. 7-9p, Union Arts Center, 2 Union St, Sparkill.
Ready to be offended?Andrew Dice Clay  is known for his roles in Entourage, A Star is Born, and Vinyl, now you can catch him with his new show Dice at Levity Live. It's billed as "a show that is offensive." 7p, 210 Palisades Center Dr. A-401, West Nyack.
Max Weinberg's Jukebox is an interactive concert experience, where the audience chooses the set list in real time. His 4-piece group is performing songs from the Beatles to the Rolling Stones with a menu of 200 songs to choose from. 8p, Tarrytown Music Hall, 13 Main St, Tarrytown.
It's the last few days to catch Ain't Misbehavin', a Tony Award winning musical about the heart and soul of Harlem. Join five performers on a journey through the timeless music of Thomas "Fats" Waller.  Your toes will tap, your shoulders will jive, and your head will bob along with songs like "Honeysuckle Rose" and "This Joint is Jumpin'," some of the best swing ever created. Westchester Broadway Theatre, 1 Broadway Plaza, Elmsford.
Saturday
Celebrate General George Washington's Birthday. Come to the three-day-celebration at Washington's Headquarters. Each day offers music, military demonstrations, craft, and a birthday cake. Sat-Mon 12-4p, Washington's Headquarters State Historic Site, 84 Liberty St, Newburgh.
It's All About Love. Come to a Valentine's Day inspired heart-to-heart yoga workshop. Ground, center, and warm up alongsinde your partner before you get into easy partner yoga poses. 3-5p, Birchwood Center for Yoga & Massage, 85 S Broadway, Nyack.
The Nyack Library presents American Creed, a documentary featuring former Secretary of State Condoleezza Rice, historian David Kennedy and a diverse group of Americans exploring whether a unifying set of beliefs, an American creed, can prove more powerful than the issues that divide us. 3-4:30p, 59 S Broadway, Nyack.
Don't miss the Les Paul Festival Concert featuring guitarist Bill Frisell. Experience a mix of rock and country with jazz and blues. 8-10p,The Berrie Center, 505 Ramapo Valley Rd, Mahwah, NJ.
Catch an intimate performance with Debby Garfinkel & Albert Ahlf and a variety of country, rock and roll, pop, and R&B covers. 8:30-10:30p, Art Cafe Nyack, 65 S broadway, Nyack.
Meet new people at the Stoplight Party. The color you´re gonna wear will tell others your status. Wear red, if you are taken, yellow, if you are a maybe, and green if you are single. 10-12p, O'D's Tavern, 66 Main St, Nyack.
Sunday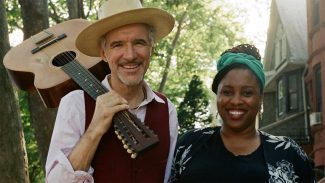 ArtsRock's Milk and Cookies Playhouse presents a Dan Zanes with Claudia Eliaza Family Sensory-Friendly Show. Dance and sing along to the Grammy-winning family musician Dan and jazz vocalist Claudia as they perform Dan's greatest hits as well as folk and blues classics from their new songbook. The performance is inclusive and open to all children and families with all abilities and challenges. And don't forget to stay for milk and cookies after the show. Tickets are $18, with a relaxed refund policy and available here. 2-3p, Ritterhausen Theater at Rockland BOCES (old Nyack High School), 131 N Midland Ave, Nyack.
How about a two-and-half-mile Snowshoe Hike to Awosting Falls. Start at Peter Kill's Area and hike on the Awosting Falls Connector Footpath before going up to the scenic Awosting Falls Carriage Road. Arrive early in case you need to borrow snowshoes (first come first serve) and please RSVP under 845-255-0752. 10:30a-1p, Minnewaska State Park, 5281 Route 44-55, Kerhonkson.
Head to the Rockland Center for the Arts as for the kick off of Art and Healing. All three exhibits  will be on view through March 24th.

First, get in the Spirit of Being. See art, that has the transformative power to awaken a spiritual experience through the physical, emotional, and mental body. It is the language of healing.

Then engage in the Quantum Connections of Daniel Martin Diaz and explore the mysteries of life and science.

And last but not least, Searching for Stillness by Rockland artist Norman Galinsky. Get inspired by abstract geometric art and how energy, science, and esthetics can be related. 2-5p, Rockland Center for the Arts, 27 s Greenbush Rd, West Nyack.
Chelsea Lane is performing classical harp music at the Young Masters Recital Series. 1:30-3p, Valley Cottage Library, 110 Route 303, Valley Cottage.
The Sparkill Concert Series presents All about LOVE. Enjoy a classical concert with music of Rachmaninoff, Beethoven, and more by violinist Shem Guibbory, cellist Robert Burkhart, and pianist Oxana Mikhailoff. 3-5p, Union Arts Center, 2 Union St, Sparkill.
Next Week
Thursday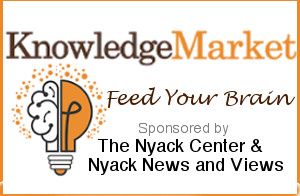 It's T-minus 6 days and counting to the opening of The Knowledge Market!  Sign up for courses including Vigorous Civics in the Age of Trump, Digital Photography, Guitar Guidance, poetry, and holistic health. Morning and afternoon classes meet each Thursday from February 21 through March 14, Nyack Center, 58 Depew Ave, Nyack. Seats are limited so sign up today!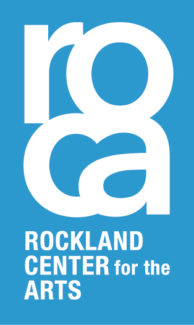 The Nyack Weekender is your Fri-Sun list of what to do and where to do it. This weekly series is brought to you by Rockland Center for the Arts.
To get the Nyack Weekender delivered to your mailbox auto-magically every Friday morning, add your name to our mail list. Visit our
online sign-up sheet
to subscribe.