This week in the villages: There were many accomplishments in the Village of Nyack in 2018, and 2019 is off to a busy start for local government, including consideration of modifications to three local laws. Continued roadwork on the bridge requires Rockland-bound single-lane closures again this week. And there will be a new traffic pattern for motorists exiting the Thruway at Exit 10.
Village of Nyack
Modifications to Three Local Laws
Nyack's local government has had a busy 2019 so far and the Nyack Village Board is considering modifications to three three local laws. Here's what you need to know about these Three Local Laws Under Consideration.
Message from Nyack Mayor Don Hammond
2018 was a year of accomplishments in many areas ranging from transportation initiatives, affordable housing, a sustainability program and much more. Looking ahead, we are focused on continuing the momentum of 2018 to make Nyack even stronger. Thanks to village staff, trustees, committees, and volunteers, the Village of Nyack has much to be proud of as we enter the second month of 2019. Read a summary of these accomplishments and upcoming goals on nyack-ny.gov. — Nyack Mayor Don Hammond
Knowledge Market Kick-off Social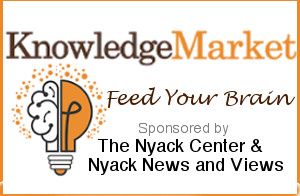 Meet the instructors of the Knowledge Market on Tues Feb 5 at 7p at a FREE Kickoff Social with live music by Jeff Rubin and tasty treats from Latalaye Catering.
The Knowledge Market is an engaging series of classes, discussions, and workshops curated by Nyack News And Views. Topics include vigorous civics, digital photography, guitar guidance, poetry, and holistic health.
Morning and afternoon classes will meet each Thursday from February 21 through March 14. The Tues night event is free, but an RSVP is appreciated. 7p, Nyack Center, 58 Depew Ave, Nyack.
RFP to Design and Build South Franklin Bicycle/Pedestrian Path
The Village of Nyack has been awarded a grant from the New NY Bridge Project's Community Benefits Program to design and build a bicycle and pedestrian shared use path adjacent to the Nyack Community Garden along the west side of South Franklin Street between Hudson and Depew Avenues. The section of the bicycle/pedestrian path is part of the Shared Use Path connecting the Mario M. Cuomo Bridge to downtown Nyack. The Request For Proposal invites companies with experience in pedestrian and bicycle transportation planning and construction to submit proposals to design and build the bicycle/pedestrian path with a completion date of August 1, 2019.
Rockland County
Warming Centers
Rockland County, in partnership with local towns and villages, offers services to help residents weather the cold winter months. Warming centers, heated facilities where residents can find safe refuge from extreme weather, have been opened around the county. A list of warming centers may be found on rocklandgov.com. Please call before going to confirm that the center is open.
Mario Cuomo Bridge News
Lane Closures Scheduled
This week, Tappan Zee Constructors (TZC) is scheduled to continue roadway improvements near the Governor Mario M. Cuomo Bridge. The work requires single-lane closures on the Rockland-bound New York State Thruway (I-87/I-287).
Lane Closures Near the Bridge
DATE:
CLOSURES BEGIN:
CLOSURES END:
LOCATION:
Mon. 2/4
6 a.m. – One right lane
3 p.m.
Northbound
from exit 8A to exit 10
Tues. 2/5
6 a.m. – One left lane
3 p.m.
Northbound
from exit 8A to exit 10
Wed. 2/6
6 a.m. – One left lane
3 p.m.
Northbound
from exit 8A to exit 10
Thur. 2/7
6 a.m. – One left lane
3 p.m.
Northbound
from exit 8A to exit 10
Fri. 2/8
6 a.m. – One left lane
2 p.m.
Northbound
from exit 8A to exit 10
Bicycle/Pedestrian Path
At the Rockland Landing, a new traffic pattern will soon be in place for motorists exiting the New York State Thruway (I-87/I-287) at Exit 10 (South Nyack). Starting this week, local traffic to the Nyacks will use a new ramp connecting to Hillside Avenue/Route 9W northbound.
Currently, motorists make a U-turn within the interchange to head into the Nyacks and points north. The new ramp will allow motorists to directly access Route 9W northbound. Those seeking to access local streets will still be able to do so by using the Franklin Street Extension. The existing U-turn will be closed when the new ramp goes into service (see graphic below).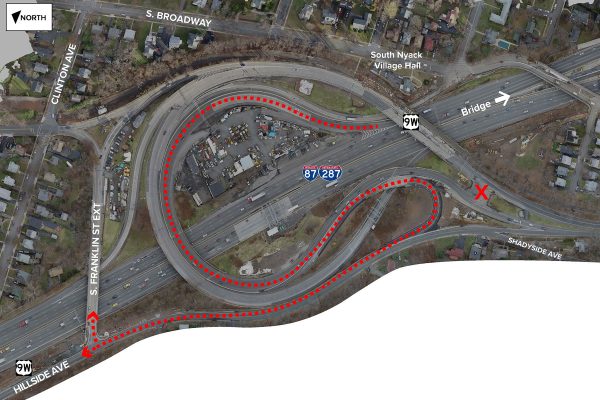 Additionally, a section of the Esposito Trail from Clinton Avenue and South Franklin Street to South Nyack Village Hall remains closed for the construction of the side path. Pedestrians and cyclists are being detoured to South Broadway and through Elizabeth Place Park. Crews will continue construction of a retaining wall along Hillside Avenue, necessitating temporary lane closures. Flag persons will keep traffic moving by alternating the directional flow between east and west. Crews also are drilling and installing piles at Elizabeth Place Park for construction of a highway noise barrier.
---
Here are the municipal events in South Nyack and the Village of Nyack and the Nyack Public Schools meetings for the week of 2/4. There are no meetings scheduled in Upper Nyack this week.
Village of Nyack
Mon 2/4, 7p: Planning Board Meeting
9a: Mayor Hammond's Monthly Meeting
5p: Justice Court
Thurs 2/7, 9:30a: Justice Court
Nyack Village Hall is located at 9 N. Broadway.
Village of South Nyack
Mon 2/4, 5:30p: Justice Court
Tue 2/5, 7:30p: Zoning Board of Appeals
South Nyack Village Hall is located at 282 S Broadway.
Nyack Public Schools
Tue 2/5, 7p: Board of Education Meeting
The Board of Education Meeting will be held at the Central Administration Building, 13A Dickinson Ave, Nyack.