This week in the villages: It's unofficial infrastructure repair week around Nyack. Broadway will soon get a makeover, and so will our pothole-riddled roads. Roadway improvements on the Mario Cuomo Bridge require lane closures again this week, and there's a new ramp at Exit 10 of the NYS Thruway. Also: Rockland County receives federal grants to help tackle homelessness.
Village of Nyack
Message from Nyack Mayor Don Hammond
Stay tuned – Broadway is about to get a face lift. The Federally funded Transportation Alternatives Program, officially called "TAP New Connectivities For Nyack," will bring a new look to the downtown streetscape of Nyack's business district within the next year.
TAP improvements include:
Improved sidewalks.
New street trees
Safer crosswalks: straightening out diagonal sidewalks and adding bumpouts to shorten the distance pedestrians need to cross
Relocating N Broadway bus stop to reduce traffic conflicts at Main and Broadway (going north) and near Chase Bank (going south)
Adding Leading Pedestrian Interval (LPI) timing to Broadway & Main traffic light to give pedestrians and cyclists a 5-7 second head start before cars get a green light
New sustainable landscaping with native plants and permeable paving
Bike lane on S Franklin and Artopee Way to connect downtown to the Mario Cuomo Bridge Shared Use Path (scheduled to open this fall).
Village officials recently strategized with local businesses to minimize the impact construction will have on their stores. The RFP for this project stipulates that work will be limited to M-F 8a-6p and Sat 9-6p, with no work scheduled on legal holidays or parade days.
The Nyack Village Board will hold a Workshop Meeting on Feb 28 to discuss the project.  — Nyack Mayor Don Hammond
Credit Card Payments
The village now accepts credit cards in the Water Department, Building Department, Clerk's Office, and Parking Authority. The fee is 1.89% for debit transactions and 2.39% for credit transactions.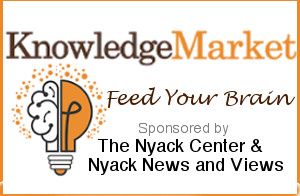 The 
Knowledge Market
 is an engaging series of classes, discussions, and workshops curated by Nyack News And Views. Topics include vigorous civics, digital photography, guitar guidance, poetry, and holistic health. Morning and afternoon classes meet each Thursday from February 21 through March 14, 
Nyack Center
, 58 Depew Ave, Nyack. Get more info and register for classes at
NyackKnows.com
.
RFP to Design and Build South Franklin Bicycle/Pedestrian Path
The Village of Nyack has been awarded a grant from the New NY Bridge Project's Community Benefits Program to design and build a bicycle and pedestrian shared use path adjacent to the Nyack Community Garden along the west side of South Franklin Street between Hudson and Depew Avenues. The section of the bicycle/pedestrian path is part of the Shared Use Path connecting the Mario M. Cuomo Bridge to downtown Nyack. The Request For Proposal invites companies with experience in pedestrian and bicycle transportation planning and construction to submit proposals to design and build the bicycle/pedestrian path with a completion date of August 1, 2019.
Rockland County
Pothole Patching Plan
County Executive Ed Day and Highway Superintendent Charles "Skip" Vezzetti announced a coordinated effort among the county, state, and Rockland's towns to tackle potholes during this temporary winter warm up.
The New York State Department of Transportation (NYSDOT) has brought its spray pothole patching machine and has multiple crews working throughout Rockland to fill and patch state roadways. Of top priority are two sections of Route 9W: between Nyack and Valley Cottage, and the southernmost section leading to the New Jersey border.
To report potholes on the state's highway systems, including the Thruway, call the NYSDOT toll-free hot line at 1-800-POTHOLE (1-800-768-4653). To report potholes on Rockland County Highway Department maintained roads call 845-638-5060, email highway@co.rockland.ny.us, or file a Request for Service.
Last week, Congresswoman Lowey announced the awarding of federal U.S. Department of Housing and Urban Development (HUD) grants to Westchester and Rockland counties and the not-for-profit Rockland Hospital Guild to strengthen homelessness services in their communities.
Rockland County received a $60,000 Continuum of Care (CoC)  grant to support the design and implementation of a coordinated entry system into permanent housing that will prioritize homeless individuals and families. The Rockland Hospital Guild will use its $117,323 CoC grant to support its program that prioritizes the housing needs of homeless mentally-ill parents and families. The Continuum of Care (CoC) Program is designed to promote communitywide commitment to the goal of ending homelessness.
The Department of Social Services is also in receipt of two other Housing Grants that assist in rehousing individual and families experiencing homelessness totaling an additional $360,000.
Mario Cuomo Bridge News
Lane Closures Scheduled
Tappan Zee Constructors (TZC) is scheduled to continue roadway improvements near the Governor Mario M. Cuomo Bridge. The work requires single-lane closures on the Rockland-bound New York State Thruway (I-87/I-287).
Lane Closures Near the Bridge
DATE:
CLOSURES BEGIN:
CLOSURES END:
LOCATION:
Mon. 2/11
6a – One left lane
3p
Northbound (I-87/I-287)
from exit 8 to exit 10
Tues. 2/12
6a – One left lane
3p
Northbound
from exit 8 to exit 10
Wed. 2/13
6a – One right lane
3p
Northbound
from exit 8 to exit 10
Thur. 2/14
6a – One left lane
3p
Northbound
from exit 8 to exit 10
Bicycle/Pedestrian Path
At the Rockland Landing, a new traffic pattern will soon be in place for motorists exiting the New York State Thruway (I-87/I-287) at exit 10 (South Nyack). Local traffic to the Nyacks will use a new ramp connecting to Hillside Avenue/Route 9W northbound. Currently, motorists make a U-turn within the interchange to head into the Nyacks, and it points north. The new ramp will allow motorists to directly access Route 9W northbound. Those seeking to access local streets will still be able to do so by using the Franklin Street Extension. The existing U-turn will be closed when the new ramp goes into service (see graphic below).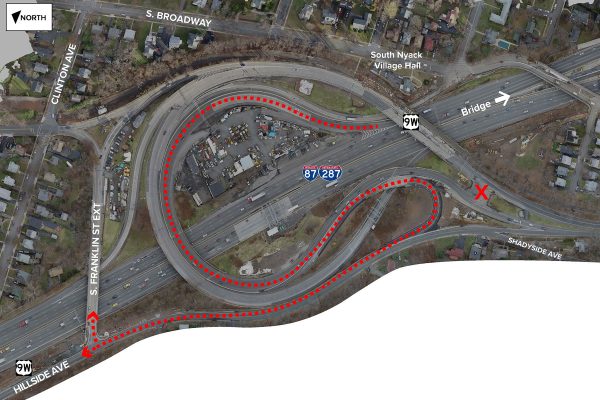 Additionally, a section of the Esposito Trail from Clinton Avenue and South Franklin Street to South Nyack Village Hall remains closed for the construction of the side path. Pedestrians and cyclists are being detoured to South Broadway and through Elizabeth Place Park. Crews will continue construction of a retaining wall along Hillside Avenue, necessitating temporary lane closures. Flag persons will keep traffic moving by alternating the directional flow between east and west. Crews also are drilling and installing piles at Elizabeth Place Park for construction of a highway noise barrier. TZC will also mobilize equipment near Piermont Avenue in preparation for the placement of a precast structure next week, weather permitting. The structure will connect the bridge's bicycle/pedestrian path to the Rockland landing.
---
Here are the municipal events in Upper, South, and the Village of Nyack for the week of 2/11.
Village of Nyack
Mon 2/11, 6:30p: Architectural Review Board Special Workshop
Tue 2/12, 5p: Justice Court
9:30a: Justice Court
4:30p: Board of Water Commissioners Meeting
6:30p: Village Board Pre-meeting Workshop
7:30p: Village Board Meeting
Sat 2/16, 10a: Mayor's Update Meeting with trustee Marie Lorenzini
Nyack Village Hall is located at 9 N. Broadway.
Village of South Nyack
Mon 2/11, 5:30p: Justice Court
Tue 2/12, 7:30p: Board of Trustees Regular Meeting
Wed 2/13, 7:30p: Planning Board Meeting
South Nyack Village Hall is located at 282 S Broadway.
Village of Upper Nyack
Mon 2/11, 6p: Architectural Review Board
Upper Nyack Village Hall is located at 328 N Broadway.