This week in the villages: Have you signed up for the Knowledge Market? Classes start Thursday at the Nyack Cemter! Nyack Mayor Don Hammond and the Village Board have been focusing on making the community leaner and greener. Speaking of green, the application deadline for the Nyack Community Garden is February 23. It's a quiet day at village and town halls near Nyack: government offices, banks, post offices, and public schools will be closed  for the President's Day federal holiday.
Village of Nyack
Presidents Day Transit Schedules
On Monday, February 18, 2019, Hudson Link buses will operate on a regular weekday schedule; Transport of Rockland (TOR) buses 59, 91, 92, 93, 94, and Loop 3 will operate on a Saturday schedule; Loop 1 and Loop 2 will operate on a weekday schedule; there will be no service on TOR 95 and 97; and Metro-North will operate on a Saturday schedule.
Message from Nyack Mayor Don Hammond
Nyack is getting leaner and greener. The first Village Board workshop for February was devoted to sustainability topics and the ways in which the community is getting involved in exciting new initiatives–LED streetlights, a public campaign and local law on single use plastic bags, and a project for community-wide green energy. These are a few of the new green initiatives that are coming to the Village of Nyack. To learn more about each of the topics discussed, visit the Sustainability Minutes sections of our website. — Nyack Mayor Don Hammond
Nyack Community Garden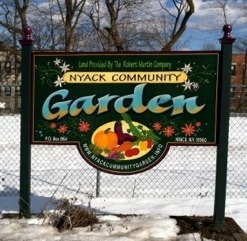 The Nyack Community Garden is a community-based, nonprofit organization that provides residents of the Nyack School District with an opportunity to grow vegetables and flowers in a safe, friendly environment. It is accepting applications for new gardeners until Feb 23, 2019. New gardeners are encouraged to mail in completed applications as soon as possible, as priority on the waiting list for plots is determined by the dates of postmarks on the completed applications. After the Feb 23 deadline, new members can send in applications to join the waiting list. Email nyackcommunitygarden@gmail.com to request an application.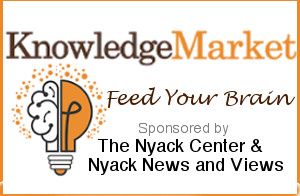 The 
Knowledge Market
 is an engaging series of classes, discussions, and workshops curated by Nyack News And Views. Topics include vigorous civics, digital photography, guitar guidance, poetry, and holistic health. Morning and afternoon classes meet each Thursday from February 21 through March 14, 
Nyack Center
, 58 Depew Ave, Nyack. Get more info and register for classes at
NyackKnows.com
.
RFP to Design and Build South Franklin Bicycle/Pedestrian Path
The Village of Nyack has been awarded a grant from the New NY Bridge Project's Community Benefits Program to design and build a bicycle and pedestrian shared use path adjacent to the Nyack Community Garden, along the west side of South Franklin Street between Hudson and Depew Avenues. The section of the bicycle/pedestrian path is part of the Shared Use Path connecting the Mario M. Cuomo Bridge to downtown Nyack. The Request For Proposal invites companies with experience in pedestrian and bicycle transportation planning and construction to submit proposals to design and build the bicycle/pedestrian path with a completion date of August 1, 2019.
Town of Orangetown
Operator for Batting Cages at Veterans Memorial Park Wanted
The Town of Orangetown is seeking an operator for its outdoor batting cages at Veterans Memorial Park in Orangeburg. Having been unused for several years, these batting cages require updates in order to be operated, but for many years prior saw substantial usage from local baseball and softball players. The Parks and Recreation department is seeking an operator who will not be charged any rent for the space, so long as they fix it and operate it as required. The town is aiming to have it up and running for the upcoming season. Potential operators are invited to view and respond to the Request for Proposal with a deadline of March 7, 2019 at 10:30a. If you have any questions, email supervisor@orangetown.com or call 845-359-5100 x 2293.
Rockland County
ML by Maria Luisa Scholarship
The application for the 2019 ML by Maria Luisa Scholarship program is now available to graduating female students in Rockland County. The ML by Maria Luisa Scholarship recognizes Rockland County high school female seniors who, through their actions or beliefs, embrace the principals of ML by Maria Luisa: civic and community involvement, commitment to social justice, social equality, and environment/eco-friendly lifestyles.
Two $1,000 scholarships will be awarded: one to a promising woman who is a senior attending a private or public Rockland County high school (must be a Rockland County resident), and one to a promising woman who is a senior attending Nyack High School. The scholarship will assist with costs in attending a college of the students' choice. The application deadline is March 16, 2019.
Last week, Congresswoman Lowey announced $3,243,287 in federal funding to the Town of Clarkstown to fund Phase II of the Klein Ave Levee flood control project in West Nyack. The funding, which covers the full cost of the project, was awarded through the Federal Emergency Management Agency's (FEMA) Hazard Mitigation Grant Program (HMGP). The improvements funded by this federal grant will raise and extend the levee to prevent overtopping and contain the flood flows of the Hackensack River.
Mario Cuomo Bridge News
Lane Closures Scheduled
Tappan Zee Constructors (TZC) is scheduled to continue roadway improvements near the Governor Mario M. Cuomo Bridge. The work requires single-lane closures on the Rockland-bound New York State Thruway (I-87/I-287).
Lane Closures Near the Bridge
DATE:
CLOSURES BEGIN:
CLOSURES END:
LOCATION:
Tue. 2/19
10 a.m. – One left lane
3 p.m.
Northbound (I-87/I-287)
from exit 8 to exit 10
Wed. 2/20
6 a.m. – One left lane
3 p.m.
Northbound
from exit 8 to exit 10
Thur. 2/21
6 a.m. – One left lane
3 p.m.
Northbound
from exit 8 to exit 10
Fri. 2/22
6 a.m. – One left lane
2 p.m.
Northbound
from exit 8 to exit 10
Bicycle/Pedestrian Path
At the Rockland Landing, a new traffic pattern is in place for motorists exiting the New York State Thruway (I-87/I-287) at exit 10 (South Nyack). Local traffic to the Nyacks now uses a new ramp connecting to Hillside Avenue/Route 9W northbound.
Additionally, a section of the Esposito Trail from Clinton Avenue and South Franklin Street to South Nyack Village Hall remains closed for the construction of the side path. Pedestrians and cyclists are being detoured to South Broadway and through Elizabeth Place Park. Crews will continue construction of a retaining wall along Hillside Avenue, necessitating temporary lane closures. Flag persons will keep traffic moving by alternating the directional flow between east and west. Crews also are constructing a highway noise barrier at Elizabeth Place Park.
---
Here are the municipal events in Upper Nyack and the Village of Nyack for the week of 2/18. There are no meetings scheduled in South Nyack this week.
Village of Nyack
Tue 2/19, 6:30p: Tree Committee Meeting (Nyack Library)
7p: Nyack Art Collective
7p: Architectural Review Board
Nyack Village Hall is located at 9 N. Broadway.
Village of Upper Nyack
Wed 2/20, 7:30p: Planning Board Meeting
Upper Nyack Village Hall is located at 328 N Broadway.