Rockland Center for the Arts (RoCA) is kicking off its 2019 exhibition season of "Art and Healing," exploring the power of art to transform and heal. Art has long supported individual and societal well-being. Despite the severe challenges faced by early civilizations, they still made time to engage in music, poetry, and the visual arts. In curating "Art and Healing," RoCA invited artists whose work reflects a deep interest in the power of art to expand consciousness, reduce suffering, and provide a healing force in today's world.
How can art be used as a healing tool? Is it in the stillness in a piece of artwork that we find a spiritual awakening that heals our soul or gives us a clearer vision of why we are here? Is it the whisper of the divine we hear or feel as an artist meditatively creates his work that we are immediately and inexplicable moved by? Can art be the vehicle through which we find purpose and meaning in tumultuous or cataclysmic events? Can those with sight gain insight of the soul through the vision of an unsighted artists? Art knows no racial, economic or gender barriers and has been used in therapy in treating ailments, including trauma, depression and illness.
The first exhibitions in the 2019 series are: Spirit of Being, Searching for Stillness and Quantum Connections.
Spirit of Being, uses the power of beauty to present the spiritual in art through visual and meditative experiences.  Many people find a healing through spirituality, but is spirituality just a religion or is it connecting to our higher self or soul through creation, such as the senses, dance, nature, art.
This exhibition engages the senses and asks: What does it mean to be a human being? In these complex times how do humans seek to connect to their own being or spirituality?
Have you ever been moved to tears by a painting and felt a release of emotions, or laughed yourself to wellness, danced and felt as though you were floating on clouds, or felt calmed by soothing harmonious colors in an art piece?  Perhaps you felt a story had a personal message of insight into your own life.  Art has the transformative power to awaken a spiritual experience through the Physical Body, the Emotional Body, and the Mental Body. It is the language of healing.
The exhibiting artists connect us to another realm of our being and to our higher selves. Their work embodies thoughts, feelings and energies at work in the conscious and subconscious mind. Through the act of creation, art brings substance to our own inner contemplation in response to life and all we experience, internally and externally.  "Art impacts our state of mind to connect to our inner selves and our spiritual self.  We find a spiritual awakening that heals our soul or gives us a clearer vision of why we are here…"  Louise Bourgeois
Colette Fu creates sculptural pop-up books that illuminate human drama, cultures and depict myths and legends.  Tao Hua Yuan Ji, which translates to "Utopia: Source of the Peach Blossoms," is the story of people escaping political unrest, who came upon a legendary province in China for secret refuge. The idyllic valley ringed by peach trees proved an ideal, harmonic life with nature and each other. The notion of a utopian haven for refugees, is painfully relevant in the world today.
Artist Garam Lee's installation is based on the belief that as long as we breathe, we are a living being. God has breathed the life into man's nostrils to form a human and for Buddhists, breathing is a way to meditate properly. The method Lee uses with hot glue in his work while using breath to form a surface is a process of sacred respect. The result of his daily breathing now builds the installation work for the show. Translucent bells that repeat its form endlessly resemble the repeated daily life, whereas the surface of the bells showing the process of puffs of air remind us of how much breath should we take in order to sustain our lives. By capturing the invisible process of living into a visual art work, Lee lets us realize that physical existence is in reality the result of spiritual activity.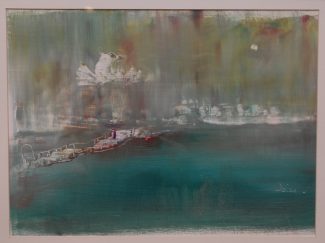 Mark Weiss employs a type of automatic painting. He sees art as a screen to know ourselves better, to reveal our origins and it can move forward ahead of consciousness to reveal who we are to become. With tremendous skill in color and gesture, he moves into and brings forth divinities in his artwork that can be seen by all of us. Through symbols that defy meaning, the viewer is placed beyond the literal, allegorical and moral senses and into the spiritual, numinous and mystical senses. The viewer creates their own understanding of it.
Time and memory play an important role in Robyn Ellenbogen's work. Ellenbogen translates feelings, perceptions, and sensations into something palpable, fluid, intimating the process by which formlessness becomes form. She works in varied formats, drawing, painting and metalpoint.
Paula Kovarik makes art with thread and fabric. Her quilts reach deep into the collective unconscious and unifies it through a thread that is the notion of life. Her artwork strives to find the zone where there resides a creative, different consciousness: an altered state of being. "The unifying thread, so to speak, is the notion of life as a complex web of seemingly random energies and events, things that connect in ways both obvious and unexpected." American Craft Council May 2015
In Searching for Stillness, Norman Galinsky uses his Engineering background and 30-year practice and teaching of Chinese martial arts as foundational in helping him generate, cultivate, and utilize energy patterns that often find their way into his images. His understanding and study of sacred geometry became a roadmap to explore how energy, science and esthetics can be related. His works are a practice of focus both on the intention of the work and the attention to his process-oriented designs. Galinsky believes that art expression is energy itself.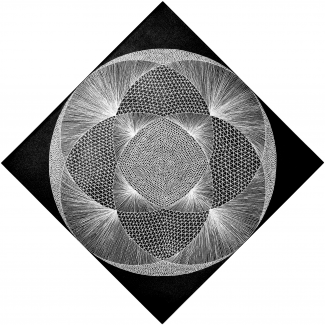 Daniel Martin Diaz has an insatiable curiosity to explore the mysteries of life and science. He is particularly fascinated with scientific diagrams, which explain theories and properties through imagery. His work seeks to the mysterious through arcane imagery and techniques that make sense to him on a deep level that words cannot quantify. His work is immersed in scientific and philosophical concepts, such as Anatomy, Computer Science, Math, Cosmology, Biology, Quantum Physics, and Consciousness. There is an underlying dichotomy of the power of technology and our quantum connection to it and our Universe. In Quantum Connections, Diaz ask how might our use or mis-use of technology alter our future?
A room for The Senses will provide Tibetan bowls, sounds, meditation videos and aromatherapy to encourage visitors to relax and experience the silence of being. The Creative Cure room will provide creative supplies for anyone to create a piece of artwork in response to the exhibit or their senses.
The goal is to encourage visitors to think of art as a form of healing for the mind, body and spirit in this fast-paced, technology-driven world we live in. Through exhibitions that feature artists who have overcome and healed their own lives, the hope is to provide inspiration for others.
There will be an Opening Reception on Sunday, February 24, 2019 from 2-5p. Spirit of Being, Searching for Stillness, and Quantum Connections will be on view from February 17 through March 24, 2019.  The exhibitions are free to the general public.
In conjunction with the theme of "Art and Healing", RoCA will host a panel discussion, How Art Heals, on Saturday, March 16, 2019 at 7p and an Art and Healing Festival on Sunday, June 9, 2019.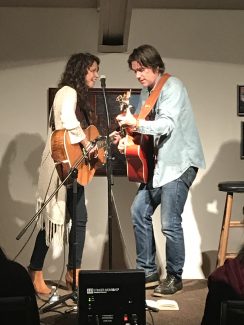 And fan favorites Sarah Lee Guthrie and Johnny Irion return to RoCA on Saturday, March 9, 2019 at 7:30p for another magical performance. Over the last two decades, Sarah Lee and Johnny have created a critically-acclaimed signature pop-fused folk-rock sound. Sarah Lee Guthrie's lineage is undeniable. This is evident with the clarity and soul behind her voice. Johnny Irion is coming off the release of his successful solo album, Driving Friend. Take advantage of this rare opportunity to experience an intimate performance of one of America's finest folk duos. Tickets are $20 online at rocklandartcenter.org or $25 at the door.
For more information on any of these events, contact: Rockland Center for the Arts, 845-358-0877, info@rocklandartcenter.org or visit rocklandartcenter.org. Rockland Center for the Arts is located at 27 S Greenbush Rd, West Nyack, NY 10994. Regular hours are: Mon-Fri 10-4; Sat and Sun 1-4p.