by Mike Hays

The taste of pancakes and maple syrup is a primal American experience, but not many have experienced the taste of natural maple sap from which syrup is made. It's refreshing and slightly sweet, with hints of mineral and forest. The sap is flowing right now in Upper Nyack and children from six to 96 can experience the thrills of this Native American ritual on March 3 at the annual Maple Sugar Day at Upper Nyack's Marydell. The annual program is sponsored by the non-profit groups Marydell Faith and Life Center and the Friends of Hook Mountain and Rockland Lake. Master maple-sugar harvester and Upper Nyack resident Bob Stien will demonstrate the craft of tapping trees, conduct tastings of sap and syrup, and, if conditions are right, make syrup on an open fire in Marydell's beautiful open fields.
Maple sap flows in late winter when warm days are followed by nights below freezing. Many northern forest trees are active at this time of year, drawing water and nutrients from their roots up through the tree core to nourish emerging leaf buds. Not all trees produce the mineral-rich sap. Maple is the most prodigious and most flavorful producer of sap, but alder, sycamore, and walnut also produce sap in the same way.
Bob Stien, maple sap craftsman
Bob Stien is the impresario of Maple Sugar Day at Marydell. His infectious humor and passion for nature delight children and adults alike. It all began for him with a 92
nd
street Y (NYC) kids program entitled
Sugar & Snow – Let's Go
. He enjoys teaching kids how to drill a proper tree hole and how to taste and harvest the sap. Stien has offered the program for many groups of kids at Marydell and the Y, as well as programs for the Y like
The Ghost Town of the Wild East
 (a tour of Doodletown near Bear Mountain).
Driven by his passion for more access to nature, Stien moved to Nyack in 1995 from the Upper West Side. He runs a family business in the New York City area but still finds time to explore Hook Mountain, the Hudson River, and Harriman Park. He started caving while attending Washington University in St. Louis. He is an active hiker and mushroom hunter known for his morel finds at the Hook.
Stien's generous spirit spills over into charitable work for the MaryDell Faith and Life Center in Upper Nyack, the New York Fathering Council, and EPIC (Every Person Influences Children), among others. He learned how to harvest sap from hiking friend Ed Bieber, owner of
Nature Place Day Camp
.
You want a friend like Bob, who has been known to give out his fresh, local sap collected in recycled water jugs.
The discovery of maple syrup
Native American mythology goes something like this: The son of Mother Earth observed the people lazily drinking maple syrup from trees in late winter rather than working. As a punishment, water was added to the syrup by a spirit, and ever after the people had to work very hard to collect sap and convert it into syrup.
Another more modern legend has it that in late winter a Native American yanked a tomahawk from a tree where it had been left overnight. The day was warm and sap flowed from the tree into a nearby container. Thinking it was plain water, the sap was used in preparing a meal.  Boiling concentrated the sap, turning the meal sweet. Thus began the tradition of making maple syrup. The idea of drawing sap might also have come from observing squirrels gouge maple trees with their two front teeth. Sap from the gouges would congeal into syrup as water evaporated. Squirrels would then enjoy the remaining syrup.
The sugar moon
Native Americans collected sap near the full moon–or, "sugar moon"–in late winter, gathering in semi-permanent encampments in maple forests. The process of collecting sap and making syrup would take weeks and careful daily tending was necessary.
Cuts were made in trees with stone tools. Reeds were inserted into the tree to channel sap into bark-lined baskets or clay pots, which were then carried to hollowed-out logs. Heated stones were put in the liquid until the sap was reduced. It is also likely that after sap was collected it was allowed to freeze. The ice would then be removed, leaving a more concentrated liquid to boil down, speeding up the process. Later, colonists brought metal tools to the process, and an active trade developed for metal buckets, axes, and kettles.
Benefit of maple sap
Maple sap is natural and organic. It is loaded with manganese, zinc, calcium, riboflavin, magnesium, and potassium. Sap contains antioxidants important in fighting cancer and also anti-inflammatory agents important in fighting disease. Maple syrup derived from maple sap is equally natural. Koreans recognize the health benefits, calling the sap from the tree "Gorosoe," which is translated as the tree that is always good for the bones.
Maple Sugar Day at Marydell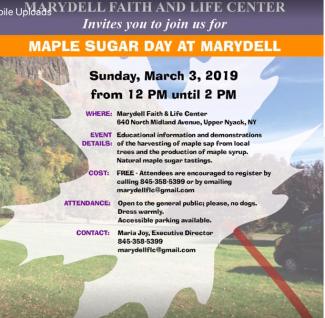 Villagers need a lift in late winter, and Marydell Faith and Life Center and Bob Stien offer a healthful educational experience at the foot of Hook Mountain that is perhaps the finest American example of farm to table nutrition in the Hudson River Valley.
See also:
Nyack People & Places: The Sears Kit Barn
Photo credits:  Photos by Mike Hays
Michael Hays is a 30-year resident of the Nyacks. Hays grew up the son of a professor and nurse in Champaign, Illinois. He has recently retired from a long career in educational publishing with Prentice-Hall and McGraw-Hill. Hays is an avid cyclist, amateur historian and photographer, gardener, and dog walker. He has enjoyed more years than he cares to count with his beautiful companion, Bernie Richey. You can follow him on Instagram as UpperNyackMike.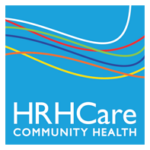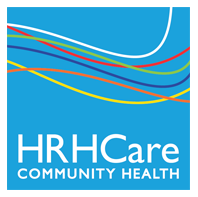 Nyack People & Places, a weekly series that features photos and profiles of citizens and scenes near Nyack, NY, is brought to you by
HRHCare
and 
Weld Realty
.