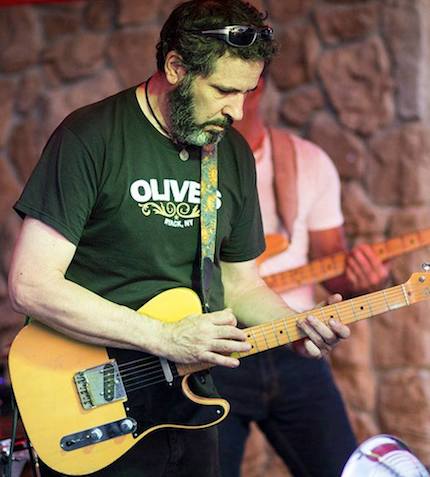 Meet Jeff Rubin, ready to provide some Guitar Guidance as one of the  instructors at Nyack News And Views new series, The Knowledge Market.
Jeff  has been in the music business for 48 years. He has performed, recorded or toured with Oingo Boingo, Danny Elfman, Randy Jackson (American Idol), Concert For Bangladesh Band (Dhani Harrison), Chuck Berry, Davey Jones, The Temptations, The Crystals, The Drifters, The Regents, The Dupree's, Freddy Cannon, Del Shannon, Leslie Gore, and more. He is a veteran teacher from Alto Music, where he began instruction in 1980. A recording engineer and Mac guru who produced "The Pipeliners (2014), Jeff also builds guitar and bass amplifiers, effect pedals, even microphones, bringing technical expertise to his comprehensive understanding of guitar and the music business.
Knowledge Market morning and afternoon classes begin on February 21, and run each Thursday through March 14. The inaugural offerings include Shamanism 101, Vigorous Civics in the Trump Era, The Mindful Poet, How to Take Better iPhone Photos, and Jeff's class, Guitar Guidance. Please visit NyackKnows.com for class  registration info.
Jeff answers three questions about his upcoming course.
KM: Why this course now — what's exciting to you about teaching this?
JR: It seems appropriate for me to be teaching now as I'm winding down my gigging career and can share the knowledge accrued during 48 years of involvement in "the biz." Teaching has always been part of the equation for me.
KM: What can students expect from your course – what will they go home thinking/talking about?
JR: You can expect to go home with new information to digest that will move you forward in the evolution of your guitar playing, be it beginner, intermediate, or professional level.
KM: Why did you want to be part of the Knowledge Market – what's the appeal or importance of this concept for you?
JR: As a proud Nyack resident and performer for many of Nyack's Street Fairs, Farmers Markets, Earth Day celebrations, etc, I'm honored to be part of the knowledge market, and help contribute to what makes our town great.
Jeff's class, Guitar Guidance, meets Thursday mornings from 12n-1:30p, February 21-March 14. Registration is open! Learn more and sign up his class at NyackKnows.com.