by Michael Prendergast
How does one go from a prognosis of certain death to being happy and healthy 11 years later? Easy – it's the Gift Of Life. There was a death in my immediate family about 11 years ago: my liver died. Unbeknownst to me, a super hero was ready to save my whole world. He did not wear a cape or a mask, nor did he leap tall buildings or race speeding trains. His name was Fred, and he had registered his wishes to become an organ donor someday. His Gift of Life was passed on to me and to others. Fred is my Hero. Fred's family has relayed to me the moment they were informed about his donor-registration and they say it was the only bright moment of that really bad day.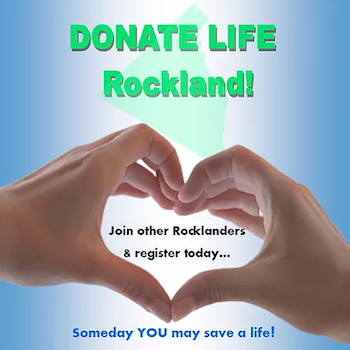 My transplant story is like so many other organ recipient's stories I have heard at Donate Life Rockland gatherings. Each of us recipients had a long waiting period because New York State is LAST among the 50 states in its percentage of registered organ donors.
In New York State, someone dies every 18 hours waiting for an organ transplant. Sadly, 31% of New Yorkers and 25% of eligible Rocklanders have enrolled in the New York State Donate Life Registry. Comparatively, the nationwide average is 56%. WE CAN DO BETTER.
Each of us knew at DONATE LIFE ROCKLAND  know someone who did not survive the long wait. Each of us had family issues during the long wait. But all of the recipients I have met have one more thing in common: WE HAVE FELT THE GIFT OF LIFE bring us back into this healthy world. And we are grateful.
DONATE LIFE ROCKLAND members are dedicated to increasing the number of registered Life-Savers in Rockland County and to #ReduceTheWait.
You might be wondering what you can do RIGHT NOW to become a registered organ donor. Here are two easy answers!
Go to DonateLifeRockland.org and sign up for the battle for health and life. Also,
Come to the DONATE LIFE ROCKLAND Meet & Greet from  7-9p  on Thurs Feb 21 at the Sons of Italy Hall, 46 Van Wyck Road in Blauvelt. You will hear from leading organ donors, organ recipients, medical professionals and surgeons who will offer informal conversations about their experiences. Plus, some great finger-food as well! Visit DonateLifeRockland.org for more information.
---
Donate Life Rockland was formed with support from LiveOnNY and Rockland County with a mission to:
Assist Rockland Organ Recipients and those waiting for a transplant
Educate Rocklanders on the critical organ donor shortage
Increase enrollment in the organ donor registry