This week in the villages: Local furloughed federal employees have two things to celebrate: The partial government shutdown is temporarily over and the Nyack Village Board passed a resolution to provide some financial relief to such workers. The Village of Nyack is requesting proposals to design and build a bicycle and pedestrian shared use path. Parents, it's time to sign up your kids for the Winter Recreation programs. Also, the Town of Orangetown is getting a new community center.
Village of Nyack
Sustainability Update
Nyack will team up with Nyack High School students to promote the use of reusable bags while the Village Board considers new restrictions on single use plastic bags. Want to learn more? Come to the Village Board Workshop meeting on Feb 14 at 6:30p.
Nyack's plan to take ownership of its streetlights and replace them with LED lighting is also on the agenda for Feb 14. By installing LED streetlights, the village will benefit from significant energy efficiency and cost savings, reduced maintenance, improved lighting quality and greater roadway safety for both vehicle and pedestrian traffic. Cost savings from switching to LED lighting can be as high as 70%.
Broadway, South Franklin Streetscape TAP Improvements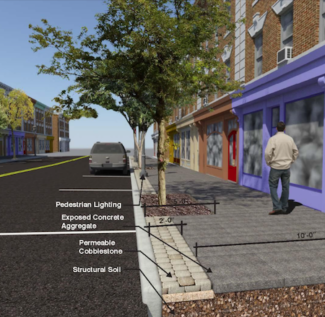 Village officials and McLaren Engineering will meet with South Broadway, North Broadway and South Franklin business owners to discuss plans for Nyack's TAP construction project on Jan 28.
The Transportation Alternatives Program (TAP) is a NYS Dept of Transportation funded project to improve the Nyack Broadway business corridor through safer crosswalks and sidewalks with an emphasis on aesthetics and sustainability. Improvements include new landscaping and lighting, shortened crosswalks, water permeable paving, relocated bus stops, and a bike path on South Franklin to connect downtown to the Esposito Trail and the Mario Cuomo Bridge Shared Use path.
The Monday morning meeting for business owners will focus on the best timing for this work to avoid interruptions to local businesses. A public workshop to discuss TAP plans is planned for the Feb 28 Village Board Workshop meeting.
Message from Nyack Mayor Don Hammond
The Nyack Village Board unanimously approved a resolution at its meeting on January 24, 2019 to afford furloughed federal employees additional time, without penalty, to make certain payments which may have come due during the shutdown of certain departments of the United States government.
Specifically, the Village Board resolved to allow furloughed federal workers 45 days from the date that the shutdown ends to pay for parking permits, water bills, and village taxes which may have come due during the government shutdown. Furloughed federal employees are directed to present proof of their employment to the Village Clerk, and all late fess and penalties for late payments will be waived for the 45 day period.
The Village Board expressed hope that any assistance given to affected federal employees might lessen any financial burden inflicted through no fault of those individuals themselves. — Nyack Mayor Don Hammond
Winter 2019 Recreation Programs
Registration is now open for the Winter 2019 Recreation Programs, including Kung Fu, Teen Aerial Yoga, and Intro to Guitar.
Knowledge Market Kick-off Social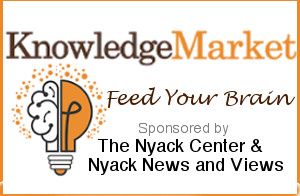 Meet the instructors of the Knowledge Market on Tues Jan 29 at 7p at a FREE Kickoff Social with live music by Jeff Rubin and tasty treats from Latalaye Catering.
The Knowledge Market is an engaging series of classes, discussions, and workshops curated by Nyack News And Views. Topics include vigorous civics, digital photography, guitar guidance, poetry, and holistic health.
Morning and afternoon classes will meet each Thursday from February 21 through March 14. The Tues night event is free, but an RSVP is appreciated. 7p, Nyack Center, 58 Depew Ave, Nyack.
RFP to Design and Build South Franklin Bicycle/Pedestrian Path
The Village of Nyack has been awarded a grant from the New NY Bridge Project's Community Benefits Program to design and build a bicycle and pedestrian shared use path adjacent to the Nyack Community Garden along the west side of South Franklin Street between Hudson and Depew Avenues. The section of the bicycle/pedestrian path is part of the Shared Use Path connecting the Mario M. Cuomo Bridge to downtown Nyack. The Request For Proposal invites companies which have experience in pedestrian and bicycle transportation planning and construction to submit proposals to design and build the bicycle/pedestrian path with a completion date of August 1, 2019.
Village of South Nyack
Snow Removal Reminders
So that roadways can be plowed, all vehicles, by law, must be off the street within two hours after a snow storm has started. If snow is predicted, the police will not grant permission for overnight street parking. Homeowners are required to have all sidewalks abutting their property cleared within 24 hours of the end of the snowfall. Snow is not to be plowed, shoveled, or blown into the street. Please inform the person who plows or shovels for you. If possible, wait to clear snow until after the storm has ended. It is the policy of the DPW to plow curb-to-curb. This clean-up takes a few hours after the snow has stopped. When clearing your driveway, pile the snow to the right of the direction of traffic flow so that the mound does not get pushed back into your driveway by the village plow. Please help your neighbors and the Fire Department by clearing the snow from around any fire hydrant near your home.
Town of Orangetown
New Community Center
A new community center will be built on the former Rockland Psych campus in Orangeburg. It will include meeting space, basketball courts, an indoor track, locker rooms, a full kitchen, and offices for the Orangetown Parks Department. Total costs are projected to stay below $5 million and will be paid for with monies received from anticipated land sales. Future amenities include refurbishing existing tennis courts, a dog park, and a kids' splash pad/sprinkle park.
Mario Cuomo Bridge News
Midday Lane Closures Scheduled
Tappan Zee Constructors (TZC) realigned Rockland-bound traffic near the Rockland landing last weekend. The new traffic configuration will allow TZC to continue roadway improvements near the Governor Mario M. Cuomo Bridge. Additional roadway work is scheduled to occur this week, requiring midday, single-lane closures on the Westchester-bound Thruway. Specific lane closure times are listed in the chart below.
Lane Closures Near the Bridge
DATE:
CLOSURES BEGIN:
CLOSURES END:
LOCATION:
Mon. 1/28
10 a.m. – One right lane
3 p.m.
Southbound
from exit 11 to exit 9
Tues. 1/29
10 a.m. – One right lane
3 p.m.
Southbound
from exit 11 to exit 9
Wed. 1/30
10 a.m. – One right lane
3 p.m.
Southbound
from exit 11 to exit 9
Thur. 1/31
10 a.m. – One right lane
3 p.m.
Southbound
from exit 11 to exit 9
Fri. 2/1
10 a.m. – One right lane
3 p.m.
Southbound
from exit 11 to exit 9
Bicycle/Pedestrian Path
At the Rockland Landing, a section of the Esposito Trail from Clinton Avenue and South Franklin Street to South Nyack Village Hall remains closed for the construction of the side path. Pedestrians and cyclists are being detoured to South Broadway and through Elizabeth Place Park. Additionally, crews will continue construction of a retaining wall along Hillside Avenue, necessitating temporary lane closures. Flag persons will keep traffic moving by alternating the directional flow between east and west. Crews also are drilling and installing piles at Elizabeth Place Park for construction of a highway noise barrier.
---
Here are the municipal events in the Village of Nyack for the week of 1/28. There are no meetings scheduled in Upper or South Nyack this week.
Village of Nyack
Mon 1/28, 7p: Zoning Board of Appeals
Tue 1/29, 5p: Justice Court
Wed 1/30, 7p: Architectural Review Board Special Workshop
Thurs 1/31, 9:30a: Justice Court
Nyack Village Hall is located at 9 N. Broadway.