This week in the villages: This week will end with a big bang. The remainder of the Tappan Zee Bridge is scheduled to be taken down with a controlled demolition on Sat, Jan 12.  Nyack Mayor Don Hammond looks back on the highlights of 2018 and Upper Nyack Mayor Karen Tarapata shares plans for 2019.
Village of Nyack
Message from Nyack Mayor Don Hammond
I'd like to take this opportunity as we begin this new year of 2019 to recap some of the great strides the village made in 2018.
Completing Midland Avenue Project
Two plug in EV stations for electric vehicles
More overnight parking spots throughout the village
Programs and events provided by the village's recreation department such as the Great Nyack Get Together, after school programs, and pickleball
Many great concerts at Memorial Park, thanks to the Park Conservancy
A new Splash Pad, also thanks to the Park Conservancy
Benchmarking energy usage at Village Hall
All of this is possible because of the incredible people that work at Village Hall, volunteers, friends, and family. Let's continue to work together in 2019 to keep improving Nyack and making it an even better place to live, work, and play. — Nyack Mayor Don Hammond
Periodic Dye Testing
The Orangetown Sewer Department is conducting dye tests to diagnose the source/sources of rain infiltration into the Nyack sewer system, which causes overflows. This is part of a massive effort which includes miles of pipe replacement and lining as well as other steps designed to eliminate the overflows. Though reduced from past years, the overflows continue and, due to the DEC mandating that the overflow valve into the Hudson be closed, have become more apparent in the Spear Street parking lot. If you see bright green water runoff, it is a safe, non-toxic dye that is used to conduct these tests, so the problem can be addressed at the source.
Traffic signals and pedestrian safety
Since Susanne Esposito was struck and killed by a motorist at the intersection of Main St. and Broadway in Nyack last spring, many in the village have been concerned about pedestrian safety. Obeying traffic signals is important. The Village of Nyack will be implementing LPI (Leading Pedestrian Interval), a technology that will give pedestrians seven sections of WALK sign to cross an intersection before cars get a green light. Bumpouts, included in the design of a planned facelift of Broadway in 2019, will reduce the distance that pedestrians will have to travel to get across an intersection.
Resolution Run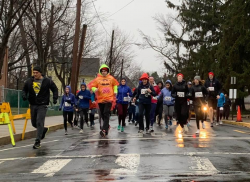 Rain could not dampen the spirits of 100 runners and walkers of all ages who participated in the third annual Resolution Run to benefit the Nyack Hunger Coalition on Sat, Jan 5. Rain ponchos and umbrellas replaced more traditional running gear as people took to the streets, navigating around puddles and dodging runoff streams on the four mile route through Nyack and Upper Nyack. All told, the 2019 Resolution Run has brought in over $10,000 so far to support NHC member organizations. This year's run is over, but donations are still welcome at www.nyackhunger.com, rain, snow or shine.
Village of Upper Nyack
The Comprehensive Plan is moving along, with the committee utilizing all the input gathered during the many resident meetings that were held last year. As the "vision statement" for our village, the Comprehensive Plan ties together the past and future of the village. It is used to guide any changes that might be made to our zoning code in coming years. Once it is drafted, it will be shared with residents and there will be a public hearing before it is adopted.
On the Hester Haring Cason Preserve, the DPW has been working hard to get the property ready for resident use, removing fencing and metal rubbish. We have also been removing old fuel tanks from the property. As the tanks are pulled out, the soil around the tanks is being removed from the site, tested by a lab, and replaced with clean fill and gravel. The area by the barn has been completed. Work is continuing on the tank near the main house, but we hope to wrap that up soon. I cannot wait to have the Preserve ready for us to enjoy. I am guessing that it will be open for walking and biking this spring.
This year, there will be more meetings on specific topics of interest to residents, including parking, traffic calming, sidewalks, and planning for the future of the Preserve. Please visit the  UpperNyack-NY.us and register for e-alerts so you know when the meetings are. — Upper Nyack Mayor Karen Tarapata
March 19, 2019 Village Election
The following offices will be vacant at the end of the current official year and are to be filled at the village election to be held on Tuesday, March 19, 2019 for the following terms:
Trustee – Two Years (2 vacancies)
Mayor- Two Years
Information on how to file petitions, nominations, and how to register to vote is available in the Village Hall office. To be eligible to vote, you must register with the Rockland County Board of Elections. Check with the village clerk for registration deadlines to be eligible to vote in the village election.
Town of Clarkstown
The Town of Clarkstown will hold its annual reorganization meeting, Tue, Jan 8, 2019 at 7p in the auditorium at Town Hall, located at 10 Maple Ave in New City. Supervisor George Hoehmann will deliver his annual State of the Town address at the meeting.
State of New York
Governor Andrew Cuomo took the oath of office for the third time on Ellis Island on Jan 1. In his inaugural speech, he offered that New York would set an example for the nation. Read other Highlights From Gov Cuomo's Inauguration Speech.
Mario Cuomo Bridge News
Remainder of Tappan Zee Bridge to Come Down Sat, Jan 12
A controlled demolition of the remainder of the Tappan Zee Bridge is scheduled for Sat, Jan 12, 2019 at approximately 9:30a. During the controlled demolition period, the Hudson River's main navigation channel will temporarily be closed at 7:30a for approximately three hours and traffic on the New York State Thruway (I-87/I-287) between exits 11 in Nyack and 9 in Tarrytown will be stopped in both directions at about 8:55a for approximately 45 minutes. Motorists are strongly encouraged to avoid the area and find alternate routes during the activity.
Artist Alert: Mario Cuomo Bridge Sculpture Contest: New York artists are invited to use their talents to span time and the Hudson River by creating iconic sculptures for the landings of the Mario Cuomo Bridge using remnant steel from the 1955 Tappan Zee Bridge. The pieces will be sited on New York State Thruway Authority-owned land in Tarrytown and South Nyack on the Mario Cuomo Bridge's bicycle/pedestrian shared use path. Remnant steel salvaged from the retired Tappan Zee Bridge will be made available to the two winning artists. A Request for Artist Qualifications must be submitted by January 11, 2019.
---
Here are the municipal events in Upper, South and the Village of Nyack for the week of 1/7.
Village of Nyack
Mon 1/7, 7p: Planning Board Meeting
9a: Mayor Hammond's Monthly Meeting
5p: Justice Court
9:30a: Justice Court
4:30p: Board of Water Commissioners
6:30p: Village Board Pre-meeting Workshop
7:30p: Village Board Meeting
Nyack Village Hall is located at 9 N. Broadway.
Village of South Nyack
Mon 1/7, 5:30p: Justice Court
Tue 1/8, 7:30p: Board of Trustees Meeting
South Nyack Village Hall is located at 282 S Broadway.
Village of Upper Nyack
Thurs 1/10, 7p: Board of Trustees Workshop
Upper Nyack Village Hall is located at 328 N Broadway.