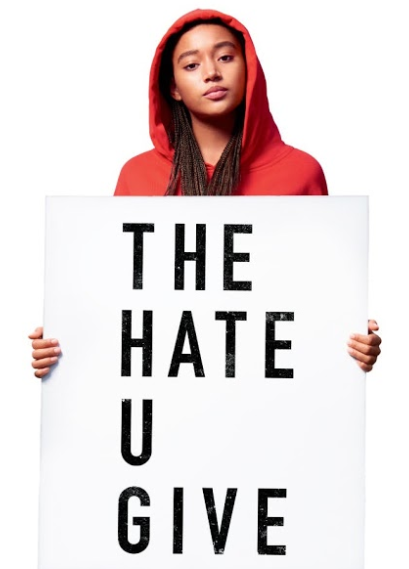 by Bill Batson
For over two decades, local teens have found a safe and supportive haven at the Nyack Center. Current Assistant Director Nicole Hines started her tenure at the Nyack Center as a teen participant in the after-school program and now guides the Teen Council, among her many responsibilities. This Friday, January 25 at 7p, the Teen Council partners with Rivertown Film  and Our Community Against Drug Addiction (OCADA) to present a screening and discussion of the film The Hate U Give.
Released in October 2018, The Hate U Give is based on the book of the same name published by Young Adult author Angie Thomas.  The novel's protagonist, Starr Carter, witnesses her childhood best friend and high school classmate murdered by a cop. After 82 weeks on top of the New York Times best seller list,  and 32 million in box office, Thomas' story has sparked discussions around the country on issues of race, mass incarceration, identity and the circumstances that violently catapult many children of color into adulthood.
A discussion after the film, moderated by Community Organizer Dornzella Milligan includes:
Rev. Dr. Weldon McWilliams IV, Professor SUNY Dutches
Jibreel Shabazz, Youth Advocate and Nyack High School student
Ronnie Bruno, Youth Advocate and Nyack High School student
Leara Branch, Youth Advocate  NHS student
Refreshments are available in exchange for a donation.
Every other Friday from 7p – 11:30p, the Nyack Teen Council, in collaboration with OCADA holds a substance-free performance program run by teens, for teens ages 13-18. Weekly planning meetings are held every Tuesday night at Nyack Center at 5:30.This is a free program. For more information, call: Nicole Hines at  358-2600.
Additional upcoming cultural, theatrical and civic programing at the Nyack Center celebrate the diversity of our community:

Black History Celebration
Nyack Center holds its annual Black History Celebration on Saturday, February 2. There will be a reception from 6:30-7:30. The program begins at 7:30pm. Those honored this year for their impact on the lives of African Americans in our community through words spoken and sung and music and dance are:
Playwright, Samuel Harps,
Village of Nyack Trustee Donna Lightfoot Cooper
Rev. Newton
This year's theme is the Great Migration.
The event is generously sponsored by Emily J. Klein & Tom Suguira and Alexandra & Alex Cabraie. The event features oratory finalists and Naomi's Program of Excellence and is free and open to the community
Hoodie March
Sponsored by The Rockland -Orange County and The Mid-Hudson Valley Chapter of Jack Jill, this second annual silent march brings awareness to all the senseless deaths caused by poor gun sense laws and regulations. Protestors are gathering for the march at Nyack Center at 11:00a on Saturday, February 2.
The organizers bemoan our nation's continued decent into a culture that condones gun violence. According to their Facebook page, In 2017, 3,410 children and teens died from guns—enough to fill 170 classrooms of 20 children. A child or teen was killed with a gun every 2 hours and 48 minutes. More children under five were killed by guns than law enforcement officers killed in the line of duty. Gun violence saturates our children's lives and remains the second leading cause of death for all children and teens ages 1-19.