by Dave Zornow
Since Sueann Esposito was struck and killed while crossing Broadway at Main Street last May, I've been paying more attention to that intersection in downtown Nyack. On Tuesday January 2 at 2p, I saw something which I have tried to forget, but that haunts me almost as much as the tragedy that took the life of the 81-year-old widow of the man for whom South Nyack's Esposito Rail Trail was named.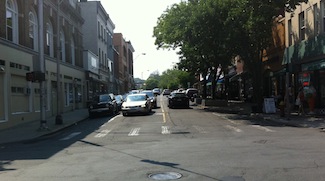 Last Tuesday afternoon, a woman driving a car with vanity plates blew through a red light driving south on Broadway. It wasn't even close; the light was yellow before she entered the intersection. Yes, we frequently see drivers blow through lights when they could — and should — have stopped, but this incident occurred at an intersection where one of our neighbors lost their life last spring.
Crashes in our community happen a lot. According to the NYS Department of Transportation, there were 52 crashes involving vehicles, pedestrians and cyclists in the Nyack School District between 2015 and 2017. That's one crash every three weeks. Most of those incidents happened near downtown Nyack; two out of three of those crashes involved pedestrians.
The Nyack river villages are a tight-knit community. It's likely that the pedestrians you pass, the cyclists you see, the cars with whom you share the road, are only one or two degrees of separation away from you, your friends and your family. It's likely that someone who is reading this article knows the lady who ran the red light last week at Main Street & Broadway.
We risk our neighbors' lives when we run red lights or drive too fast. Speed kills: If you are crossing the street and are struck by a car at 20 mph, you have a 95% chance of surviving. If you get hit at 30 mph, your chances of survival are less than 50%. Consider this: driving from downtown Nyack to Upper Nyack Elementary School at 25 mph vs. 35 mph adds only 30 seconds to the trip – but driving more responsibility makes our streets safer for the school children, parents, joggers, dog walkers and people who use their bikes instead of a car to go downtown.
I've heard it said there's nothing we can do to make our streets safer because some people will drive whatever speed they find convenient, often while texting and frequently rolling through four way stop signs and ignoring traffic signals. But small changes can make a difference. New York City lowered its default speed limit to 25 mph. That change is one of the factors that has helped to reduce the number of crashes and fatalities in the city.
We can make a difference. We can set an example for our neighbors by not running red lights. We can follow the example of NYC and lower our default speed limit from 30 to 25 mph. The Village of Nyack will be implementing LPI (Leading Pedestrian Interval), a technology that will give pedestrians seven sections of WALK sign to cross an intersection before cars get a green light. Bumpouts, included in the design of a planned facelift of Broadway in 2019, will reduce the distance that pedestrians will have to travel to get across an intersection.
Traffic signals matter.
Yellow doesn't mean speed up.
Sooner or later, we are all pedestrians.
This community of three small villages shares the same downtown, the same schools, arts, sports, community and cultural groups: in one or more ways, we are all connected.
Let's make a New Years resolution to drive like we are all part of a extended family and the people with whom we share the streets are only one or two degrees separated from ourselves. Let's learn from last year's tragedy, and make our streets safer for everyone.
Dave Zornow is chairperson of the Greater Nyack Bike Walk Master Plan project, a 2018 study which reviewed and recommended walking, cycling, driving and safety issues in South Nyack, Upper Nyack, the Village of Nyack, Valley Cottage and Upper Grandview, funded by the New NY Bridge Community Benefits fund. The study received the 2018 American Planning Association NY Metro Chapter Meritorious Achievement Award.