by Mike Hays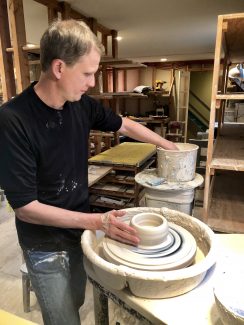 Hand-crafted ceramics have undergone a renaissance over the past few years. But for John Curley, functional pottery has been a lifelong passion. Curley built his Upper Nyack studio while renovating his house, and it's on a wheel there that he creates porcelain table ware, bowls, and pitchers, decorating and finishing with slips and glazes that he mixes himself. At weekend sale events, villagers looking for handmade pottery to grace their farm-to-table dinners can view tabletops full of Curley's mugs, plates, bowls, and pitchers in a palette from deep blue to bright white.
From art school to pottery
Curley was born in New Jersey, and he attended the small liberal arts school, Oberlin College, where he majored in art, with a focus on painting. Having never taken a pottery class, he was first exposed to handmade pottery during a trip to Japan shortly after his college graduation. Curley learned more about pottery firsthand while working in a pottery studio in Oberlin upon his return. He would later move to Vermont, where he worked in a glassblowing studio. He lived in a house with a pottery studio where he started to learn the craft at night.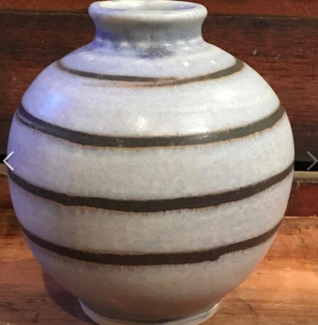 Curley's evolution as a potter continued in Hoboken, NJ, where he worked in a glass studio across the street from the Monroe Arts Center (he continued to take evening classes in a studio there). Larry Michelotti, who ran the studio, taught Curley much about functional pottery and the studio art philosophy of combining creativity with functionality.
One of Micehlotti's primary influences was the late, great American potter Warren Mackenzie, a student of Bernard Leach, one of the early founders of the studio pottery movement. Curley became enamored with the combination of form and function as defined in the work of Bernard Leach, Warren Mackenzie, and other leading figures of the studio pottery movement.
Arriving and working in Nyack
While working in Hoboken, Curley met his wife, Karen Manheimer, in New York City.  Karen, a world traveler working in the concentrated spice and essential oil business, has always been very supportive of John's ceramic interests. While they were dating, Curley worked several jobs for various craft people. A highlight was working for Jack Cushen whom Curley helped with his restoration work on Tiffany and other stained-glass windows for some of New York's finest churches.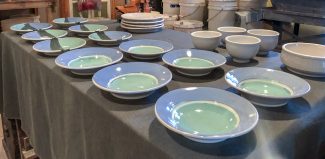 A few years later, married and, like many city dwellers with a young child, the couple began looking for more space in the suburbs. They found a fixer-upper in Upper Nyack. They have raised two daughters in this house. For many years, Curley coupled his pottery work with the joys and challenges of raising two wonderful daughters.
Curley is connected to his local community. He shares a passion for functional pottery with Palisades, NY potter Jane Herold. Herold has been an important influence on Curley. Curley has helped Herold with her wood kiln firings over the years; Herold has helped Curley more fully appreciate the subtleties of making beautiful functional wares. Perhaps most importantly, Jane gave John his first teaching job, sharing her responsibilities with him at the Elisabeth Morrow School. "It was such a gas," he says about teaching kids how to use the wheel. Teaching others how to work on the wheel also helped reinforce for John what it was that he loved about pottery-making himself.
Current work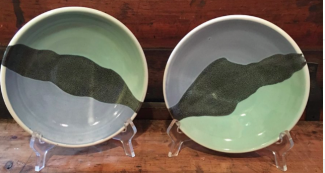 Curley is always learning his craft. For a time, Curley made reduction-fired stoneware in Hoboken. He also was firing work in a wood kiln as part of a group at Museum Village until back trouble forced him to stop. Since moving to Nyack, John has been working with a custom porcelain/white stoneware blend that he fires in an electric kiln in his garage. Porcelain is a challenging clay to work with, and John found he had to change his work approach when he switched from stoneware.
Curley's palette has changed as well. He mixes his own slips and glazes, some of which were handed down, and some of which he has created himself. Firing in an electric kiln is easier than a gas or wood kiln, but it is harder to get equally interesting results. With constant refinement over the years, Curley now feels he has a palette that, in combination with other various decorating techniques, he is excited about.
Nyack residents are fortunate to have a village potter as a source for interesting, tactile and functional clay tableware.
Finding Curley Pottery
Curley's pottery may be viewed on Facebook at John Curley Ceramics. From time to time, Curley holds special sales at his home studio on Highmount Avenue in Upper Nyack.
Photo credits:  Photos by Mike Hays and John Curley
Michael Hays is a 30-year resident of the Nyacks. Hays grew up the son of a professor and nurse in Champaign, Illinois. He has recently retired from a long career in educational publishing with Prentice-Hall and McGraw-Hill. Hays is an avid cyclist, amateur historian and photographer, gardener, and dog walker. He has enjoyed more years than he cares to count with his beautiful companion, Bernie Richey. You can follow him on Instagram as UpperNyackMike.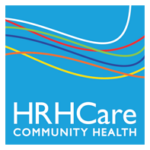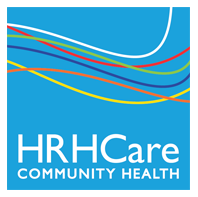 Nyack People & Places, a weekly series that features photos and profiles of citizens and scenes near Nyack, NY, is brought to you by
HRHCare
and 
Weld Realty
.