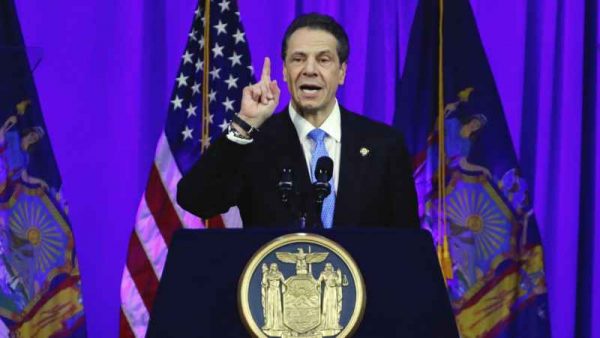 On January 1st, Governor Andrew M. Cuomo was sworn in for a third term as Governor of New York. Delivering his inaugural address, held on Ellis Island, Cuomo offered a rebuke of President Trump without speaking the president's name directly. He offered that New York would set an example for the nation. Here are some highlights from the speech.
On national unrest
There is no other nation that can threaten us. America's only threat is from within: it is the growing division amongst us.
When we see ourselves as black or white, foreign or native born – instead of as Americans – as Christians or Jews or Muslims, gay or straight – instead of as Americans – that, my friends, is truly frightening.
Yet that is the threat we face today.
As our nation once confronted a great economic depression, we now confront a great social depression.
People's frustration turning to fear and the fear turning to anger and the anger turning to division.
It is impossible to overstate how dangerous, how malignant this condition is.
… It may surprise you but I don't fault our federal government for causing the underlying fear and frustration. But I fault them for something worse – for a failure of leadership and government malfeasance. For manipulating and using the fear and deepening the divisions for their own political purpose.
On New York exceptionalism
But New York has always risen above hatred. When racism or sexism or discrimination rears its ugly head we come together, all of us united, to oppose the division.
When they bring fists of fear and hate, we bring an embrace of love and hope.
We know that when we come together our darkest hours can be followed by our finest days.
When they write the history books and ask what did we do–in the face of anger and division, when people were disillusioned, let New York's answer be that in this defining moment we brought healing and light and hope and progress and action.
That New York did not seek to blame or use people's anger but rather chose the hard but true path – to resolve the fear by solving the problems that were causing the frustration in the first place.
On Democrats taking control of Albany
Our new legislature is now governed by Democrats.  We will not repeat the mistakes of the past.  We know hollow campaign rhetoric and false political posturing only aggravates the frustration.  New Yorkers are smart.  They know there is no magic wand.  My father used to say, "we don't need ideas that sound good, but rather ideas that are good and sound." New Yorkers know the difference between rhetoric and results.

We either perform by delivering real solutions that restore hope and progress in people's lives or we fail.
On why January 1st is a bittersweet day for Gov. Cuomo
January 1st is bittersweet for me. A happy day, but also a sad day. It is the anniversary of my father's death. Four years ago his health was declining but he had promised that he would be with us until Inauguration day. And he was. He heard my swearing in over the telephone from his bed and he died soon afterwards. True to his word – always.
I took him from his bed that afternoon and we put him to rest.
I loved him so, so, so much.
We buried him with a special New York State necktie that I had made to wear for the inaugural. He had loved it. The state colors–navy blue and gold–adorned with the state seal.
Read Governor Cuomo's entire speech here.