by Susan Hellauer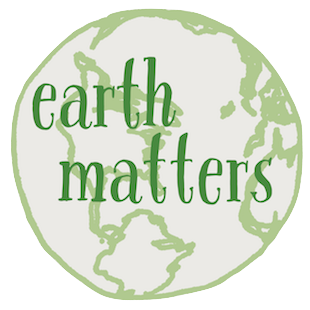 Earth Matters focuses on conservation, sustainability, recycling and healthy living. This weekly series is brought to you by Maria Luisa Boutique and Strawtown Studio and Blue Rock School and Dying To Bloom, a natural burial boutique for humans and pets. On Sat, Jan 26 from 10a-12p, tour the Blue Rock School campus and learn about their unique approach to teaching and from 1-2p, learn about the Blue Rock School Summer Play Camp.
If Earth Matters to you, sign up for our mailing list and get the next installment delivered right to your inbox.
A cliffhanger push to bring single-use plastic bag ban legislation to the floor of the New York State Senate failed last June. But villages, towns, and counties in the state have been creating and implementing bag bans of their own, most recently in neighboring Piermont.
Now, the Village of Nyack Sustainability Coordinator Marcy Denker is creating a campaign to coordinate with the Village Board, business owners, Nyack High School students, and residents to create a bag ban that we can live with and that will make a real difference in reducing plastic pollution in our environment.
Earth Matters spoke with Denker last week to get the lowdown on the process, and how you can get involved.
EM: Describe the campaign you're leading to get this bag ban done.
Marcy Denker: We're envisioning a campaign of about six months to do outreach, get feedback from the community, have conversations directly with the business community, and evaluate different options for a village code.
We want to make people aware of why they would want to do this, how it would work, and just help remind them of the bottom line, which is that all they really need to do is bring their own bags. Because, no matter what the law is, that's what you want people to do.
Besides you, Mayor Don Hammond, and the Village Board, who else is in the mix so far?
Four members of Nyack's Sustainability Committee wanted to be involved in this plastic bag ban campaign, and have formed a subcommittee. They'll be involved in every aspect of the project. We've also met a couple of times with students and teachers at Nyack High School (NHS) in the Environmental Club, environmental and earth science, graphic arts, and film, and they are eager to be part of this campaign.
What exactly would the NHS students be doing?
They will be working on in-class projects to produce research, provide legislative support, and create posters and films. They could present their work at the Village Hall and library. I'm also envisioning some of them having conversations directly with people in the business community.
Besides wanting a single-use plastic bag ban, the mayor also wants to foster a relationship between NHS students and the village leadership. It's an opportunity to provide a civics lesson, and show that people can go to board meetings, and talk about things that concern them and do things that have an impact. It's a process that many adults in the village don't participate in.
The Nyack High School Environmental Club has been working to promote reusable shopping bags. First, we researched the environmental impact and affordability of various materials, from cotton to hemp to jute. The best option we came up with was recycled cotton. We have started selling these bags as a fundraiser, so you will see our cute turtle logo around town! Our proceeds will go toward buying more recycled cotton bags that we will give away at the Nyack Farmers' Market in April.
                                         Tom Perry, Adviser of the NHS Environmental Club
What's the status of this initiative?
We're putting together materials right now to get the Village Board into this discussion as soon as possible. The mayor had already introduced the idea of a single-use plastic bag ban last year, and it's something the Village of Nyack is actively looking at.
I talked to all the vendors at the Nyack Farmers Market a couple of weeks ago. A lot of them told me that other communities where they sell already have a ban: "We're used to this and we're all for it." But produce and meat vendors have other questions, and want to know what the rules are going to be. Even so, the guy who sells fish said, "Definitely! I'm in because we know about the impacts."
There are several New York municipalities that have single-use plastic bag ban laws on the books. Can't Nyack just adopt one of those?
Villages, towns, and counties across the state have passed a variety of different bag-ban laws. The law that Governor Cuomo proposed last year would still allow people to go home with tons of paper bags, so why would we want to do that? I dug around in all those laws, and it turns out that Ulster County has a good model. It's the first county in New York that completely bans single-use plastic bags. It also mandates fees for replacement bags. Paper bags must have recycled content and plastic must be 4.5 mil thick—quite substantial for many reuses. It's a strong law, it's been passed, and goes into effect in June 2019. I think it's best to start working from a law that does everything that you hope to accomplish.
And like other municipal laws, it will include language on what would happen to a village code if a state or county bag-ban of some kind is enacted.
There's another aspect to all this, about the impact of paper bags, and there's a legitimate point to be made. If you're tackling the problem of plastic pollution, then that's what you're doing: reducing plastic waste. If you're trying to tackle the problem of climate change, then there are articles out there that say that single-use plastic might be your best option. You have to be clear-minded about what your goal is.
When will Nyack residents and merchants see this campaign in action?
We're looking at a campaign of about six months, starting now—enough time to carefully consider the village code. And we've targeted the Nyack Farmers Market in April as a place to launch the public awareness campaign around this.
The NHS students are working in their classrooms and we'll see their work in the spring. If there are some other things that need a little more time, or grow out of this, we will be open to that too.
Above all, this is an opportunity for people to talk to each other about sustainability. And all of this working together is what makes me enthusiastic about this project.
How can people get involved in this effort?
Email me, Marcy Denker.
A ban on single use plastic bags has always been a part of our sustainability agenda. Working with Nyack High School to develop a campaign gives us the opportunity to educate the public about the issue and establish sustainable practices in our village and surrounding communities.
                                                   Don Hammond, Mayor of the Village of Nyack
Learn more:
Email Earth Matters
Read Earth Matters every Wednesday on Nyack News And Views, or sign up for the Earth Matters mailing list.
Earth Matters, a weekly feature that focuses on conservation, sustainability, recycling and healthy living, is sponsored by Maria Luisa Boutique, Dying to Bloom, Strawtown Studio, and Blue Rock School.