by Susan Hellauer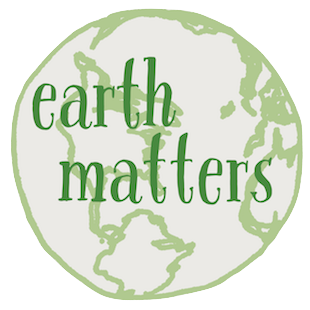 Earth Matters focuses on conservation, sustainability, recycling and healthy living. This weekly series is brought to you by Maria Luisa Boutique and Strawtown Studio and Blue Rock School and Dying To Bloom, a natural burial boutique for humans and pets.
If Earth Matters to you, sign up for our mailing list and get the next installment delivered right to your inbox.
It's the second week of January. But there's still time for a no-fuss micro-resolution.
In particular, a green resolution. With dire climate reports from the United Nations, and even from the real scientists still holding out in the Trump Administration, making change can seem like a Sisyphean task for little old you or me. But we can have an impact. For starters, jump onto a new trend, like the New York Times' "One thing you can do," or Entercom Radio's 1Thing sustainability initiative. Or, follow the lead of people around Nyack.
The village is getting more sustainable by the second. And local environmental leaders have sustainable steps they're taking in 2019 that we could all implement in our daily lives to build a greener world. 
Little things add up around here . . .
Nyack's own Sustainability Coordinator Marcy Denker has big plans for Nyack's future as a Climate Smart Community. "I'll be announcing a lot of green things that I'll be doing with the village," Denker told EM. "But one personal thing for me is creating a new set of habits and routines to make the most of my new e-bike."
When Nyack resident Laura Pakaln's not helping to fight invasive plants that threaten our open spaces, or making life better for migrating butterflies, she's thinking about other ways to be more sustainable. "Although I will continue to receive the New York Times daily at home (I hate reading online), I wrote  to tell them that I don't want my paper delivered in a bag unless it's raining," Pakaln said. The paper people quickly acknowledged her message, but haven't made the change yet. "I contacted them again and will continue to do so until there is no plastic bag on dry days!"
Piermont Mayor Bruce Tucker ushered in a ban on single use plastic bags in his village last year, part of the Sustainable Piermont effort. Tucker's follow-up to that very sustainable 2018? "I am going to remember to bring my reusable bags when I go into CVS. I always bring them when I go to the supermarket, but for some reason I forget to bring them into CVS with me, and I end up with all those plastic bags!" We can relate, Mr. Mayor.
. . . and around the county
Nicole Laible has already collected a lot of environmental hats (including the great annual eel count) as Environmental Management Assistant for the Rockland County Division of Environmental Resources. Laible's one green thing this year is to step up what she does all the time. "I will encourage even more people to enjoy the great outdoors and try new things every chance they get. Spending time outdoors and connecting with nature can be a a great way to gain respect for our land and water resources and keep them around for future generations," Laible said. Another sustainable plus she touts from outside life? "Reduce energy use in the home by spending time outdoors with [Environmental Resources]."
At work, Gale Pisha, Secretary of the Sierra Club Lower Hudson Group and Legislative Committee member of the Club's Atlantic Chapter, plans to push for good environmental legislation passed at the state and local level in 2019. Closer to home, a plumbing-and-heating emergency last year required a basement cleanout, and inspired her family's new goal of paring down. "Once we got started, it became easier to say goodbye to things," Pisha told EM. "I'm getting rid of stuff in my house, either passing it on to other people who can use it or recycling, and then not bringing in additional stuff that I don't really need."
The national climate activists at 350.org say "No" to fossil fuels and encourage clean energy options. NJ-Rockland Chapter Divestment Chair Jordan Dale is keeping it simple for 2019. "From now on, I'm going to be raking leaves with a real rake instead of using a blower," he said. "And I'll be saying 'No' to drinking straws and single-use bags from now on."
And Rockland Sierra Club leader Peggy Kurtz resolves to take a bite out of the 150,000 pounds of food Americans waste each year. "I'm going to try to plan better, in order to cut down on food waste," she said. "When I eat in a restaurant, I'll remember to bring a reusable container in case I want to take extras home."
For the ladies . . .
Rockland County Solid Waste Management Authority's Public Information Specialist Jackie Dodrill is already a "Reduce-Reuse-Recycle" expert. So, how is she planning to have a more sustainable 2019? "I'm going green with my cosmetics," she said. "I'm ditching my makeup wipes for a washable remover towel." But there will still be shopping involved. "There are a ton of eco/green cosmetics lines including everything from powders to brushes," said Dodrill. "I think it's going to be really fun!" Keep up with her and all things recycling at rocklandrecycles.com
Those annual "Riverkeeper Sweep" days of service (save the date, May 4, 2019!) wouldn't happen without Jen Benson, the Hudson River advocacy group's Outreach Coordinator. After ten years of cutting out single-use products, like shopping bags and takeout containers, Benson realized that her biggest remaining single-use item consumption is menstrual products, which contribute a lot of waste to landfills, or are mistakenly flushed and end up littering shorelines. What to do? "This year my goal is to fully transition to reusable menstrual products like reusable menstrual cups, pads, and period underwear," said Benson, who recommended a Greenmatters article about sustainable period products.
Oh, and for sustainable living year-round, Benson advocated for signing up for Riverkeeper email updates and becoming a Riverkeeper member.
Learn more:
Email Earth Matters
Read Earth Matters every Wednesday on Nyack News And Views, or sign up for the Earth Matters mailing list.
Earth Matters, a weekly feature that focuses on conservation, sustainability, recycling and healthy living, is sponsored by Maria Luisa Boutique, Dying to Bloom, Strawtown Studio, and Blue Rock School.