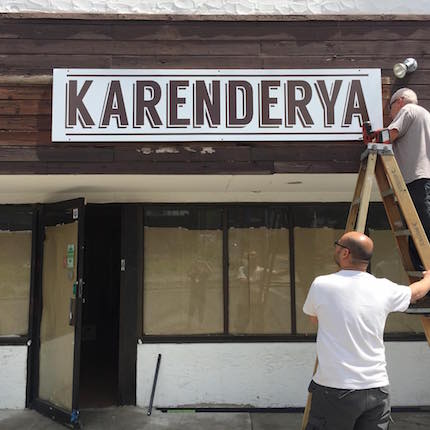 by Ben McCarthy
Karenderya, the new Filipino restaurant in Nyack, was recently named the 19th Best New Restaurant in America by Esquire. To some that seemed a bit a ludicrous, to others it seemed well deserved. I myself have not eaten at Karenderya, so this piece is by no means a review of the restaurant or the food itself. Rather, I want to focus on best restaurant lists and the ways in which they validate and invalidate certain cuisines and cultures and in turn play into longstanding power dynamics.
While the last thing the world needs is another white guy talking about Filipino food (I mean seriously), I do believe that Karenderya's spot on the list is a good thing for a few reasons. First off it's great to see that Filipino food is finally being viewed, by critics and eaters alike, in the same league as French, Italian, Spanish, and, to a lesser extent, "new American." For too long the food world has been dominated by these cuisines while the vast majority of the rest of the world's food cultures have been pushed aside, paved over, and ignored.
The San Pellegrino World's 50 Best List and the heralded Michelin guide are living proof of the hegemony of Western European cuisine. Only a handful of restaurants from Asia, Africa, or Latin America make the 50 Best List, and when they do they are often helmed by chefs cooking French or Italian food. Even worse is the existence of a Worlds 50 Best Asia List, the very existence of which seems to suggest that these restaurants are, for the most part, simply not worthy of the actual 50 Best List.
About Karenderya
Karenderya is a Filipino-inspired restaurant, based loosely on the affordable, roadside eateries, carinderias, of the Philippines. Our menu includes both traditional and modern Filipino dishes, as well as referencing other South East Asian flavors. Many of the dishes will be available in either rice bowls or as sandwiches, allowing for the experience of a new type of cuisine.
Paolo Garcia Mendoza, Chef/ Owner
Paolo grew up in Pasay City, Philippines and then moved to Brooklyn, NY at age 15. As a young child, he would watch cooking shows with his mom. He has been a lifelong fan of eating, and is most passionate about the flavors of Southeast Asia, as well as the cultures that have influenced those cuisines. He has 15 years of working experience in the restaurant business.
A graduate of the Institute of Culinary Education (formerly known as Peter Kump's New York Cooking School), Paolo worked in the kitchens of some of the country's most well-known chefs and restauranteurs, including Floyd Cardoz and Geoffrey Zakarian. In addition, he gained a great deal of experience in high-end catering, working for Abigail Kirsch. Since moving to Rockland County in 2010, Paolo has gotten to know the local restaurant industry well, having served as Sous Chef and then Executive Chef at Café Barcel in Nyack, and as Sous Chef at Roost in Sparkill.
Cheryl Baun, Partner/ Owner
Cheryl is a Rockland County native and lifelong fan of eating. While it has never been a professional pursuit, until now, she has always been passionate about learning about, talking about, and of course, eating food. Furthermore, she spent almost a decade volunteering for various Filipino community organizations, and is thrilled to have the opportunity to raise awareness about Filipino culture in Rockland County through food.
Source: 
KarenderyaNY.com
For most of this country's history, the various cuisines of Asia, Latin America, and Africa have been viewed as food that was cheap, unsophisticated, and even dirty and dangerous. Of course such stereotypes are rooted in racism and xenophobia and not only devalue non-European cuisine but also dehumanize the very cultures and people that such cuisines are a product of.
Price is another area where European cuisine reigns supreme. People have no problem dishing out $20 or more for a bowl of pasta and red sauce, but ask them to pay the same for a Sri Lankan curry and they'll look at you funny.
The idea that French and Italian cuisine are somehow part of high gastronomic tradition while Chinese or Mexican are not is absurd. Have you ever tried to properly fold a xiao long bao (soup dumpling) or make, press, and cook a tortilla from scratch? A proper Thai curry paste pounded by hand in a granite mortar and pestle is a thing of beauty, yet it is Italian and French sauces that are thought of as serious gastronomy while Thai food is relegated to takeout menus.
Of course, this is beginning to change in the United States and around the world. More food than ever is becoming available and people are willing at the very least to try it. Which brings me back to Karenderya, a restaurant that will undoubtedly make the Nyack food scene more diverse and interesting, which can only be a good thing. In a time when much of the United States and even the world is embracing nationalism and xenophobia, food can be a simple act of resistance, a way to bring people together and make them realize that we share more in common than we think.
Nyack's Ben McCarthy is the lead guitarist in the alternative rock band Regret the Hour and the chief culinary correspondent for Nyack News and Views.
See also: