Christmas concerts, outdoor ice skating, and the smell of freshly cut evergreens: a few of the reasons why this is the best time of the year. This weekend, you can create a winter solstice light sculpture, shop for some bright shiny things, catch some jazz, sing some Christmas carols, and hear a little hip-hop, too. Listen to 12 hours of live rockin' music for a worthy cause for the cost of one blanket.
This Fri-Sun list of what to do and where to do it is brought to you by Rockland Center for the Arts. Hear Bill Batson discuss his book Sketch Log: Volume 2 on Sunday at 2p in the Literary Lions Series at RoCA.
Friday
The Carnegie Concert Series presents its 25th annual Sing We Enchanted, a program of English carols and other European holiday favorites, melodic hymns, tranquil lullabies, and festive carols. 7:30-9:30p, Nyack Library, 59 S Broadway, Nyack.
Skate at Bear Mountain Ice Rink. Adults $5, children under four are free. 8-9:30p. General skating hours: Fri from 8-9:30p, Sat & Sun from 10a-9:30p. Bear Mountain Ice Rink, Bear Mountain State Park, Palisades Interstate Parkway.
Antrim Playhouse presents Every Christmas Story Ever Told (and then some). Instead of performing Charles Dickens' beloved holiday classic for the umpteenth time, three actors decide to perform every Christmas story ever told–plus Christmas traditions from around the world, seasonal icons from ancient times to actual pop-culture, and every carol ever sung. Get ready for a funny run through the Christmas season. 8p, 15 Spook Rock Rd, Suffern. Sat and Sun 2 and 8p.
It's the 25th annual Christmas Concert at St. Anthony. This is the only time of the year, when all of the church choirs, singers, and orchestra musicians will perform together. 8p, St. Anthony's Parish Church, 36 West Nyack Rd, Nanuet.
Saturday
If you'd like to experience Reiki healing, come to The Open Spirit Nyack and be a part of Reiki Share. Class starts with a short meditation, followed by practice on one another, and ending with a healing circle. 10:30a-12p, 55 Burd St, Nyack.
Christmas is right around the corner. Time to get your tree. Support the community and get a Fire Station Christmas Tree. Follow the smell of fresh evergreens to Empire Hook & Ladder. And while there, stay for the annual holiday party at the fire house. 1p, 330 N Broadway, Nyack.
Visit Strawtown Studio for a Lighting Up Solstice Workshop. Winter solstice is one of the most honored and revered celebrations around the world. Work with mirrors, candles, nature, candles, and reflective materials to construct light sculptures at this free workshop at Marydell, sponsored by the Palisades Parks Conservancy. To register email admin@mypalisades.org or call 845-630-8174. 2-4p, 640 N. Midland Ave, Upper Nyack.
Celebrate the holiday season with The Rockland County Choral Society's winter concert Gazing at the Stars. Enjoy choral works by Bach, Thompson, and other master composers. 4:30-6:-30p, Clarkstown Reformed Church, 107 Strawtown Rd, West Nyack.
Have yourself a holiday hip-hop-experience at The Winter Jam. Enjoy a night packed with music performances from some of Rockland County's very own. 7-11p, Garner Arts Center, 55 W Railroad Ave, West Haverstraw.
It's Comedy Night at the Piermont Fire Department. Have a night of rollicking fun. Bring a canned food and enter into the raffle. 8-10p, 554 Piermont Ave, Piermont.
Live blues, soul, jazz, and more by Danielle Sheri and Steve Osso and delicious Peruvian food at Maura's Kitchen, 9:30p-12:30a, 81 S Broadway, Nyack.
Sunday
It's the 21st ANNIVERSARY of Blank-Fest, the annual rock 'n roll show to help the homeless. See Michelle Shocked and 11 other performers. Suggested admission price is one blanket. 12n-12m at the Hudson Houuse, 134 Main St Nyack.
Grace Episcopal Church presents their annual Children's Christmas Pageant featuring over 40 Nyack-area children aged two-13 in a homespun, casual event that is filled with inspiration and laughter, culminating in a group sing-a-long. The man-made (and filled!) camel as well as the tiny twirling angels have always proved to be a crowd favorite. Free; arrive by 12:45 as doors close at 1p. 130 First Avenue, Nyack.
It's getting cold outside. Help those in need and bring new or gently used winter coats, hats, gloves, new socks and underwear, blankets, new toiletries, and canned/boxed foods to the Nyack Homeless Project. Financial donations to purchase additional warm coats and food, especially for children, are welcome as well. Easy drop off at one of the many drop-off-points in and around Nyack. Please see website for exact locations.
Nyack Sketch Log author/artist Bill Batson talks about his new book Nyack Sketch Log: Volume 2 at the RoCA Literary Lions Series. The memoir-driven, pen and ink illustrations chronicle more of the homes and history, houses of worship and businesses in and near Nyack. 2p, Rockland Center for the Arts, 27 S Greenbush Rd, West Nyack.
An afternoon of classical opera at Anna Veleva's Rockland Holiday Concert. The program includes Memory by A. L. Webber, Juliet's Waltz by Gounod, and Christmas classics like Winter Wonderland and Silent Night. 2-3p, Piermont Library, 25 Fly Wheel Park W, Piermont.
The Nyack School of Music presents Tidings of Great Joy featuring performances by The Nyack College Chorale, Jazz Ensemble, Gospel Choir, Handbell Choir, and Women's Choir and Orchestra, as they celebrate Messiah's birth through music. 7p, Nyack College, Pardington Hall, 45 S Boulevard, Nyack.
Next Week
Wednesday
Thursday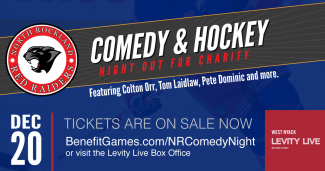 Enjoy a Comedy & Hockey Night Out for Charity with the North Rockland Red Raiders, featuring New York Rangers Alumni Colton Orr and Tom Laidlaw and a group of comedians. All proceeds benefit the hockey programs of North Rockland middle and high schools. 8p, Levity Live, 4210 Palisades Center Dr. A-401, West Nyack.