This weekend, create gifts inspired by and crafted from nature at Illuminations, a unique gift making benefit for Strawtown Studio . If you have two left thumbs, pick up something special at Maria Luisa's Holiday Wish List Event, or at Jane Cowles' A Few Bright and Colorful Thngs exhibition . 'Tis the season to watch A Christmas Carol at the Westchester Broadway Theatre. Catch jazz at Maureen's, Tchaikovsky at the Union Arts Center, or the join the 49th annual Messiah Sing at Grace Episcopal Church.

This Fri-Sun list of what to do and where to do it is brought to you by Rockland Center for the Arts. Looking for a gift for someone who has everything? Check out the opening reception for RoCA's Affordable Art & Pottery Bazaar on Sunday for something unique and one of a kind.

Friday
On the First Friday of each month, local businesses host art and music events.

The Nyack Art Collective has live music performed by ILP and The Very Bad Ideas. 8-10p, 104 Main St, Nyack.

From 6-7p there will be a reception for Gosha Karpowicz, the First Friday Artist of the Month. And the reception will be followed by special encore performances of "Hopper Scenes" in collaboration with The Children's Shakespeare Theater and the Center for Safety and Change from 7-8p at Edward Hopper House, 82 N Broadway, Nyack.
Maria Luisa Boutique presents a very special edition of its annual Holiday Wish List Event. There will be an artistic collaboration with award-winning, Nyack-based artist and illustrator Johanna Goodman. See a collection of accessories and home goods at the party from 4-8p, 77 S Broadway, Nyack.
Join mediums Cindy Kaza & Anthony Mrocka for An Evening with Spirit. Kaza and Mrocka connect audience members with loved ones. Cindy is an evidential medium who brings extremely specific evidence to the sitter. Anthony is a psychic medium who can hear, see, and feel things that are "not of this world." Tickets are $48 online or $60 at the door, and they include a drink. For more information, go to uacny.com. 7-9p, Union Arts Center, 2 Union St, Sparkill.
Saturday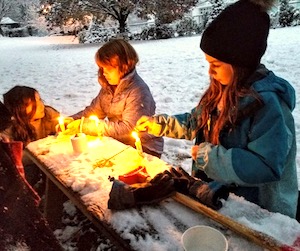 ILLUMINATIONS! is a festive community-crafting event that brings creativity back to the holidays! Strawtown artists will guide you through artful gift-making, candle-decorating, and crafting with natural and fine art materials. Be amazed at the creativity in the room! At this all-you-can-make crafting buffet you will come away with a whole lot of gifts and seasonal decor for your home.
There will also be live acoustic music, warm food and drinks by the hearth, and an outdoor fire with apple roasting. Don't wait at the door! Buy tickets online for this craft-making fundraiser. $45 for adults, children by donation, four and under free. Sat and Sun 1-5p, Marydell Faith & Life Center, 640 N Midland Ave, Nyack.
On Sunday, there will be the Bright Lights Awards 2018 honoring several Strawtown community members and supporters. 3:30p, Marydell Faith & Life Center, 640 N Midland Ave, Nyack.
The Palisades Winter Farmers' Market returns for its 11th season. Find locally grown and just harvested veggies and a variety of prepared foods and crafts from the Hudson Valley in time for holiday gift giving. 9a-2p, Palisades Community Center, 675 Oak Tree Rd, Palisades.
Get your Holiday Family & Pet Portraits taken by professional photographer Linda Epstein at the Palisades Farmer's Market. Bring your pet, smile, and wait for the email with a link to your photos. 10a-2p, 675 Oak Tree Rd, Palisades.
For the first time, Cliff Tisdell is showing his new paintings in Rockland County. His new series Landscape Reimagined will be shown from 1-3p at the Valley Cottage Library, 110 NY-303, Valley Cottage.
Do you find yourself wanting to improve your quality of life? Come to the 5 Ways to feel 10 times Better workshop led by Maya Carl and Robert Lawson and learn mental and physical tools that can be implemented in your everyday life. 2-3:30p, Nyack Library, 59 S Broadway, Nyack.
The Westchester Broadway Theatre presents A Christmas Carol. Enjoy an evening of holiday cheer with Charles Dickens' Scrooge and Tiny Tim. 6:15p, 1 Broadway Plaza, Elmsford. Show runs through December 23.
Sunday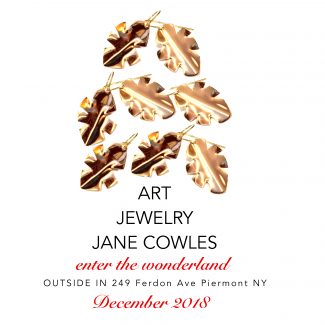 Shop, sip, and mingle at Jane Cowles' exhibition A Few Shiny, Bright, and Colorful Things at the The Outside In in Piermont. Opening reception 12/9 from 2-5p; exhibit runs through January 6.
Enjoy a magical wonderland of jewelry designs and petite mixed media works. Order custom designed unique jewelry and sample delicious treats and beverages from Il Freno Espresso Bar, Drunken Taco, and Grape D'Vine. Sponsored by Renaissance Financial Group. Visit the upstairs gallery at The Outside In. 2-5p, 249 Ferdon Ave, Piermont.
Stop by the Affordable Art & Pottery Bazaar to find a gift for the person that already has everything. You'll find unique art and pottery–functional ceramics, 2- and 3-D art, jewelry and ornaments. All proceeds from this special fundraiser will benefit RoCA's exhibits. Opening reception 11a-4p, Rockland Center for the Arts, 27 S Greenbush Rd, West Nyack. The event runs through December 23.
The Sparkill Concert Series & GetClassical present: In Celebration of a Great Artist. Enjoy an all-Tchaikovsky program with pianist Vassily Primakov, violinist Filip Pogády, cellist Yves Dharamraj, and guest artists Oxana Mikhailoff and Asiya Korepanova. Asiya will also display her original artwork, a collection of 18 drawings inspired by each of the pieces that make up Tchaikovsky's up Op.72. The program marks the 120th anniversary of Tchaikovsky's death, and it will encompass his solo piano works, including several numbers from the Concert Suite, The Nutcracker. Tickets are $25 online, $40 at the door.
Lubricate your vocal cords and get ready for a time honored tradition: the 49th annual Messiah Sing. Professional soloists will perform Handel's Messiah (part 1) and the public is invited to sing along to the choruses. Bring your own score and join in or just listen. 4-5p, Grace Episcopal Church, 130 First Ave, Nyack.
And another Nyack tradition happens the same night: the 23rd annual Music and Readings in a Holiday Spirit. Some of the performers include the Rockland Community Choir, Rev. Weldon McWilliams of First Baptist Church of Spring Valley, and Nyack's Steev Richter. 7-9p, Nyack Center, 58 Depew Ave, Nyack.
Next Week
Wednesday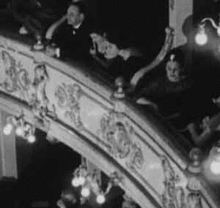 Rivertown Film presents: In the Mouth of the Wolf: A Celebration of Verdi, and Italy's Opera-Crazed Town. A story about two brothers, bravery, sadness, and hope, set against the backdrop of WWII. 8p, Nyack Center, 50 Depew Ave, Nyack.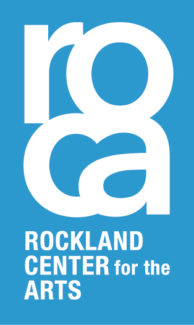 The Nyack Weekender is your Fri-Sun list of what to do and where to do it. This weekly series is brought to you by Rockland Center for the Arts.
To get the Nyack Weekender delivered to your mailbox auto-magically every Friday morning, add your name to our mail list. Visit our
online sign-up sheet
to subscribe.