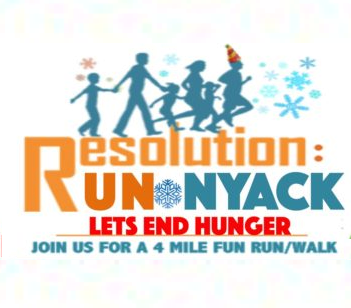 This week in the villages: If your New Year's resolution involves doing something for others, you can run/walk for hunger at the Resolution Run on Saturday. There will be free hot beverages at the NYS Thruway's travel plazas to keep you safe and alert as you travel from your New Year's festivities. And finish your holiday season in "high" spirits with a flyby of Main Street's holiday lights courtesy of a drone video.
2019 Resolution Run – Saturday, Jan 5
The Nyack river villages are ringing in the New Year with a resolution to end hunger in the community. On Sat Jan 5, the Nyack Hunger Coalition invites everyone to bundle up and walk or run to end the hunger crisis in Nyack. Your donations will benefit The Nyack Hunger Coalition, a group of 10 local non-profits who provide food to those in need in Nyack and beyond.
Village of Nyack
Aerial View of Holiday
Sparkle in Nyack
?
Enjoy this aerial video of the Holiday Season in Nyack
prepared by Flying Films NY.
Holiday Closings
Village Hall and the Department of Public Works will be closed on Tuesday, January 1.  Trash and recycling schedules will be unchanged for the holidays on Monday (trash) and Thursday (trash & recycling) Friday Jan 4 will be bulk pickup day.
Message from Nyack's Mayor
Our focus on parking has been to provide additional overnight parking to residents in our downtown area.  We approved shifting some overnight parking regulations to provide additional parking spaces on Lydecker Street (from North Broadway to Gedney) and High Ave (from North Franklin to North Broadway).  The next move will be to offer similar changes on North and South Franklin.

Staff and board have been discussing different options and the effect changes will have on the entire Village operations.  Through careful and thorough discussions with DPW, the Parking Authority staff and the Village Board have come up with solutions that work to the benefit of downtown residents and have minimal impact on village operations.  DPW and parking staff have been working diligently to post signs and map out the process to ensure as smooth a transition as possible.
The village is currently working on the acquisition of a new system of pay-by-plate muni meters. There will be an app available for their use and traditional methods of payment (coin, credit and debit cards) will be accepted as well. Stay tuned for updates.
To ensure that cyclists, pedestrians and all can enjoy our streets more safely, the village adopted a Complete Streets resolution on December 13th. More information on complete streets may be found at www.dot.ny.gov.  — Nyack Mayor Don Hammond
Tallman Tower Fire Update
A kitchen fire on December 6 displaced the residents living in seven apartments at Tallman Towers on South Broadway in Nyack. Fortunately, no one was hurt. However, the families affected could use community support to get back on their feet during this holiday season. The United Way of Rockland County's volunteer disaster agency is accepting monetary donations by check and gift cards of any denomination on their behalf. Contributions of check and gift card can be mailed to the United Way (135 Main Street, Nyack, NY 10960) or dropped off at the United Way office on the second floor of the M&T Bank building on Main Street in Nyack. Checks can be made out to "United Way of Rockland" with the memo filled in with "Nyack Fire."
2019 Village Meeting Schedule
See the dates for next years' 19 Village Board meetings is now online at Nyack-NY.gov along with the schedules for the Planning Board, Architectural Review Board and Zoning Board.
Village of South Nyack
Holiday Closings
Village Hall will close at 12:30p on Monday, December 31 and be closed on Tuesday, January 1. There WILL be trash pick up on Tuesday, January 1. Please place bins curbside on Monday evening.
Village of Upper Nyack
March 19, 2019 Village Election
The following offices will be vacant at the end of the current official year and are to be filled at the village election to be held on Tuesday, March 19, 2019 for the following terms:
Trustee – Two Years (2 vacancies)
Mayor- Two Years
Information on how to file petitions, nominations, and how to register to vote is available in the Village Hall office. To be eligible to vote, you must register with the Rockland County Board of Elections. Check with the Village Clerk for registration deadlines to be eligible to vote in the village election.
Donation Request List 2018
The Village of Upper Nyack  is collecting items to be donated to the People to People Food Pantry and the Hi Tor Animal Care Center Monday through Friday, from 9a -12n, until Jan 4, 2019. A wish list of items needed may be found at www.UpperNyack-NY.us.
And In Washington …
Congresswoman Nita Lowey, ranking member on the House Appropriations Committee, has been to serve as Chairwoman of the House Appropriations Committee in the 116th Congress. "I am honored that my Democratic colleagues have elected me to serve as Chairwoman of the House Appropriations Committee. We are ready and eager to lead the way in meeting the great responsibilities the American people have entrusted to Democrats—to invest responsibly to grow the economy, create jobs, and secure our nation." Source: Lowey.house.gov
Mario Cuomo Bridge News
Construction-Related Lane Closures Suspended Over Holiday Weekend
Temporary lane closures will be suspended through Wednesday, January 2, to accommodate travelers during the extended holiday weekend. Some work may continue behind permanent concrete barriers or for emergency repairs. The construction suspension supports Governor Cuomo's Drivers First initiative, which prioritizes the convenience of motorists to minimize traffic congestion and travel delays due to road and bridge work.The Thruway Authority encourages motorists to download its mobile app which is available to download for free on iPhone and Android devices. The app provides motorists direct access to real-time traffic and navigation assistance while on the go. Motorists can also sign up for TRANSalert e-mails which provide the latest traffic conditions along the Thruway.
New Yorkers are also reminded that state and local law enforcement are participating in the national "Drive Sober or Get Pulled Over" campaign, which runs through Tuesday, January 1. Motorists can expect to see sobriety checkpoints and more New York State Troopers on the roadways during the holiday travel season. The New York State Thruway Authority will also continue its 48-year tradition of offering free coffee and hot tea to travelers at all 27 travel plazas along the Thruway from 11p New Year's Eve through 7a New Year's morning to promote safe and alert driving.
Bicycle/Pedestrian Path
At the Rockland Landing, a section of the Esposito Trail from Clinton Avenue and South Franklin Street to South Nyack Village Hall remains closed for the construction of the side path. Pedestrians and cyclists are being detoured to South Broadway and through Elizabeth Place Park. Additionally, crews will continue construction of a retaining wall along Hillside Avenue, necessitating temporary lane closures. Flag persons will keep traffic moving by alternating the directional flow between east and west. Crews have begun drilling and installing piles at Elizabeth Place Park for construction of a highway noise barrier.
Artist Alert: Mario Cuomo Bridge Sculpture Contest: New York artists are invited to use their talents to span time and the Hudson River by creating iconic sculptures for the landings of the Mario Cuomo Bridge using remnant steel from the 1955 Tappan Zee Bridge. The pieces will be sited on New York State Thruway Authority-owned land in Tarrytown and South Nyack on the Mario Cuomo Bridge's bicycle/pedestrian shared use path. Remnant steel salvaged from the retired Tappan Zee Bridge will be made available to the two winning artists.
---
Here are the municipal events in the Village of Nyack for the week of 12/31. There are no meetings scheduled in Upper or South Nyack this week.
Village of Nyack
Thurs 1/3, 9:30a: Justice Court
Nyack Village Hall is located at 9 N. Broadway.