This week in the villages: It's a quiet week with holiday closings and a Mario Cuomo Bridge lane closure break for holiday travelers. In this time of giving, consider donating to those affected by the Tallman Towers fire. Other options: Upper Nyack is still collecting items for the People to People Food Pantry or Hi Tor Animal Shelter. And the Town of Orangetown has a one question survey about its municipal website.
Save This Date: Jan 5 for the 2019 Resolution Run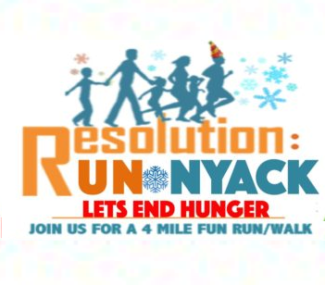 The Nyack river villages are ringing in the New Year with a resolution to end hunger in the community. On Sat Jan 5, the Nyack Hunger Coalition invites everyone to bundle up and walk or run to end the hunger crisis in Nyack. Your donations will benefit The Nyack Hunger Coalition, a group of 10 local non-profits who provide food to those in need in Nyack and beyond.
Village of Nyack
Holiday Closings
Village Hall and the Department of Public Works will be closed on Monday, December 24 and Tuesday, December 25. There will no trash pick-up on Monday, December 24. Trash will be picked up on Wednesday, December 26 and Thursday, December 27.
Message from Nyack's Mayor
Last week, we learned that the much-anticipated Bartaco restaurant will not be coming to Nyack's waterfront in the space once occupied by the Nyack River Club. This news was a letdown, but it also provides an opportunity to make our waterfront a vibrant area where people can dine and enjoy the picturesque views. Over the next few months, we will be looking at the site to assess what our next steps will be for it.
During this holiday season let's continue to support community members, friends and family to make this village an incredible place. — Nyack Mayor Don Hammond
Tallman Tower Fire Update
A kitchen fire on December 6 displaced the residents living in seven apartments at Tallman Towers on South Broadway in Nyack. Fortunately, no one was hurt. However, the families affected could use community support to get back on their feet during this holiday season. The United Way of Rockland County's volunteer disaster agency is accepting monetary donations by check and gift cards of any denomination on their behalf. Contributions of check and gift card can be mailed to the United Way (135 Main Street, Nyack, NY 10960) or dropped off at the United Way office on the second floor of the M&T Bank building on Main Street in Nyack. Checks can be made out to "United Way of Rockland" with the memo filled in with "Nyack Fire."
Grant Awarded for Waterfront Development
Nyack's plan to construct a walkway connecting Memorial Park to the village marina has received a $400,000 boost from New York State.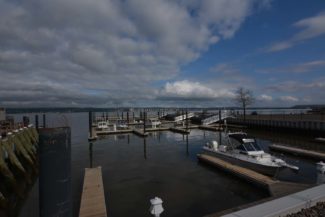 The future walkway will include a pedestrian pathway that extends north of the marina. The village plans to build that extension with funding provided by a partnership with a private developer. The walkway and related streetscape improvements will improve access to the village's waterfront.
The $401,700 grant to Nyack's Local Waterfront Revitalization Program (LWRP) to design and build a walkway near the Hudson is part of a $4.2 million NYS economic development package awarded to Rockland County to expand private businesses, revitalize communities, and encourage tourism.
2019 Village Meeting Schedule
See the dates for next years' 19 Village Board meetings is now online at Nyack-NY.gov along with the schedules for the Planning Board, Architectural Review Board and Zoning Board.
Free Saturday Parking
To support small businesses in the village, there will be free parking village-wide on Saturdays through December 29, 2018.
Village of South Nyack
Holiday Closings
Village Hall will close at 12:30p on Monday, December 24 and be closed on Tuesday, December 25. There WILL be trash pick up on Tuesday, December 25. Please place bins curbside on Monday evening.
Village of Upper Nyack
March 19, 2019 Village Election
The following offices will be vacant at the end of the current official year and are to be filled at the village election to be held on Tuesday, March 19, 2019 for the following terms:
Trustee – Two Years (2 vacancies)
Mayor- Two Years
Information on how to file petitions, nominations, and how to register to vote is available in the Village Hall office. To be eligible to vote, you must register with the Rockland County Board of Elections. Check with the Village Clerk for registration deadlines to be eligible to vote in the village election.
Donation Request List 2018
The Village of Upper Nyack  is collecting items to be donated to the People to People Food Pantry and the Hi Tor Animal Care Center Monday through Friday, from 9a -12n, until Jan 4, 2019. A wish list of items needed may be found at www.UpperNyack-NY.us.
Town of Clarkstown
Christmas Dinner
The Clarkstown Reformed Church (107 Strawtown Rd, West Nyack) will be hosting a FREE Christmas Dinner. If you have nowhere to celebrate, are too far from home, or simply do not want to be alone, please join them beginning at 2p on Tuesday, December 25. A traditional Christmas dinner including ham, veggies, potatoes, and dessert will be served. Please bring a dish if you can, and call 845-358-4320 to let them know you are coming and how many people will be with you. Again, the meal is free, but anything you can do to defray the cost would be greatly appreciated. All are welcome.
Special Events at Winter Wonderland
On Thursday, December 27 at 6p in the Congers Community Center there will be a Matty Roxx Holiday Show including a mix of classic and silly holiday songs for sing-along fun. This free concert will be followed by fireworks over Congers Lake at 7p. On Friday, December 28 at 7p, there will be a Flashlight Candy Cane Hunt. Bring a bag and flashlight and search for the hidden candy canes. Santa will make a special visit to enjoy cookies and hot cocoa after the hunt. There will also be horse-drawn carriage rides from 6p to 8:30p. Winter Wonderland is open every evening from 5 to 9:45p through January 1.
Town of Orangetown
Municipal Website Survey
The Town of Orangetown would like your input to identify some of the municipal website's pitfalls and determine ways the website should be improved. Take a one question survey and vocalize your opinion! Please feel free to share this link with others.
Mario Cuomo Bridge News
Construction-Related Lane Closures Suspended Over Holiday Weekend
Temporary lane closures will be suspended through Wednesday, December 26, to accommodate travelers during the extended holiday weekend. Construction will also be suspended through 6a, Wednesday, January 2. Some work may continue behind permanent concrete barriers or for emergency repairs. The construction suspension supports Governor Cuomo's Drivers First initiative, which prioritizes the convenience of motorists to minimize traffic congestion and travel delays due to road and bridge work.The Thruway Authority encourages motorists to download its mobile app which is available to download for free on iPhone and Android devices. The app provides motorists direct access to real-time traffic and navigation assistance while on the go. Motorists can also sign up for TRANSalert e-mails which provide the latest traffic conditions along the Thruway here.
Bicycle/Pedestrian Path
At the Rockland Landing, a section of the Esposito Trail from Clinton Avenue and South Franklin Street to South Nyack Village Hall remains closed for the construction of the side path. Pedestrians and cyclists are being detoured to South Broadway and through Elizabeth Place Park. Additionally, crews will continue construction of a retaining wall along Hillside Avenue, necessitating temporary lane closures. Flag persons will keep traffic moving by alternating the directional flow between east and west. Crews have begun drilling and installing piles at Elizabeth Place Park for construction of a highway noise barrier.
Artist Alert: Mario Cuomo Bridge Sculpture Contest: New York artists are invited to use their talents to span time and the Hudson River by creating iconic sculptures for the landings of the Mario Cuomo Bridge using remnant steel from the 1955 Tappan Zee Bridge. The pieces will be sited on New York State Thruway Authority-owned land in Tarrytown and South Nyack on the Mario Cuomo Bridge's bicycle/pedestrian shared use path. Remnant steel salvaged from the retired Tappan Zee Bridge will be made available to the two winning artists.
---
Here are the municipal events in Upper Nyack and the Village of Nyack for the week of 12/24. There are no meetings scheduled in South Nyack this week.
Village of Nyack
Wed 12/26
7p: Nyack NAACP Meeting (Nyack Center)
7p: Parks Commission Meeting
Nyack Village Hall is located at 9 N. Broadway.
Village of Upper Nyack
Thurs 12/27, 7p: Board of Trustees Workshop
Upper Nyack Village Hall is located at 328 N Broadway.