by Mike Hays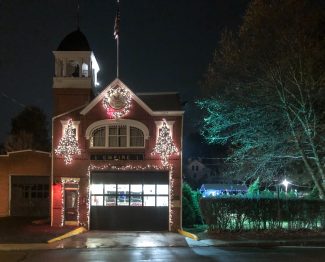 If the fresh smell of evergreens isn't enough to get you in the holiday spirit, then a retro-Victorian sight of the warm, homey, early-evening lights on Christmas trees for sale at local fire stations certainly will. Fire stations have been selling Christmas trees in Nyack every holiday season seemingly forever. But when and where in Nyack did this tradition start?
How Christmas trees came to be so popular in America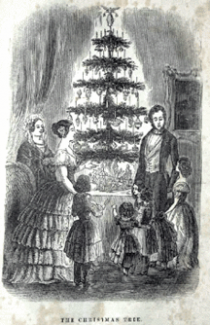 Christmas tree lore suggests that it all started with Roman and pagan winter customs using green foliage that became incorporated into the German Protestant Christmas ritual of bringing a tree indoors in the 16th century. A family Christmas tree didn't become widely popular until an illustration of Queen Victoria and Prince Albert standing in front of a decorated Christmas tree was published in the London Illustrated Times in 1848. The illustration was reprinted in the American Godey's magazine in 1850 (minus the Queen's tiara and Albert's moustache) and America instantly fell in love with the Christmas tree. By 1851, an enterprising Catskill landowner, Mark Carr, cut down a few dozen fir and spruce trees, loaded them on ox sleds and sold them in New York City. Tree distribution direct to neighborhoods got its start and has continued ever since.
Empire Hook & Ladder, Upper Nyack
According to Jimmy Johnson, a third-generation member of Empire Hook & Ladder (his sons are the fourth generation), Empire was the first local company to sell trees, starting in either 1983 or 1984. Mike Rourke, a member of the company, became curious about Christmas trees being sold in a lot across from Lederle's Pharmaceutical in Pearl River on Route 304. Could profits from sales of trees help the station's charitable efforts? Mike contacted the Nova Scotian tree supplier and made a deal for the next season. A local tradition was born.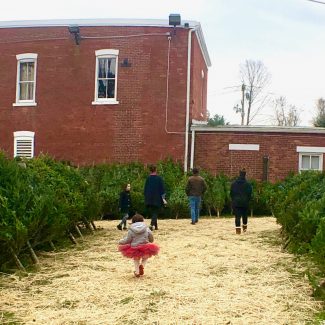 The company orders 380 balsam fir trees every year, and they always sell out. Empire mostly sells 6-8' trees, but they'll stock at least one 12-footer. Many people have bought trees too tall for their ceilings. Once, Empire had a special order for a 15' tree. When the buyer realized how large a 15' tree really is, he asked that they cut it down to an 8' tree.
The trees are sold in an empty lot just north of the station. In the early days, Empire used the DPW space that was then in the parking lot behind Village Hall, on Castle Heights. Johnson says the sales pattern is very consistent. Prices haven't changed much over time.
Profits from the trees are used to fund two parties: the company's famous children's Halloween party, in which Empire gives out some 700 bags of candy; and the Annual Holiday party with Santa, which is for 50-75 children, and is held in the fire station. The Annual Holiday party is scheduled this year at the Firehouse at 1:00p December 15.
Orangetown Fire Company #1, South Nyack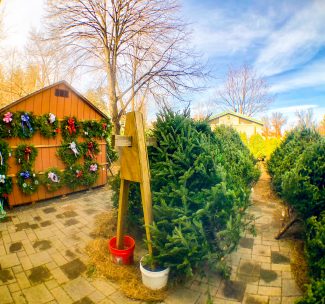 Orangetown Fire Company #1, Rockland's oldest fire company, was originally located on Jackson Street in Nyack, and then moved near its current location adjacent to the Nyack Railroad Station. In February 1966, irony of all ironies, that station burned down, and the current firehouse was built. The station has been selling Christmas Trees at its Depot Street Station since 1996 or 1997. Rich Gallo, a company member, related that selling trees was the idea of Dana Weishaar, a former company member who is now deceased. The company started with around 175 trees, and it now sells 300 every year, along with decorated wreaths. Profits help fund a number of charitable events, including an annual Pancake Breakfast with Santa for families, held on the first Sunday in December.
Highland Hose Company No. 5, Nayck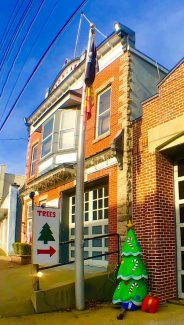 Period details, including the old gas lights, are found in Highland Hose's Upper Main Street station. According to Captain Rob White, Highland Hose has sold Christmas trees for about 13 years from that location. Known as the Buttermilk Company because few members drink, the company sells some 130 trees a year. Highland Hose sponsors the arrival of Santa in downtown Nyack on the first Saturday night of December,  providing Santa, hot chocolate, as well as hundreds of gifts for kids.
The Holidays 2018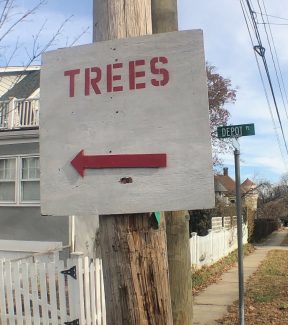 Straw is spread on the ground and balsam smell permeates the air at each fire station this time of the year. Manned for long hours, rain, shine, or snow, the open hearts of our volunteer fire companies are on alert most hours of the days or evenings to help families make a tree choice and get that tree ready for its new home.
The Historic Upper Nyack Firehouse

Built in 1887 in high Victorian style with a bell tower, the fire station is on the National Register of Historic Places. Originally, the building was used both as a fire station and the Upper Nyack village hall. The town moved next door in the early 2000s, and the firemen took over the entire building. The building sports the motto, "Goosetown against the world" on its upper reaches, referencing Upper Nyack's nickname. The fire station's motto refers to the time in which it was denied a place in the 1909 Hudson-Fulton Celebration parade for not turning over fund-raising proceeds. Empire's pride is its shiny, long ladder truck that is often seen being artfully backed into the narrow garage door.

Photo credits: Mike Hays. Historical photo courtesy of the Nyack Library
Michael Hays is a 30-year resident of the Nyacks. He grew up the son of a professor and nurse in Champaign, Illinois. He has recently retired from a long career in educational publishing with Prentice-Hall and McGraw-Hill. Hays is an avid cyclist, amateur historian and photographer, gardener, and dog walker. He has enjoyed more years than he cares to count with his beautiful companion, Bernie Richey. You can follow him on Instagram as UpperNyackMike.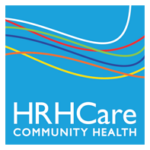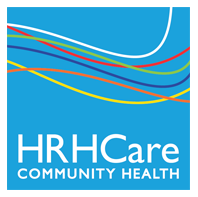 Nyack People & Places, a weekly series that features photos and profiles of citizens and scenes near Nyack, NY, is brought to you by
HRHCare
and 
Weld Realty
.