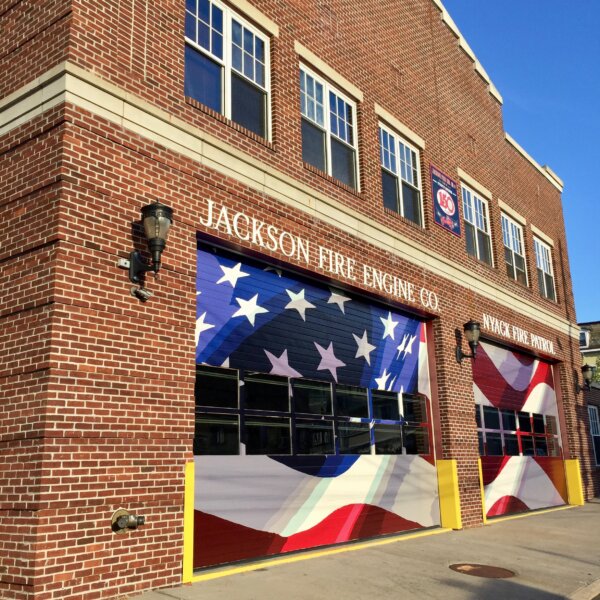 Registered voters in the Nyack Fire District can vote at the Park Street Firehouse from 3-9p on 12/11 to elect a fire district commissioner. Two candidates are running in this historic election: Incumbent Peter Wortendyke, and challenger Jennifer Knecht, the first woman to run for this position in the Nyack Fire District, which includes the Nyack river villages and Upper Grandview.
by Peter Wortendyke
As district commissioner for the last five years I have been primarily responsible for buildings and grounds, insurance and apparatus and have worked closely with the entire district board. We have maintained the annual budget below the tax cap and have transferred the ownership of the Park Street Firehouse to the Nyack Joint Fire District. READ MORE
by Jennifer Knecht
On Tuesday, December 11, from 3-9p at the Park Street Firehouse in Nyack, I hope you'll vote to give me the chance to serve as your next Nyack Joint Fire District Commissioner. I'm running for Fire Commissioner because I have a plan to make our district the STRONGEST & SAFEST it can be. READ MORE.
---
Jennifer Knecht
More Training. Our volunteers are brave, strong and dedicated. I'll fight to make sure they're equipped with the most up-to-date tools and training available.
More Transparency. District families deserve to know how their hard-earned tax dollars are spent. I'll fight to increase transparency and accountability by streamlining communications, updating the District's website and being available for ANY questions.
A New Perspective. As forward-thinking as Nyack is, we've never had a woman fire commissioner! But I don't expect your vote just because of my gender. I hope you'll support me because I know firsthand what our firefighters face. I'll bring a brand-new perspective to our greater Nyack public safety community.
I'm the first woman to ever run in the Nyack Joint Fire District. My husband and daughter are firefighters and I'm a huge supporter of the department.
I'm a six term PTA President from Upper Nyack and a member of the Inspire Nyack board. I was a member of St. Ann's parish counsel and currently a CCD instructor for 7th grade.
Finally, you can be sure that a vote for me will be a vote for someone who cares. I'll fight for all our families—because it's my family, too.
For more information, visit Jennifer Knecht for Nyack Fire Commissioner on Facebook.
---
Peter Wortendyke
Additionally it is important to work closely with our three chiefs to meet standards for firefighting equipment established by OSHA and the NFPA.
As a commissioner I have been the liaison for the district on the following major projects:
Restoration of Empire Hook and Ladder's firehouse which needed major repairs in conjunction with – The Village of Upper Nyack, Historical Society, engineer, architect and contractor.
Replacement of boilers in conjunction with our insurance company after flooding in the basement of the Catherine Street Firehouse. Full cost recovered by the insurance.
Replacement of truck overhead bay doors in two firehouses in conjunction with the insurance company and the contractor.
Replacement of lighting fixtures in four of the firehouses to make them energy efficient in conjunction with Orange and Rockland's Rebate Program and coordinated with the electrician.
Repair of windows in the Park Street Firehouse in conjunction with the contractor.
Emergency repair of stairs at Mazeppa's Firehouse in conjunction with the contractor.
Repairs to Mazeppa's Firehouse after an accident which caused damage to the front facade to prevent a collapse in conjunction with the Village of Nyack, insurance company and contractor.
The purchase of two new fire trucks to replace the trucks which were more than 30 years old. In addition to the sale of the two old trucks.
I have served as a district commissioner for the Nyack Joint Fire District since 2013. A member of Jackson Hose Co #3, and the Nyack Fire Department since 1970. Served as Captain and all other line officer positions at Jackson Hose. Was an original member of the committee that created the Nyack Joint Fire District.
I am a Vietnam Era Veteran, a member of the American Legion and VFW and Board President of Oak Hill Cemetery.
A successful independent businessman: Cal Mart Enterprises, Inc., West Nyack Car Wash, and Wortendyke Brother's Equipment, with over 40 years of experience managing business finances, multi-million dollar government, commercial and private contracts, as well as the management of personnel and property, including purchase and maintenance of heavy equipment, trucks, vans and passenger vehicles.
Please Vote – Tuesday, December 11th, from 3-9p at the Park Street Fire Station on Park St. in Nyack. Voting is open to registered voters in the Villages of Nyack, South Nyack, Upper Nyack & Upper Grandview.
For more information visit Peter Wortendyke – Nyack Joint Fire District Commissioner on Facebook.